Finished BBT Chart with BFP
dedicated
TTC since Jul 2009; 64 kids; Victoria, British Columbia
1544 posts
24th Feb '10
Hey, i thought i'd share my chart for anyone who charts. I know i was an addict when it came to lurking other peoples charts with BFPs, so here is mine. AF was due on 16 DPO.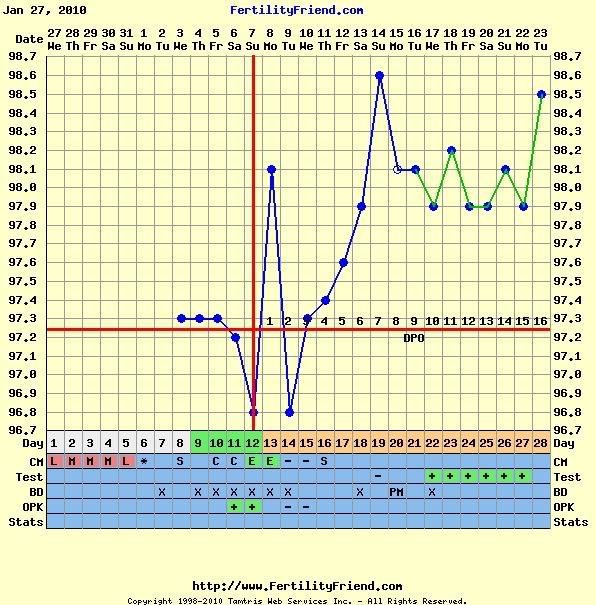 user banned
Beverly Hills, California
36921 posts
24th Feb '10
24th Feb '10
thats a good lookin chart! If I actually am preggo this cycle (long story AF still a no show and BFNs) I'd be due Oct 30th!
24th Feb '10
I'm glad i got some viewers! I thought i was the only one who LOVED looking
Irishmist8
4 kids; Palm Springs, California
845 posts
24th Feb '10
Wow this month my chart looks so much like yours. I'm a little worried. I didn't want to get pregnant again. :( I was charting since I am allergic to all BC and Condoms do not work for us. And we can't have surgery yet due to lack of money to cover it. I started doing my temps in mid cycle thinking I passed my O date and i'll get in a few charts before I can really tell.

Congrats to you! Sticky dust.

Yes im addicted to charts lol
Join BabyGaga For Free
Ask questions, meet people with similar interests and more!