Contest: Tall and Skinny Babies
Host: *-PoisonIvysMama-*
FINAL RESULTS
Show Rules
10th May '10
CONGRATS to all!!

Im still not having luck w/ my computer, its slow. If anyone wants to make siggys please let me know.

To all the winners if you want a knitted item as well let me know-- hat or scarf for you and your LO.

YAY for all!!
10th May '10
Aww i love seeing really tall babies! its cute! :)
10th May '10
My daughter isn't tall or skinny but I think this is a great idea.....I would love to see the lil cuties!!!
10th May '10
EDIT: Sorry. I just submitted correctly. :oops:
10th May '10
Teagan
This pic was taken around 12-13 months, at her 12 month appt they only got her weight which was 19lbs [she weighs 20 now] and she's 31 inches right now.

Her donor is tall, and I have tall people in my family.

10th May '10
Aidan
At 9 months he is 30 inches tall, but only 19lbs 5.5 oz which is in the 80's for height percentile but only in the 20's for weight. Its very hard to dress him sometimes, since he is 6-9 mo size in weight but well into the 12-18 mo size in height. He eats allllllll day long though, so he must have a hollow leg :)
10th May '10
Lily Rose 20 months
She is 34 in tall and 23.6lbs
She is in the 95 percentile for height. Her doctor said she is tall and lean from her genetics. Her dad is 6'0 and I am 5'8
10th May '10
A. Alyssa-18 months.
B. She didn't take to solids until about 7 months and still ate very little. She is a very high energy toddler. Running from Mom is her favorite past time, especially in grocery stores.


10th May '10
A)This is my daughter Lexi Maria at 15 months on April 20th, 2010.
B) Lexi Maria measured at the 95 percentile for height, and a little below the 50 percentile for weight. Taller than the average baby because she is the spitting image of her very tall and slim daddy!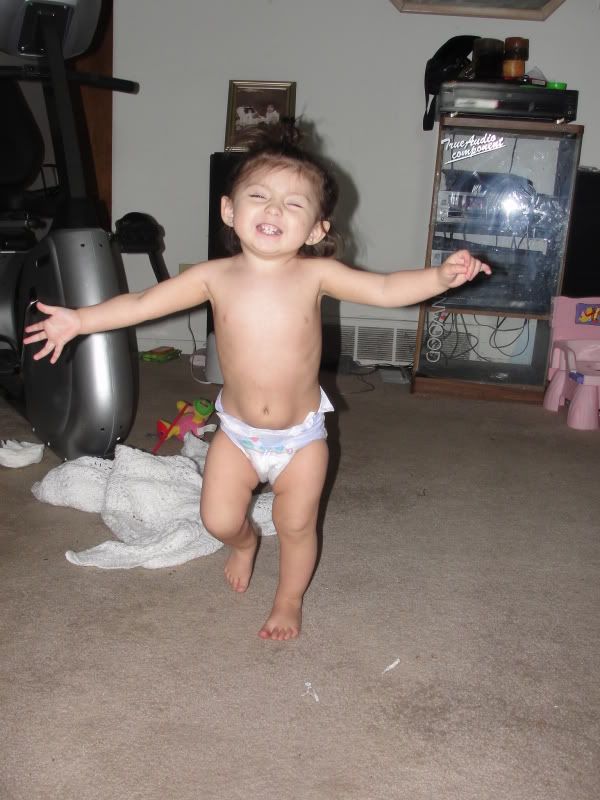 10th May '10
Keep'em coming. I love them! I am noticing the long fingers/hands that my daughter has.
smASHface
3 kids; 1 angel baby; Chicago, IL, United States
55696 posts
10th May '10
A. Aaliyah 2yrs.
B. She's been in the 95% for height since birth. She was 21 1/2" & 8.14lbswhen she was born and she's rarely, if ever gone below that percent ratio. Sometimes I worry she's too skinny cause she's only 29lbs at 2 but the girl stands @ 39". She gets it from her momma, I'm 5'9 & 125lbs before kids.