My VBAC Story {{LONG!!}}
Ashley(MPR)
3 kids; Mountain Home AFB, Idaho
6197 posts
11th May '10
I apologize in advance...this is very long!

I went to my 40 week appt on Wednesday (5/5) and my OB checked me, and I was 2cm and 50% effaced...she stripped my membranes and we discussed her allowing me to continue to 41 weeks and maybe a few days after depending on how things looked before we scheduled a repeat c-section. Sweeping my membranes caused a little cramping and contracting but it slowly died down that night. Thursday evening after a long walk around the neighborhood I still was having irregular contractions....they continued off and on all day on Friday and started to slowly get closer together. By night time they were getting painful and eventually got to five minutes apart consistently. At 6am on Saturday I told Juan we should probably head to the L&D to see what was going on. I was in alot of pain. Since my mom flew in town Wednesday afternoon we luckily had someone to watch Maddox. We got to L&D and they checked me and I was a still 2cm and 50% effaced....I was shocked. I had been contracting regularly for hours and they were getting more painful and there was no change! They decided to monitor me for a few hours..and while I was being hooked up to the monitor I told the nurse I was a VBAC...her reaction was "iickk..." and as soon as she said that I knew I was in for a long talk. Of course she leaves and comes back with the on call doctor who spends the next 15 minutes telling me that I was basically being selfish for wanting a trial of labor, and that if I ruptured that my baby would die or have Cerebral Palsy...no in between. He conveniently skipped over the risks associated with a repeat caesarean, and continued on his crusade. I let him go on with his spiel and let him know I would still be conituing on with my VBAC wishes...Contractions were still 5 minutes apart and were pretty strong on the toco monitor. At 11am the on call OB came in and checked me and I was 2.5cm and 85% effaced. I was in the Prodromal Phase of labor and it could be hours or days before it kicked into the real thing. I asked to be released and the OB agreed, telling me to go home, rehydrate, eat and rest and let my body do what it needed to do. I came home, chugged about 40 oz of water, took a warm bath and some Tylenol PM and FINALLY slept for the first time since Wednesday night. After a 4 hour nap I woke up and my contractions had spaced out to about 30 minutes apart and were tolerable again. Juan and I took a walk around 8 that evening and they started getting closer together again...when they were 10 minutes apart I started drinking more water and took another bath to see if they would stop, but they didn't. At 11:30pm we had just sat down to watch some TV and I was contracting once again 5 minutes apart. I had a really bad contraction at 11:45 and Juan was applying some counterpressure on my lower back. As soon as the contraction let up I felt a small gush of fluid....I said "I either just peed my pants or my water broke...." so I went in the bathroom and sat on the toilet and started peeing and I wasn't even trying...so I assumed it was urine, and maybe the contraction had caused his head to press on my bladder...I put on a pad to be sure and got dressed just in case...after each contraction I'd feel more fluid so I checked the pad and it was clear and pretty soaked so I was pretty sure it was my water but decided to go to L&D to be checked. Got to L&D at 12:15am on Sunday and they swabbed me and it was blue...so I was there to stay. She checked me and I was STILL 2.5cm and 85% effaced....filled out my VBAC waiver and Juan brought all our stuff out from the car and had to run home because my son was having a meltdown since we weren't home..this is the first time I've ever spent the night away from him. Luckily we literally live two blocks from the hospital. At about 2am my contractions were starting to get very intense...they were all in my lower back, and radiating down into my hips, butt and thighs...I didn't really even have any pain in my abdomen. They checked me again and I was now 3cm and 90%....I felt like crying. I was in so much pain and of course I was stuck on my back...which is hell anyways, but adding back labor on top of it I wanted to die. They left me to labor on my own and we agreed that there would be no pitocin administered unless my labor stalled for a prolonged period of time. At about 6am I was miserable so I requested to be checked...I was holding out until 6cm before getting the epidural. I was 4 1/2 cm....Knowing it had taken me over 4 hours of hell to get 1.5cms further I knew there was no way I'd be able to hold out another 4 or so to get to 6, so I requested the epi....but I had to finish a full bag of fluid before they could administer it....which took another hour!! Finally the anesthesiologist came in at 7am and took FOREVER to get the epi in the right spot. It kicked in and in about 15 minutes I was in bliss. But after about a half an hour I started to notice I was feeling more of the contractions than I'd remembered feeling with my son. The nurse came in and checked me...I was now 6cm and I was starting to regain feeling on my left side. She called for the anesth. to come back and re-do my epidural. He was in surgery...so I waited...and waited...and waited..for an hour. In the meantime I noticed I was feeling a bit of pressure down below so the nurse checked me and I was 9.5-10 depending on if I was having a contraction. The hospital's policy is that a doctor has to be present from the time pushing starts during a VBAC in case of complications....so she left to find the doctor. I was left for an hour waiting to start pushing and during that time my son's heartrate started having deep decels during each contraction. The nurse came in and asked me to do a practice push, so I did so and she pushed the last bit of cervix to the side and called for more nurses and the doctor. The nurses came in the room and got things set up and had me do another push...next thing I know my legs are up in the stirrups and the doctor is coming in...he takes one look while I pushed and threw on a gown...I glanced over at the clock as I started pushing and it was 9:40am...and just then in walks the anesthesiologist...RIGHT ON TIME...not...he was like "oh..nevermind" and walked back out! The nurses told me he was in a deep decel and I needed to push hard and the doctor was going to have to use the vacuum to assist me because he was still pretty high...so I pushed like hell, and then they told me to rest for the next contraction...during the next contraction I kept telling myself I had to get him out before they wanted to do an emergency C-section....so I pushed the best I could, despite the fact I couldn't feel my butt on one side so I didn't know if I was being effective or not. My husband was doing his best to coach me but no one was telling me for sure if I was pushing right....the next thing I know Juan says "He's right there!" So I assume he's crowning so I beared down and pushed as hard as I could possibly push...and Juan says "He's here!! He's here!!" and once again me and my assumptions, I thought he meant his head was out, so I look down and no..sure enough he was out completely! The doctor was unwrapping the cord from his neck and arm and then they laid him on my stomach while they were cleaning him off. I couldn't believe it. I felt like I was dreaming....I had actually done it! I had actually vaginally delivered my son! They took him to the cart and cleaned him and wrapped him while the doctor stiched me (they had to give me a second degree midline episiotomy to apply the vacuum). After I was stitched they cleaned me up and sat me up to remove my epidural and brought the baby over to have skin to skin and to nurse. He latched on first try and nursed for 30 minutes straight! Such a different experience compared to the 4 hour wait after my first son's birth before I got to see him while I was in recovery. So anyways after 3 days of back labor and a failed epidural I got my VBAC and it was AMAZING. There is no comparing the two deliveries! I didn't feel like I had just given birth..I wasn't in pain...I could cough without feeling like my guts were going to bust through my incision... I actually was asking to be discharged 2 hours after delivering...of course it wasn't an option but that's how great I felt! Anyone who is thinking about trying a vaginal birth after caesarean, DO IT!! It's such a liberating experience to know your body can do what it was meant to do! In my case at least...I felt validated! It was so awesome...the only word to describe it really...

So if you made it all the way through this, you rock! Here's the goods:
Paxton Steven born on Mother's Day 5/9/10 at 9:53am
7lbs 13oz
19 3/4 inches long
{{Pics removed}}

Anywho thanks for reading and looking! :)
11th May '10
awwww congrats momma! :) hes adorable!
user banned
Colorado
6887 posts
11th May '10
Congrats! That's an awesome story and I'm proud of you for sticking to your guns!
He's beautiful and looks like his older brother! :)
11th May '10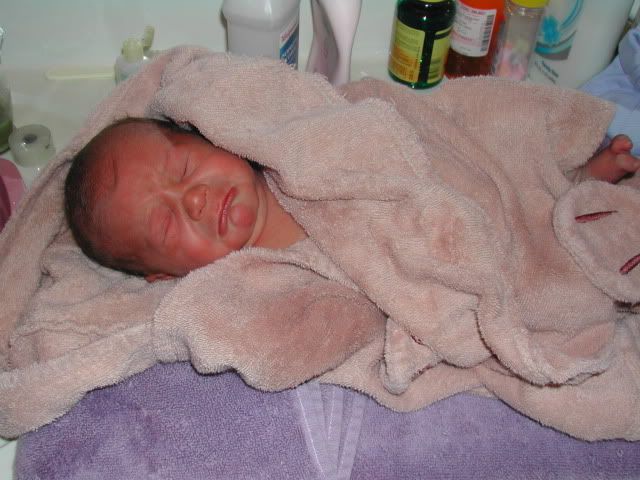 this picture is soooooo cute :)
11th May '10
Congratulations on the successful VBAC!! i wish every woman could experience a vaginal childbirth even with the assistance of drugs. Almost had me crying towards the end.
I love the picture of your sons not very impressed. lol
Very cute babies. Congratulations Mama!
Gina♥
Due October 28; 3 kids; Oklahoma
3036 posts
11th May '10
Congrats! So glad it all worked out for you and baby! Your boys are adorable!!!
11th May '10
Congrats! I am jealous! I want a VBAC so bad.
My Brain On Drugs
TTC since Sep 2013; 33 kids; Elephant Butte, New Mexico
15749 posts
11th May '10
Thank you for sharing your story~may you inspire many mamas to do the same you have done. I am glad you did not let poor treatment by the staff, at times, interfere with you having an amazing experience.

Beautiful boy, by the way--congrats!!!
11th May '10
Great story! :D Congratulations!
He is adorable.
11th May '10
That was long as hell! Lol.
But congrats! He's gorgeous!!!
He looks like his brother in the one they're sleeping together.
11th May '10
Congrats momma! I'm glad you got the delivery you wanted! Your son is beautiful! Both of your sons are little heartbreakers!
11th May '10
Beautiful Story! Congrats on your VBAC, it is so inspiring and encouraging to me and I can't wait for my try at a vbac. He is perfect!
11th May '10
Quoting LVcookinMama of 4: