9th Oct '07
Jaedyn was born June 26th at 31 weeks and 5 days. She weighed 3lbs 12 oz and was 16 inches long. She stayed in the NICU for three weeks and came home a happy healthy little girl. Now she is 14 weeks old and weighs 9lbs even! She smiles, coos and holds her head up pretty well. How are all you ladies little ones doing?
26th Oct '07
My little Aiden was born at 33 weeks. He weighed in at 3 pounds 0 ounces. He's now 7 weeks old and weighs 5 pouunds 8 ounces!! He's perfectly healthy and doing fantastic! Thank god!!!
28th Oct '07
ethan was born at 35 weeks and was six pounds.. he is now five and half months and is now around 16 pounds.
28th Oct '07
SaMaiya Was Born At 28 Weeks And 2 Days, She Weighed 2lbs 10oz. And Was 15 Inches Long, Now At Almost Three Months She's Finally 8lbs. and 14oz. And Around 20 21 Inches Long
mbrooksby
3 kids; Washington, Utah
1335 posts
28th Oct '07
My little Boston was born at 36 weeks. He was 5lbs 14 oz
He is now 3months old, and around 13 pounds!
29th Oct '07
Mine were born at 36 weeks and 3 days... they were almost at term, but since it was twins.
Ma
29th Oct '07
MY SON JAYVION WAS BORN JULY 30, 2007 AT 34 WEEKS AND 2 DAYS. HE WAS 4LBS 4OZ AND 17 INCHES. AT TWO MONTHS LATER HE IS 12 LBS AND 22 INCHES. YOU WOULD NEVER KNOW THAT HE WAS A PREEMIE. HE ONLY REQUIRED OXYGEN FOR THE FIRST 12 HOURS BECAUSE OF AN APNEA EPISODE WHEN HE WAS FIRST BORN. HE STAYED IN THE NICU BY THE GRACE OF GOD ONLY 7 DAYS. HAVE POSTED PICTURES TO COMPARE.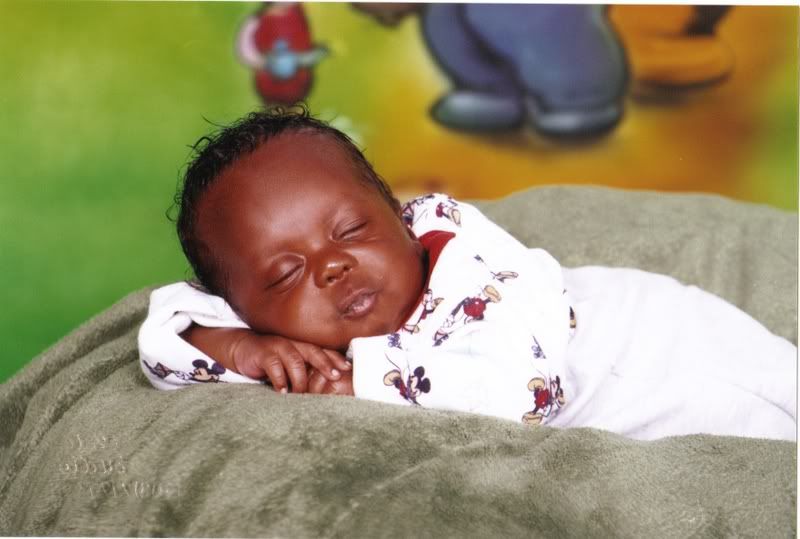 29th Oct '07
Wow! That picture of your daughter looks alot like one I have of my little girl, Scarlette. I'll have to get it posted. She was born at 25 weeks and was 1lb. 13 oz. and right at 12 inches long! We spent a total of 76 days in the NICU and I brought her home at a little over 4 lbs. -Scarlette's 19 months now - 22 lbs. and 30 inches short! Absolutely healthy as can be and smarter than her mommy most of the time!
Little little girls are a such a blessing!
6th Nov '07
you ladies are so amazing! its likely i will have my babies early and i have been reading these posts and they give me hope that even if my boys come early they can survive and become happy healthy boys! thanks ladies!
6th Nov '07
My daughter was born at 36 weeks and she was 7lbs 1 oz she was big for being born so early. But we only had to stay one extra day in the hospital cause of her blood sugar but other than that she was fine and is now 2 :shock:
8th Nov '07
My daughter was born at 34 weeks she weighted 5lbs 4oz and measured 19 in. she is now 6 and weights 42 lbs.
My son was born at 25 weeks and was 1lb 7oz measured 12 and 1/2 in. he will be 5 in April and weights 35 lbs. He has trouble gaining and maintaining weight so he's a lil skinny boy lol. But he is doing great.
14th Nov '07
my baby girl wasborn on NOVEMBER 5th 2007. [last monday] i was @ exactly 34 weeks. she weighed 7 lbs 8 oz, was 18.5 inches long. & is now 8 days old, weighing 7 lbs 7 oz. !!!!!!!!!! i was born early as well, @ 32 weeks. i weighed 4 lbs 12 oz.
the dr says shell be fine!!!!
<3
16th Nov '07
My baby girl was born at 27+4 on Black Friday (July 13) this year, weighing 1.9lbs/ 700g. She kept getting mistaken for a 24 weeker she was so small, then she'd startle the nurses by wriggling around so much. She spent 85 days in hospital, and came home 2 days before her due date. I have no idea as to what the conversion would be, but she now weighs very close to what I did when mum brought me home from hospital, only she's been home for some 5 weeks or so now.
I'm also thrilled that through sticking at expressing constantly whilst she was in hospital, my Talia is now happily fully breastfed.
2nd Jan '08
Wow I cant believe the weight of some of your preemies.

I had my daughter On December 22 2007 and I was 36 weeks and 2 days and she only weighed 4 pounds and 15 oz.
she lost 3 oz in the hospital in 2 days then gained 1 oz over night then at one week she was 5 pounds.
2nd Jan '08
Hayden was 3 lbs 8 oz when born, lost down to 3 lbs even and is now 4 lbs 6 oz at 3 weeks old!