19th Dec '10
this is my 18 month old sons bed. Its about 30 something inches off the ground. He has never fallen from it or anything. I know its not a bunk bed but I could definitely see my son in a bunk bed at 3.5 if need be. He loves this bed. He climbs up and down just fine. My DH made it for him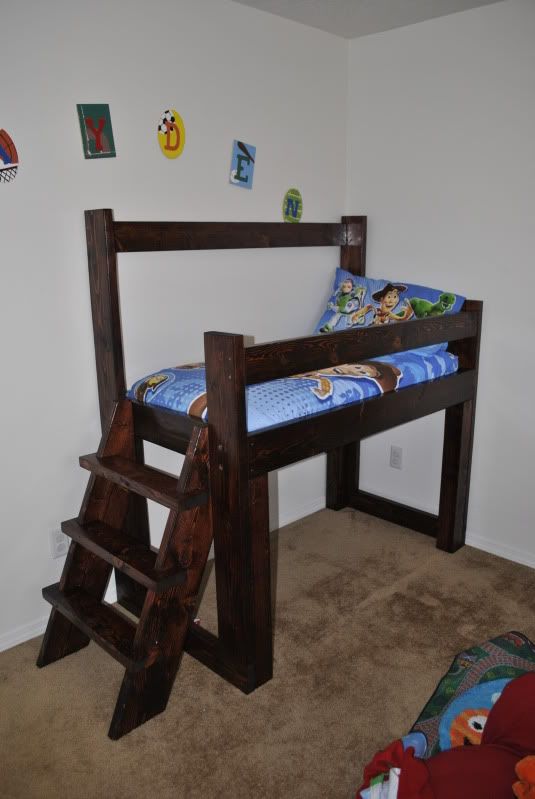 19th Dec '10
What about a trundle bed where the bottom bed slide out from under the top bed? Same concept as a bunk bed, just not as high up.
user banned
3 kids; Los Angeles, California
54034 posts
19th Dec '10
My 4 and 2.5 year old boys have bunk beds and they've been just fine in them, they love them.
19th Dec '10
my kids have bunk beds and do just fine. My daughter was just a little over 3 when we set them up, she climbs up and down just fine. We put an extra bed rail up there because her mattress was a little high. She loves it! My youngest wasn't even 2 yet when we put him in the bottom one. He sometimes climbs to the top and just yells for us to get him down.
jka
Due July 20; 3 kids; Mississippi
1266 posts
19th Dec '10
Trundle beds make me think that one kid is just an afterthought...I don't like that idea at all. :(
19th Dec '10
What about getting the kind (I think most are this way) that can be used as seperate beds or a bunk bed? That is what we have had for years for our two boys, right now they are still just to single beds but if they want to be bunk beds we can make them into one too.
jka
Due July 20; 3 kids; Mississippi
1266 posts
19th Dec '10
If we separated bunk beds, there would be no room to move in the bedroom. :)
19th Dec '10
Quoting Alissa (lissapfa):
19th Dec '10
Quoting Erica! Jake & Abby's mom!:
19th Dec '10
Quoting ~Mel Belz and Peyton~:
19th Dec '10
Quoting Erica! Jake & Abby's mom!:
19th Dec '10
Quoting Erica! Jake & Abby's mom!: