Yes Keisha was banned. *READ AND SEND TO TDC*
user banned
6th Mar '11
This is a callout. Send it to TDC immediately.
A group of us had been getting exceptionally suspicious for a while. If you want to know why she was banned....well, here you go.
Keisha's Chronological Timeline of Lies
We realize that most of these are not bannable lies, however the lies about her children ARE bannable, and all the other lies are included to show a pattern of deliberate lying for YEARS from inconsequential up to HUGE matters, basically making just about everything she's said a lie, or subject to question. Much of this is circumstantial, but some is completely irrefutable as far as I can tell. This is a mountain of evidence that I believe would convince a jury beyond a reasonable doubt. Because of the overwhelming amount of lies and things that don't add up, I feel it is prudent to mention now that should you find that yes, these lies warrant a ban (and it's clear we all feel they should), but you or she wish for leniency if she apologizes and comes clean... it won't cut it with anyone who worked on this, nor do I think anyone else once all her lies are exposed (and it'll be impossible to keep them under wraps forever. It's only been possible this long because we're seeking a ban and not trying to antagonize her in the process). And frankly, we all know it wouldn't work. Once this gets out, she's toast. She can't spin all this away. So it's better for her to go, on her own, or forced out.
See the posts about giving birth to a 22 week son in the NICU. She should know what contractions are like if she went into premature labor and had a son in the NICU that died.
So both of her losses were early. This is important because of how she describes them later.
Again, if she's been through the labor process with her son in the NICU, she should have "a general idea of what it is like". She hasn't mentioned this son
yet
on gaga though at the time these posts were made, so at the time, they seemed completely unsuspicious. In hindsight, these are very suspicious.
She may or may not have gone to term (it has been claimed she told people she DID go to term with her son, but as this cannot be substantiated, it was not included here) but she gave birth and watched her son die. Why would she make such comments if she in fact had suffered a similar traumatic experience in her past?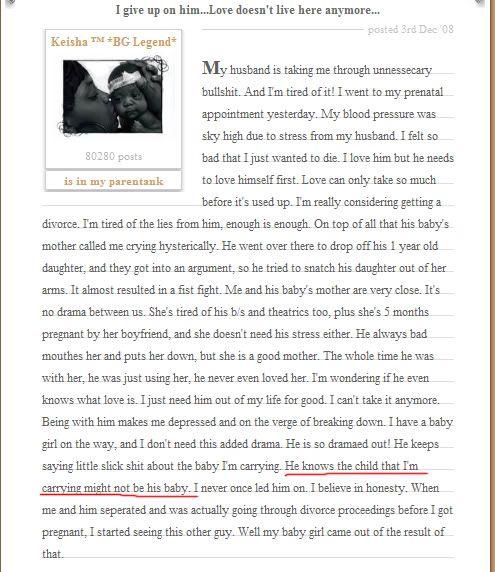 On the 3rd she posts that it might not be his, and they didn't have sex for a long time while broken up.
Same day, definitely not the dad, she says.
Here she says flat out "no the baby isn't his"... not maybe, not we'll get tested. Definitely not his. This is contradicted by later SS where she says flat out "yes it is his".
Here she mentions having had pica since she was a child, and now that she's pregnant it's worse, and she's eating baby powder.
The reason this is odd is because this story was on the Tyra Banks show a few months prior (and there are other instances that are similar you will see in here)
http://tyrashow.warnerbros.com/2008/08/signs_of_pica_disease.php
Here she says he left, and they're back to not being sure if he's the dad, but he signed the birth certificate anyway, apparently.
Another post where she indicates Miracle is not her husband's biological child.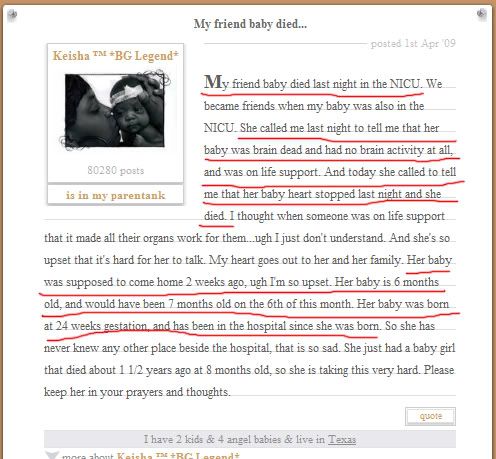 Here she posts about her friend who loses a child in the NICU, which may be the impetus for her son dying in the NICU story which she starts telling shortly after this. She's still not mentioning her NICU son yet, just the two m/c, which isn't odd on its own, but it's odd that she says she can't imagine how the mother feels. If she lost a child in NICU, she would know, and there's no logical reason to say it unless you really don't know what it's like. Why would she lie about that just to make a random post about a friend? Makes more sense just not to mention it at all.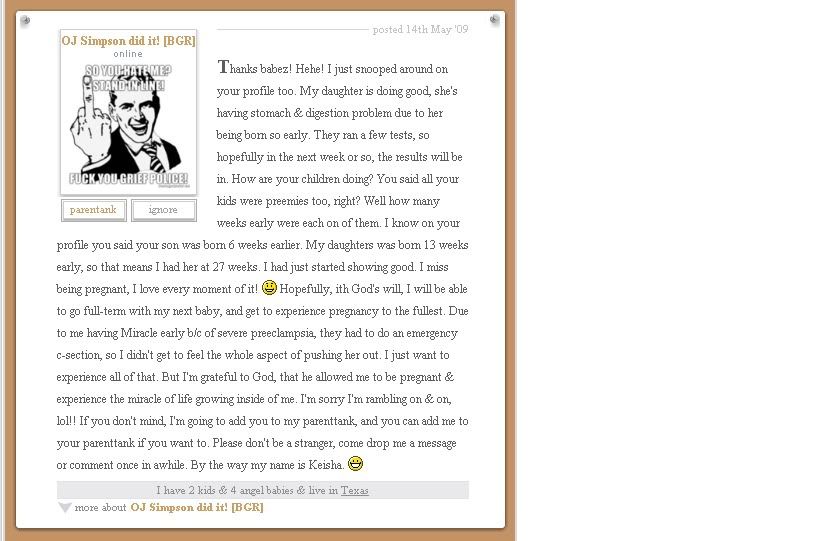 Wants to experience pushing... but she should have experienced this with her son.
Here she mentions possibly being a surrogate for her aunt. In later posts, she INSISTS she's not a surrogate. Why she's SO opposed to that word, since she used it a lot in this post, I don't know... She also mentions that she'd be very high risk if she was one, and
wouldn't want to do it unless the doctor assures her it would be low risk
.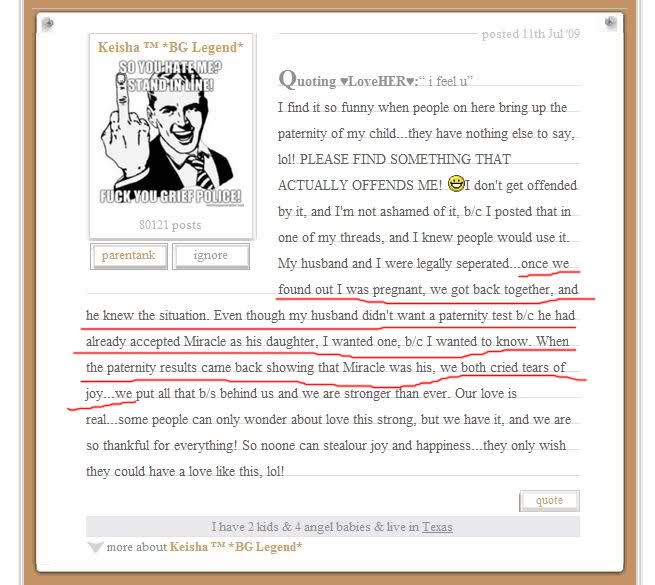 Here she claims they had a DNA test after all, and now Miracle is her DH's
One of the first mentions of the son. This post directly contradicts another post where she claims she was pregnant with her son in 2006 (and was a member of gaga). If he would have been five in August 2009, then she would have been pregnant with him in 2004, not 2006. She also says lost him at 22 weeks.
She's had two, but forgets what it's like?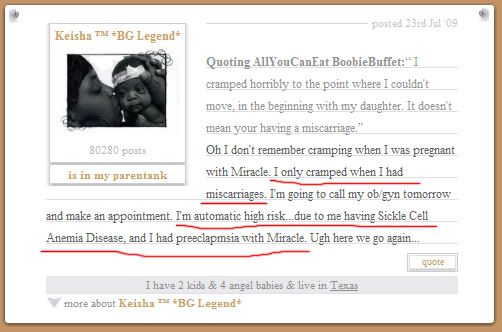 Already setting the groundwork for this m/c. Also notice she mentions how she's "automatic high risk" because of her various health conditions. This is important when it comes to her being a surrogate for her aunt, and the whole alleged pregnancy.
See SS 5th October - mentions Depo shots in Jan, April and says she was on depo when she got pregnant, which contradicts this ss where she says she was off the depo.
Also she forgot her formula one day, and her milk conveniently came back in, full force, after being gone for months, enough so that she could resume full feeding of her daughter on the spot... because she was pregnant?
Claims to be six weeks pregnant here. (this is one she miscarries) Her pain is so bad she can barely lift her daughter. She lists her huge list of conditions. But her aunt and doctor allow her to be a surrogate, and she has a perfect, full term pregnancy ending in VBAC? But we'll get to that later. Also, she's afraid to take pills while pregnant because of what might happen. This is important later for her list of medication while "pregnant" with Adora.
Oh please. This isn't necessarily proof she's lying, but it's just stupid regardless. But if she's convincing herself she's pregnant, well, she probably really IS "feeling it."
Another mention of the depo. Another mention of her DH being excited (though he's currently with Leanna). Now she's finally claiming the third loss, her NICU son. I suppose you could claim that her friend's NICU story is what made her remember and decide to share, but in light of all the other evidence, it seems a lot more likely it just gave her the idea for her own story.
Right after he friend had a kid die in the NICU. Coincidental?
Notice the inconsistencies just in this post alone. "somehow" he finds out where she lives. Oh, wait, it was a close friend and she told her sister, and she told him all of it, and because he knew for sure she wasn't sleeping with anyone else, he knew it was his kid, and despite being too afraid to go to the police, finally she just about gets up her nerve, and *bam* he comes to silence her. Convenient. Here she says 23 weeks pregnant, but every other post she says 22 weeks.
After that whole elaborate story, she didn't bother to reply to Sasha about whether or not he got arrested. Odd. This was the last post in that thread.
August 13 2009, Keisha's husband is "officially" in a relationship with the girlfriend called L. How long before that he and Keisha split is not determined.
L also claims him as boyfriend, here in September 2009
This was sent recently, you can see from the date, but it confirms the above. According to him, he and Keisha have not been together since 2009. It seems very unlikely that he and this L woman are in some huge coverup lying about being together, having myspaces and facebooks that show their relationship and all that. It is a lot more probable that Keisha is the one who has been lying since 2009 about the relationship, along with everything else. According to this, L-Man (her husband) and L got together officially on Aug 13th, but it makes sense that they were probably together unofficially at least a bit before that. It is thought, by those of us working on this, that the timing of her announcing this pregnancy probably roughly coincided with his leaving her for L. He also confirms she only has one child, and he's not aware of any other children she has had since they broke up.
On July 23rd, she needed help to remember what the m/c symptoms were like? Now that she's having one, she conveniently remembers, though.
Notice the symptoms here contradict with her recollections of m/c in another post in January '09, where she mentions passing
placenta,
which is an
odd
thing to say for
early miscarriages
which she claims to have had two of.
He's in a new relationship. They're not renewing their vows, heh.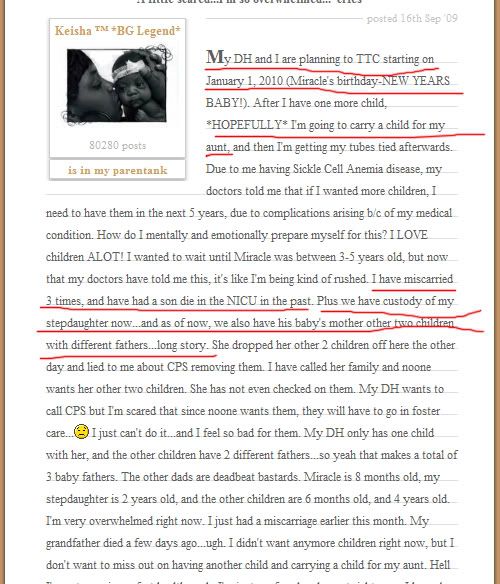 He's with a new woman. He's not TTC with her. She also mentions still intending to carry a child for the aunt after that. Now she's got the three miscarriages and the NICU loss, and the step daughter AND two kids that aren't either of theirs???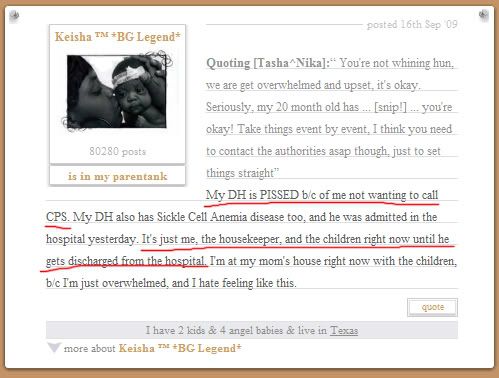 The housekeeper? In the apartment? They all live in apartments, they have a house keeper? Plus the stuff about him being in the hospital and her at home with their entire brood.
Mentions getting pregnant on depo, and the m/c she can't pin the date down on.
Here she claims she had a profile in 2006, and was pregnant with her son. If that's a typo, it's one hell of one. She only has one son, the one who died in NICU, she's very clear about that, and she says he would have been five in august 2009. How can she be pregnant with him in 2006??
OK, what? The biggest loudmouth on the forum (not pejorative, she just is) won't put up her son's photos because she doesn't want others to judge him, even though she tells all other angel moms to be proud! don't let anyone dictate what they do, etc. No way. She shows off photos like crazy. The only way she wouldn't show it off is if she didn't have any photos to show off, and if he's made up, of course she won't.
I guess the aunt wasn't set on Keisha yet, so they must not have been planning at this point.
Date night? Is L going too?
More talk of TTC. Which is pretty odd since giving birth on Oct 13th to Adora means (she claimed to go the full 40 weeks):
In order for you to have a baby on or about Wednesday, October 13, 2010, you would need to conceive on approximately Wednesday, January 20, 2010.
So
three weeks
before becoming pregnant with a donor's s***m for her aunt, she's talking about TTC with her DH? No way. And the two kids that aren't his are gone from the picture again, back down to Miracle and his bio kid.
This is just sad. Six days later her "DH"'s girlfriend announces their pregnancy. He's not there trying to shove his willy down her sick throat.
Notice here on Jan 11th, her husband's girlfriend announces she's pregnant. This is around the same time Keisha would have conceived if her adoption story is true. It is believed it is this pregnancy that prompted her to make up Adora.
It's just a couple of days later that she asks this question.
Here she's claiming pancreatitis.
This is the same incident as above. She says she's been in the hospital since Saturday. That would be Saturday Jan 23rd. It seems unlikely that she's getting inseminated with donor s***m around the same time she's in and out of the hospital with serious pancreatitis attacks. Remember she claims to have gone to full term, so she would have
had
to have conceived around January 20th.
1) Since she went 40 weeks, she would have been pregnant here. Even if only for her aunt, I'm sure she would be concerned about the baby. But I guess because she's not announcing it to gaga yet, no mention of that.
2) Her DH is not with her any longer, so he can't "come home".
3) Pretty lucky Miracle was totally unharmed, even though she was hold her when she blacked out and tumbled. Her last stair fall caused her to have a premature birth.
He's not with you. You've never thought him being with other women? He's with one while you post that.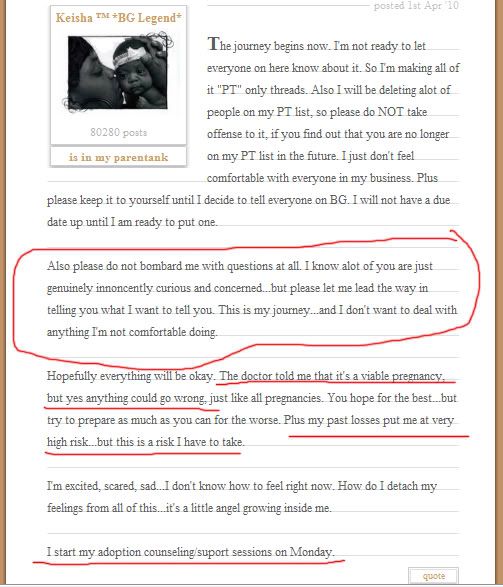 Once again, the woman who shares everything doesn't want to share these details. She also mentions how she's very high risk. Recall the previous screenshot where she said she'd only surrogate for her aunt if she was assured it was low risk. I guess she changed her mind, huh? This is PT only, and seems to be laying the groundwork to convince her closest friends so that they'll have her back through it.
How? He's not his. She's said so numerous times, and he doesn't claim her like he does his other kids.
First mention of the adoption with her aunt possibly falling through. The aunt knew this was a condition, went ahead and got her to surrogate, and then said "meh, well, it's worth throwing away over the d**k"? Also, why is her pervy-er than her husband with his criminal records?
Still considering adopting to someone other than her aunt, apparently.
I guess she was ok with giving the kid to her aunt despite being with this pervo most of the time because they were getting divorced I guess, but now she's having second thoughts 'cause he's back. Funny that she doesn't trust this guy, when she trusts her husband with his record (see end of post).
Also met with a perfect couple. Nice of her church to help put her in contact with potential adoptive parents, since her aunt seems to be flaking out on her.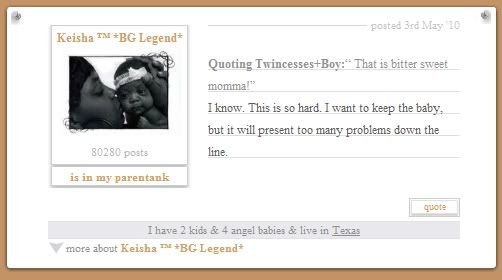 Really? Problems like what. You and DH were going to TTC in January, right?
Oh,
that
problem. Her DH who really, really wanted another kid, and had no problems with Miracle not being his, will have huge problems here because it's donor s***m, not his. The problem obviously
isn't
that there's no DH and no baby and so she just can't keep it, because she'd have to explain to people why there was no baby when it came time to give birth. No, not that.
He's with another woman. She would not be raising his kid as a step mom while he's not with her. She also does not own the business.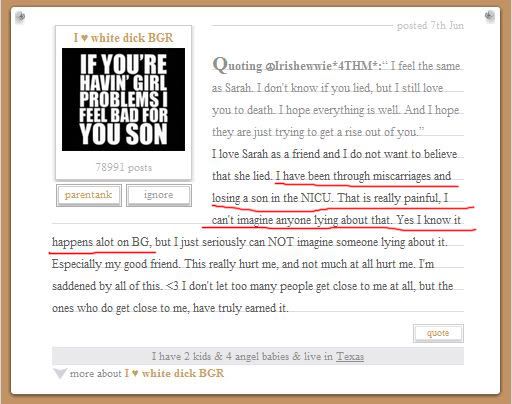 Another mention of losing the son.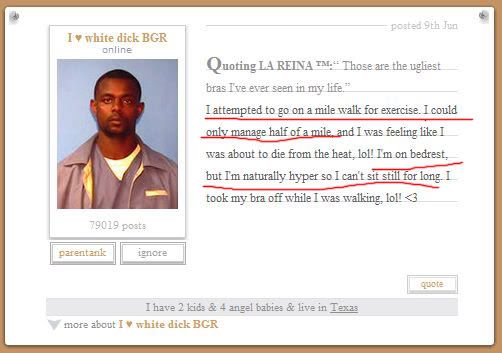 She's got a laundry list of physical ailments, she's a high risk pregnancy, on strict bedrest, and she's up walking half a mile for exercise?
One flight of stairs and continued to attack, or three flights of stairs like the original story? Not only has she given two different years of birth for this alleged son, but she's given two different accounts of the attack.
Again mentioning the lack of pictures because of her aunt, plus other things we've already covered.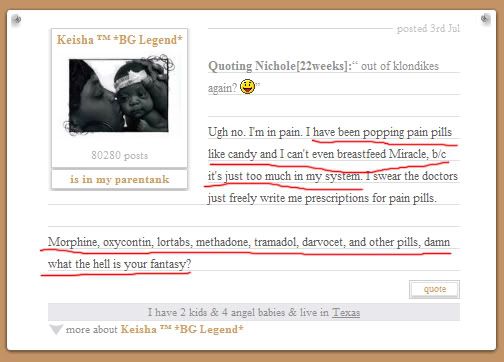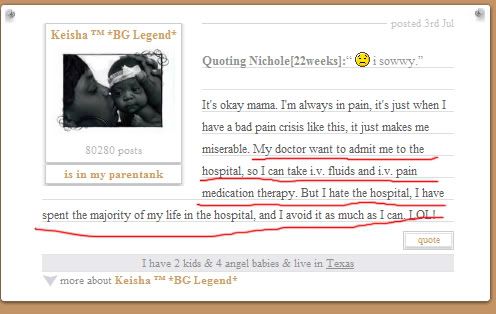 She's so drugged up she won't/can't bf Miracle, but it's all cool for the fetus, and she won't go into the hospital to manage her pain for the fetus' sake, because she's been in the hospital too much over her life. And I'm fairly sure "drowsiness" is not the only potential side effect from those drugs. If they're going to hurt Miracle, they're going to hurt that fetus. It's kind of like she forgot when she posted that she was supposed to be pregnant, and had to think on her feet.
Doesn't look like she'll go full term. Wow, isn't it great that she did??!! With all that pre-e!!
This is '10. He's been with L for nearly at year if not more. I really doubt she has fully custody of his child while he's with another woman.
This was apparently Adora's name before she became Adora. The pictures used for some reason are all of Miracle, and from her pregnancy with Miracle.
If he's cheating, he's stupid, because this is in the news and they obviously signed a release to be put in the paper. How could Keisha NOT know?
DH isn't around, he's too busy in GA with his gf to be spoiling her. So at 33 weeks she already has pre-e "damn near out of control" and she begs not to take the kid yet... she still goes another seven weeks more with pre-e, perfectly fine, no complications, VBAC? No way
Sept 9th, he's in the hospital with his gf while she's giving birth.
Pictures and updates of his new daughter on his facebook. If he was still with Keisha, and this was on the side, why have they been talking about it since January, and he's posting pictures of her and being there for the birth?
This is a private message from Keisha, included to show that even in private message, she's keeping up the charade of loving family with her "DH". And I also suspect she never contacted you about any such contest.
He's out with the kids, apparently. Strict bedrest and high risk, but cleaned the whole house.
This is a PT only thread, made to announce that her husband had a possible kid with another woman. As you'll see from the coming SS, she pretends she had no idea until recently, but that's clearly a lie since her DH and his gf have been blasting it about all over their FB and myspaces, and also well, he's not with her anymore. The reason this is fishy is that another investigation was taking place at that time, and it was realized her husband had left her and was with this new woman, and had a kid with her, and someone jumped the gun a little, and Keisha caught wind that something was up, and so she started to do damage control in private, to get her friends over to her side.
Information about the investigation that Keisha was tipped off to, which started her damage control.
He's been gong more than a year now, according to him, but here she mentions that finding this out lets her be the one to leave him.
No need for a paternity test, he's not with her, and he's already claimed the little girl as his on FB and myspace.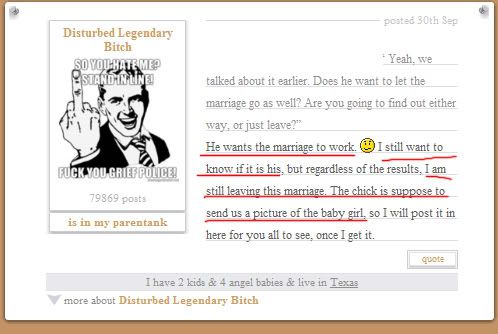 He already left. She already knows it's his. More damage control.
Keisha claiming how people found out, so she doesn't have to say they snooped and found out he left her and is with a new woman.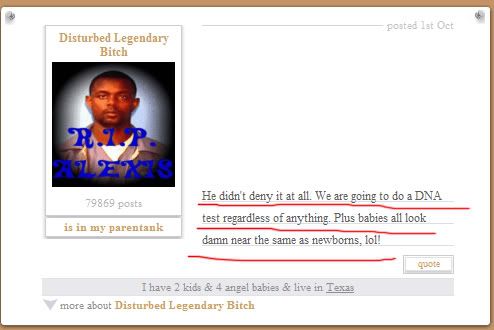 More about the DNA test, and the comment about newborns seems to be a setup to explain away why Adora and Amerah look so identical.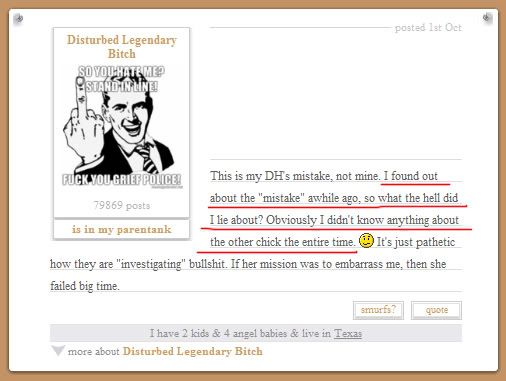 Yes, she obviously did, since he left Keisha for her over a year ago.
Not a sideline wh**e, she's the girlfriend for well over a year now. No DNA test needed, and he left her. But yes, it was over a long time ago, this part is true.
Self explanatory.
"Kicks him out".
Allegedly 39 weeks pregnant now. Claiming the business is hers.
More about the business being hers, and him threatening her over it.
So her aunt doesn't want the pictures on here... but she'll put a few up anyway, just for her closest friends, you know...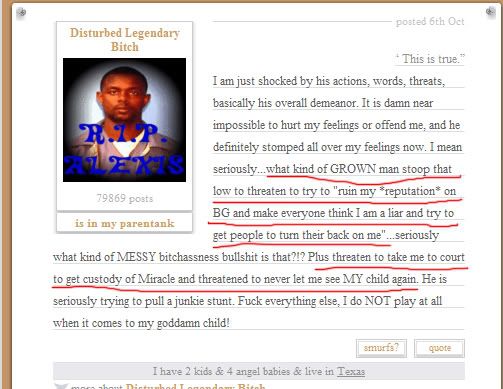 More damage control, to discredit her DH if he ever tries to expose her lies on here. Also, why would he try to get custody of HER child? Granted, she's said he both is and isn't the dad, but she claimed first he wasn't, and since he doesn't claim her with his other kids on his facebook or myspace, it seems more likely that he wasn't the bio father indeed. Makes no sense for him to threaten to take Miracle knowing he's not the dad at all.
I look fat, but I'm pregnant, I swear.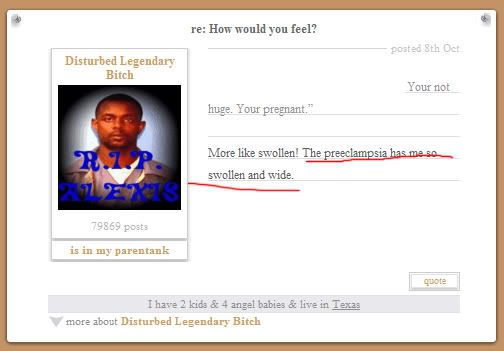 With her medical history, she has pre-e again, she's swelled up huge, but the doctor is cool with that and letting her go to her due date? To VBAC? Most doctors won't touch any VBAC, so one willing to let her do a high risk one? No way.
Picture deleted. Bad, headless photo supposedly of 39 week pregnant Keisha. Explaining away the tattoo inconsistency by blaming a bad phone.
These are the photos:
You can see the photos don't show her stomach at any time, not uncovered. The reason this is strange is that she has a lot of pictures of her uncovered stomach when she was pregnant with Miracle. Compare with these two pictures here: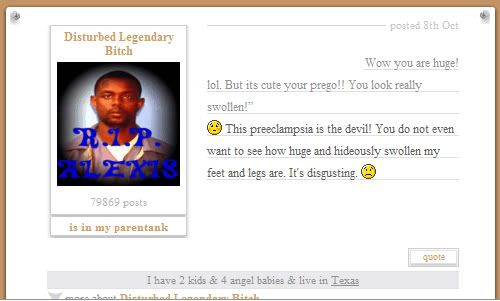 How is she still pregnant at 39 weeks with severe pre-e with her medical history? No way.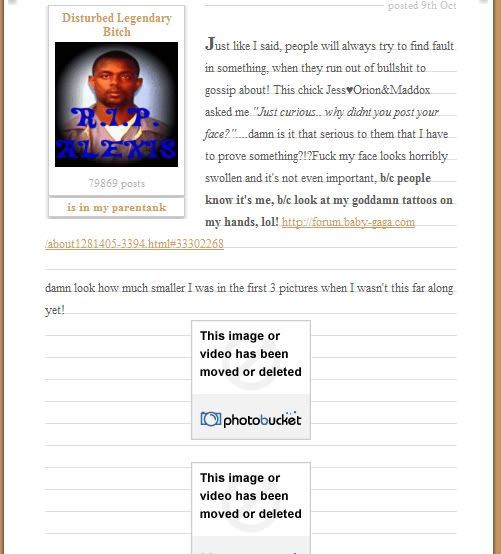 The headlessness was challenged, her private rebuttal is "look at the TATTOO!!!"
She already said it herself. More cover.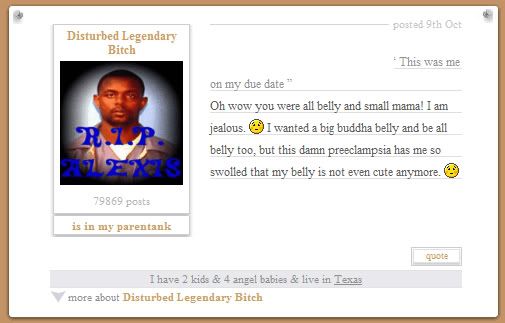 More about the belly and the horrible pre-e that she's still sitting at home with and is apparently not concerning any doctors (or aunts).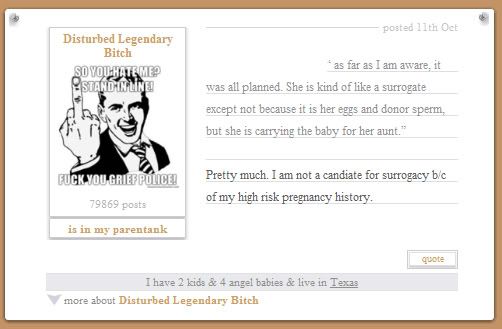 "I am NOT a surrogate, and it was planned." Recall her talking about surrogacy with no problem before, and remember that she claimed three weeks before she supposedly conceived her DH was trying to talk her into having their own kid. If that's true, then she had to plan and line up the donor with that three week window. Very, very unlikely. And she IS a surrogate, just using her own eggs, she didn't have them implanted.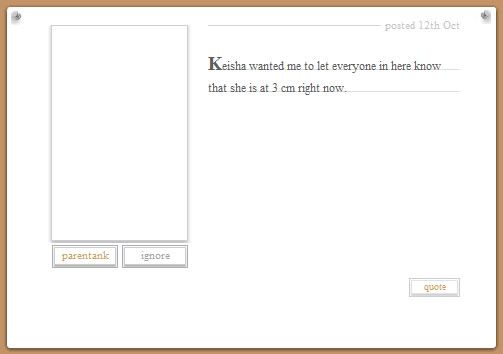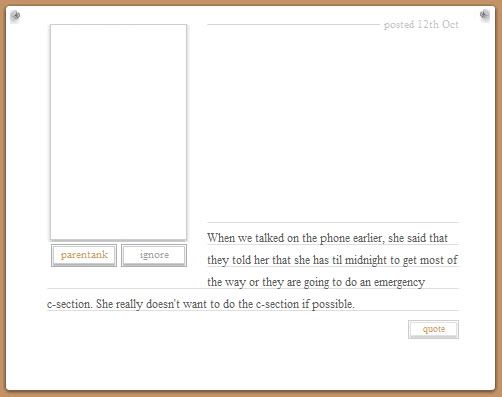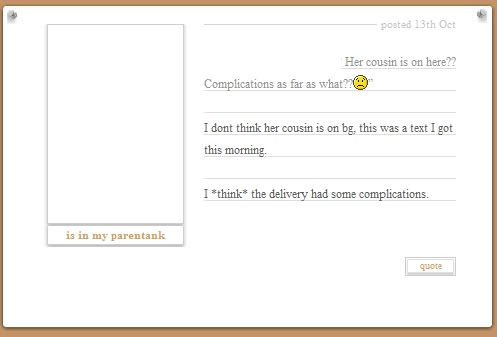 All these updates are from others, which isn't unusual on its own. A lot of women have others update their friends. But the one woman talks to Keisha on the phone before and after, but everyone else is contacted by "text" by her "cousin" with the actual updates.
This is Keisha's labor account. I realize it's a tough situation for her, but there's pretty much zero detail except about her breakdown. The details she did give were likely to cover that she was using pictures from her exes new child.
This is one of the pictures she gave out, compared to a picture of her ex and Leanna's baby: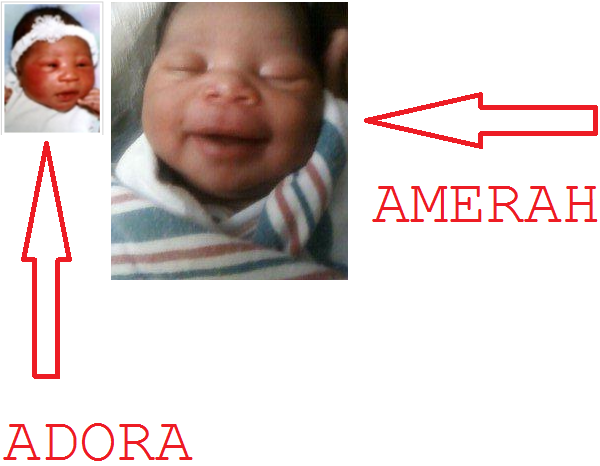 Now, while she's right, newborns do often look a lot alike, these kids are amazingly similar looking. And since she says she used a donor s***m and not her DH, they should not look that alike, not having the same father. There are other pictures of Amerah for comparison
if
needed.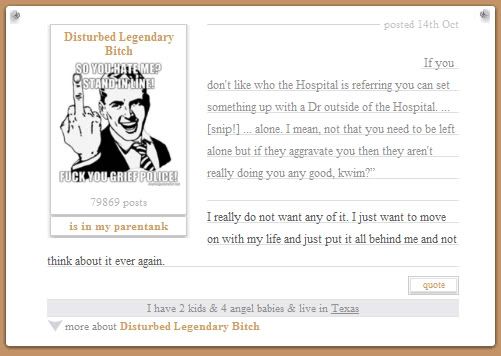 Stuff about not wanting to go to after adoption counseling and just wanting to do it on her own.
Here she says Adora is 100% healthy and being released the day after birth. However, if she was pregnant, and on as many narcotics as she claims, Adora would have had to have gone through the withdrawal process in the hospital, a hospital would not release a newborn to suffer opiod withdrawal at home.
Women with sickle cell disease can carry pregnancies to term, but the process sometimes is complicated (Koshy et al., 1987) (Seoud et al., 1994). The frequency of painful crises sometimes increases.
Physical activity should be limited, particularly after the mid-second trimester when the intravascular volume increases substantially
. Fetal development is usually normal if the patient can be coaxed through the pregnancy (Powars et al., 1986). Some specialists in sickle cell disease advocate simple blood transfusion in these patients. Others have found no benefit to this intervention (Tuck et al., 1987). The object is to maintain a hematocrit that allows normal fetal development. Exchange transfusion has been used in some instances in which patients had particularly difficult problems during the pregnancy. These reports are anecdotal.
Women who have painful crises during pregnancy should be treated with analgesics as necessary, including narcotics.
The newborns who have been exposed to opiods must be withdrawn by administering decreasing doses of these drugs in the neonatal period.
Warned of this issue, neonatologists can easily manage the problem.
http://sickle.bwh.harvard.edu/scdmanage.html
There's also this about SCA in general:
Patients manage most episodes of pain at home. Oral analgesics
(not methadone)
, combined with rest and fluids often allows a person to "ride out" the pain episode. Pain occurs commonly in the extremities, thorax, abdomen, and back (Ballas and Delengowski, 1993).


A few patients demonstrate incorrigible and sometimes frankly sociopathic behavior.
Some information about methadone which she claims to have been on for years, during all her pregnancies.
http://www.drugs.com/methadone.html
Important information about methadone
Taking methadone improperly will increase your risk of serious side effects or death. Even if you have used other narcotic medications, you may still have serious side effects from methadone. Follow all dosing instructions carefully.
Like other narcotic medicines, methadone can slow your breathing, even long after the pain-relieving effects of the medication wear off. Death may occur if breathing becomes too weak. Never use more methadone than your doctor has prescribed. Call your doctor if you think the medicine is not working.
Do not stop using methadone suddenly, or you could have unpleasant withdrawal symptoms.
Call your doctor if you miss doses or forget to take this medication for longer than 3 days in a row.
Do not drink alcohol while you are taking methadone. Dangerous side effects or death can occur when alcohol is combined with methadone.
Check your food and medicine labels to be sure these products do not contain alcohol.
Methadone can cause side effects that may impair your thinking or reactions. Be careful if you drive or do anything that requires you to be awake and alert.
FDA pregnancy category C. This medication may be harmful to an unborn baby.
It could also cause addiction or withdrawal symptoms in a newborn if the mother takes methadone during pregnancy.
Tell your doctor if you are pregnant or plan to become pregnant during treatment. Methadone can pass into breast milk and may harm a nursing baby. Do not use this medication without telling your doctor if you are breast-feeding a baby.
Home now. Getting slightly more details about her very unlikely vaginal birth.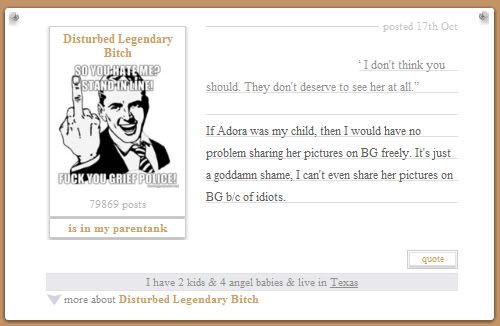 I guess her aunt knows how many idiots there are on gaga.
After someone thinks to ask how Miracle is dealing with it, she gives this reply.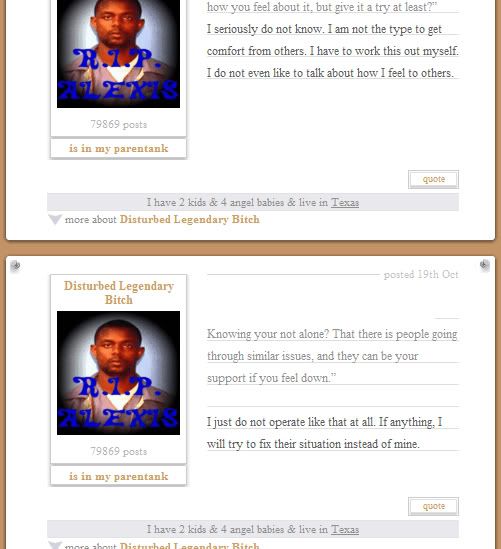 Still not wanting therapy. Numerous justifications, and her reasoning seems off. We already know she has no problem sharing her emotions or leaning on people for help.
Starting to lay the groundwork for her aunt phasing out of her life.
"Remember I told you"... but her story changed, and is picked up on. She covers, though.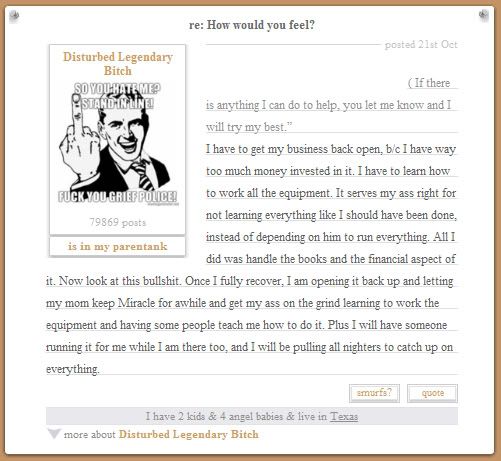 Talking about dating a new guy here, which lead to more talk about DH, and lies about how everything is in her name.
A few days later, same story, almost the same wording. There are NUMEROUS examples of such repetition that were not included because this is already a huge monster of a post, but they read like someone reciting from memory, or someone trying to commit something to memory.
Except her aunt's rules were "don't put up ANY pics". She also says it's not her child (which is the case when you give a child up for adoption, indeed). This contradicts what she says in private later on, to explain why there are no new pictures.
He's not the dad, why is he taking her?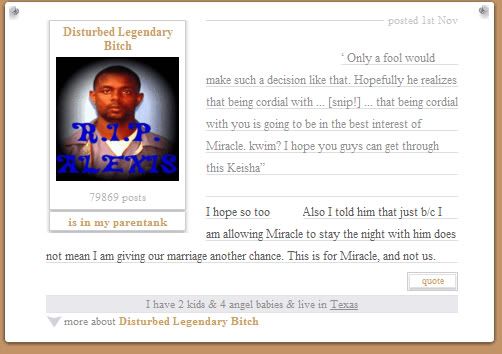 Still acting like her husband wants to be with her, and that Miracle is still seeing "Daddy".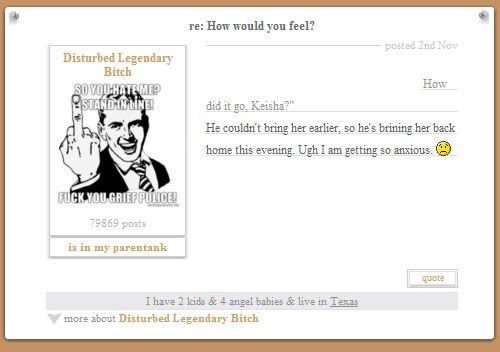 Can't bring her home for some reason.
But he's not her father and they both know it.
In this exchange, you see she slips up again, and is caught up but tries to cover. He also would not fight for custody of a child not his.
Here she finally at least admits they found out about the cheating through contacting someone, and not through her slip ups.
More about her aunt rushing her.
Really? Well you've already said you're "just cousin Keisha" so yeah, if you're badgering her, you're in the way. Nice way to explain away lack of new pictures, though.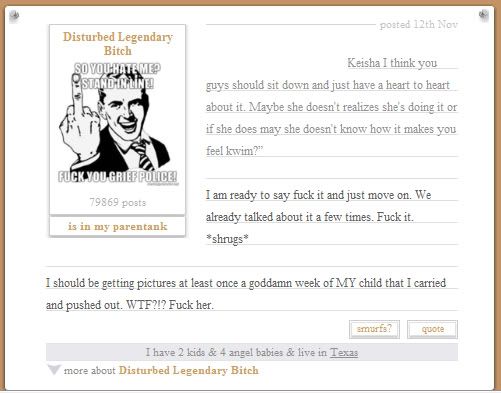 So she has talked to her aunt, who just doesn't "get it", and now it's HER child, not her aunt's, even though she gave the child up.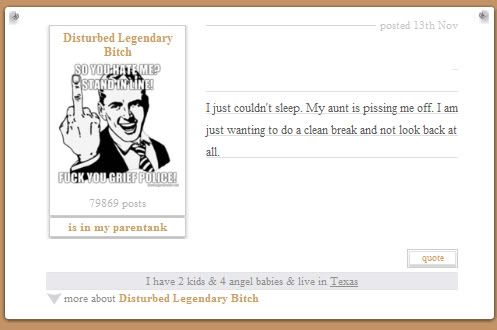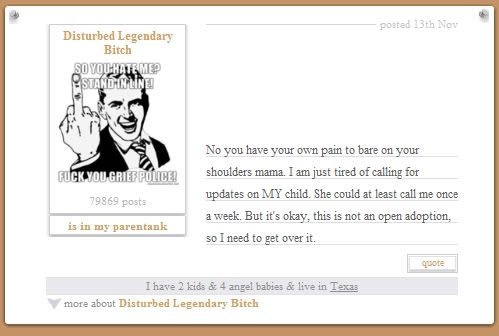 She doesn't even know the correct terminology for the legal procedure she went through. Yes, it is open. Closed and she wouldn't have any contact at all. Calling it HER child again, being upset that she doesn't call enough, but also saying it's not open. Well, is it or isn't it? If it's not open, then you shouldn't be expecting pictures or updates.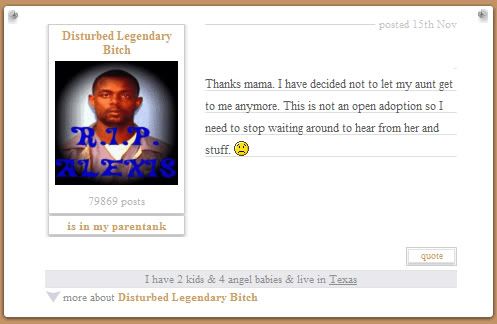 Again saying it's not an "open adoption". Yes, it is. It's certainly not a closed one. Pretty convenient reason not to have any more pictures to give out.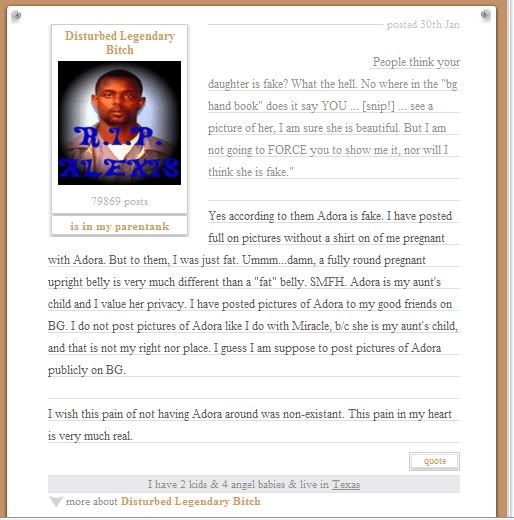 According to her own posts, her belly never looked upright and pregnant, but fat. She specifically mentioned it numerous times, likely because it was just fat. Once again, her aunt told her not to post any at all, not that it was ok to just show close friends.
Another mention of pancreatitis, only mentioned here because it was conveniently posted the same day a character on Grey's Anatomy suffered a pancreatic attack.
http://www.imdb.com/title/tt1816195/combined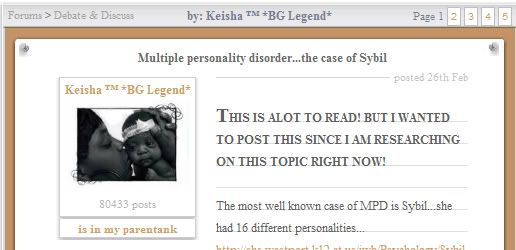 "Researching MPD". First of all, if she was researching in credible places, she'd know it's usually referred to as DID now. I don't think anyone inside the medical community uses the outdated label MPD anymore.
This sounds like her family member isn't diagnosed, and she's the one making the diagnosis. Still, she's counted six distinct personalities apparently. Sounds like a little more than just "something isn't right about her" but you know, that's her relative, not mine.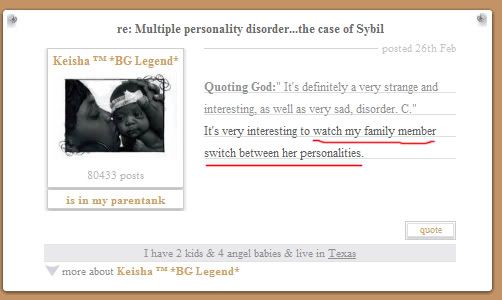 So she's apparently watched the switches happen and now seems more sure than she was earlier.
Here she's grilling someone who has someone with DID in their life what the treatment is, to get information for her stories.
Here she's arguing with another person who knows someone suffering from DID, telling her that she's wrong about how she views some of the alters.
Drops the arguing, trying to glean more information now.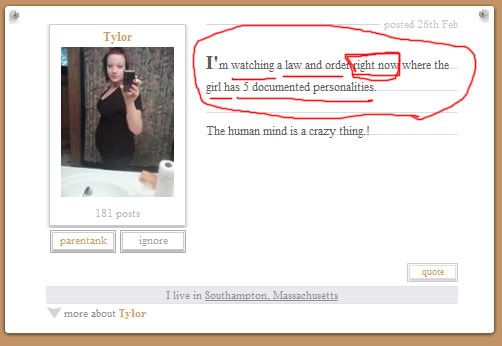 Why is this interesting? See this post. They're both on the east coast. This woman was watching an episode of a well known tv show at that moment, about a girl with five personalities, and the episode clearly refers to it a MPD not DID. It seems
likely
she was watching this show and got inspired.
April 6th-13 weeks 1 day
Due October 12th
April 27th-16 weeks
Due October 12th
May 15th- 18 weeks 3 days
Due October 17th
June 22nd- 24 weeks 1 day
Due October 12th
June 30th 25 weeks 2 days
Due October 13th
July 5th- 26 weeks
Due October 11th
July 13th- 27 weeks 1 day
Due October 11th
July 19th-28 weeks
Due October 11th
July 26th- 29 weeks
Due October 11th
August 2nd- 30 weeks
Due October 11th
August 9th- 31 weeks
August 16th- 32 weeks
August 20- 32 weeks 4 days
August 23rd- 33 weeks
August 30th- 34 weeks
September 6th- 35 weeks
September 13th- 36 weeks
September 20th- 37 weeks
September 27th- 38 weeks
October 6th- 39 weeks
That is a rough timeline that was constructed based on her updates on gaga.
At no point does the sister mention anything about Keisha being pregnant. This seems odd. Why would the family be keeping it so quiet?
No adoption records found.
No records, and he has no idea what anyone is talking about, and clearly didn't sign any paperwork to allow her to adopt out this child. "She only has one child, and she's two years old". He says they're still legally married, so he would have had to have known about and been part of any adoptions Keisha legally was part of.
There are the three kids he claims as his. This makes is much more likely that her claims that he is not Miracle's father are true, opposed to her later tales that yes, DNA confirmed he was the daddy. The current theory is that he left when he found out Miracle wasn't his, and hasn't been back since, and everything except for Miracle being her child has basically been a lie.
This is Keisha's apartment. These lies here are included to show the extent of her lies. She claims to own numerous houses. This is where she actually lives.
These are her relatives. They also all live in apartments. Why do they need housekeepers?
She might have them, but she's not licensed to carry them if she does.
L-Boy's arrests (included to show the contradiction with her being uncomfortable with giving a child to her aunt because of the aunt's husband, but being fine with this man being around
her own
kid)
Well, now you know. I'm sincerely sorry for those that are hurt by this.
6th Mar '11
woot woot!! TOLD YA b***hes!
6th Mar '11
YESSSSSSSSS




CONGRATS HOARS!!!!!!!!!!!!!!!!

and this was a long time comming. I am sorry to anyone who got hurt though :(

but this was crazy :(
absolutely crazy
6th Mar '11
holy crap that post took a long time to load. you weren't kidding saying it was long. hurry up and get to page 2 so my computer doesn't blow up. *goes to read*
6th Mar '11
Hell f**king yes.

HAPPY DANCE!!!!!
6th Mar '11
And now you know :D
6th Mar '11
*arm flex*
Don't effing mess with me dude.
I'm like HIV. I strike silently.


(with all of my other little HIV buddies)
user banned
Due March 21; 1 child; Colorado
67779 posts
6th Mar '11
HAHAHHA DUMBASS b***hes

IN YO FACE IN YO FACE
user banned
2 kids; Spain
8616 posts
6th Mar '11
didn't read that all but wow that was long.
6th Mar '11
you hurt people so much keisha
you acted like you understood the pain of r**e, of being attacked, of losing babies, and of the emotional heartwrenching struggle of adoption.
you are nothing but a manipulative piece of crap liar
on behalf of those of us who HAVE been through these things?

A BIG FAT EFF YOU :evil:


And to those her were manipulated by her and are hurt and betrayed by her?
My deepest apologies go out to you.
We never wanted to see you guys hurt, but you DESERVE to know who she really is before you put yourself on the line for her any more than some of you already have.
I hate to think of the wave of betrayal and hurt this "woman" leaves in her wake.
6th Mar '11
Enough to bury an elephant :lol:
Ashlee♥
3 kids; Puyallup, WA, United States
68149 posts
6th Mar '11
Woah, someone had a lot of time on their hands. lol
user banned
TTC since Jan 2001; Japan
107255 posts
6th Mar '11
Congrats!!!!!!!!!!!!!!!!!!!!!

How could people NOT see this!?
6th Mar '11
I wonder how many of them will read it all.
user banned
Due March 21; 1 child; Colorado
67779 posts
6th Mar '11
Quoting Household 6:" And now you know :D"