Jan 22nd '12
Quoting Mrs.diesel:" me please the kit is called spring story:) tia!!"
Jan 22nd '12
Quoting Miss Boo Designs:" ~*REQUEST FORM*~ Custom Graphics Name Tag, Siggy, or Layout: Layout Names/Sayings you'd like: Photos: ... [snip!] ... header: Home is where the heart is... bottom footer: Even if it needs a lock & key! please use the cute little boxy robots!!"

Jan 22nd '12
Quoting (TBT)Mama's Monkey Butt:" hey can you make me a Crystal step mama to Dominick & Shaylynn & Mama to Riley you know i'm not picking just pick what you would think would be cute "
Jan 22nd '12
Quoting cindy[+1]:" I was wondering if you could make me a Zebra print layout.. Nothing fancy. I just want it Zebra print with a couple of pictures and for it to say "Macie's Mommy" - Header. "Goodbye"- Footer."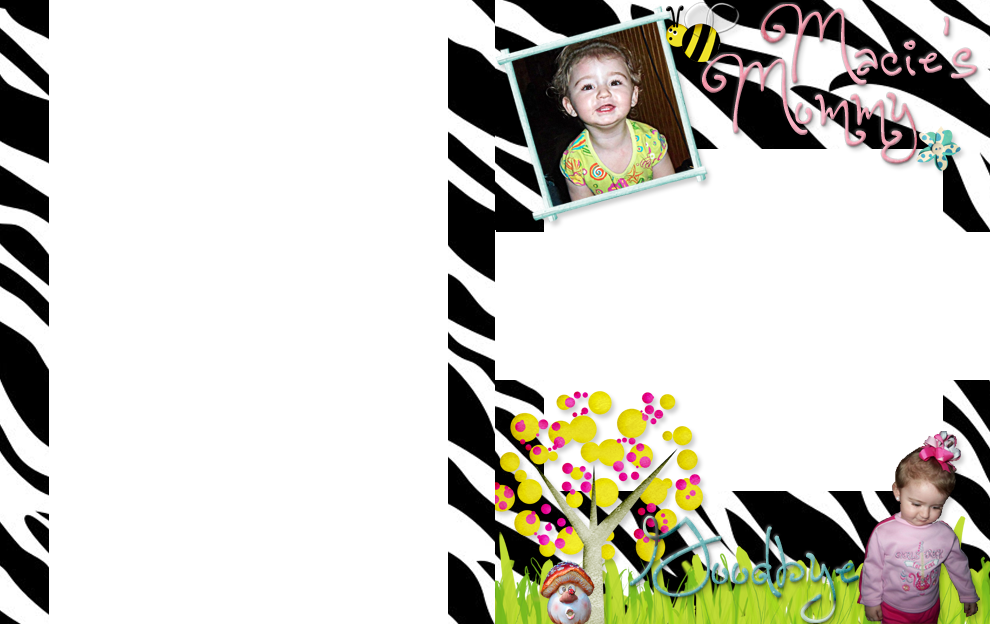 Jan 22nd '12
Quoting Monkeys Mommy [[ily]]:" hi mama just wondering if you could do one for me... :) I want a then and now siggy Siggy Names/Sayings ... [snip!] ... looks better Photos: may 5 2009, you can crop my mom out now Kit: Anything else you want me to know: TIA"
Jan 23rd '12
Quoting ♥ my girls:" Like to also get a matching KOM, could I get a background behind the words? Kit: Jessica is a Happily ... [snip!] ... Living Music loving Picture taking Proud Aunt Proud Godmom BG addict Tattooed Shopaloic Hello kitty loving Kind of mom"
Jan 23rd '12
Quoting Sherry (Aidan's Mommy):" Everything you make is amazing!! Here's 2 requests:: KOM's Kind Of: Baby Name: Aidan Words: Active, ... [snip!] ... want me to know: Could you please make the font type "Speedy" from the website you posted, & the font color blue? Thanks!!"
Jan 23rd '12
Quoting Miss Molly!:" "

Thank you, Love it!
Jan 23rd '12
I just skimmed the post.. I'm not looking for anything really specific, but would you be willing to make something cute for the October DD thread? Like.. "An October baby on the way" or something?
I'm terrible at these things. :oops:
Jan 23rd '12
Hi!! I want something with pictures and cute sayings with leopard somewhere in it but i didnt know if i sent the pictures on here? Im pretty new to all of this sorry lol.....

but a saw the dark romance kit idk what the kits are but i want one with that

again sorry im pretty uninformed about all this :]
BabyMonii19
1 child; Penticton, British Columbia
7 posts
Feb 13th '12
KOM's
Kind Of: I'm a co-sleeping,pro- breastfeeding, proud teen mom, preschool @ 3, pro-choice kind of mom , tattooed, pierced , disposabe diaper using ,cuddling, vaccinating, against early ear piercings,photo crazy,book reading, pacifier giving,non-spanking,solids @ 6 months, Family comes first, Marissa & Jason I love you both!
Name: Brittney Monique
Words:
Fast/Medium/Slow: Medium
Kit: Something Girly, If you could put Faith,Hope and love some where on the g*****c please. Hearts, Butterflies, rainbows and the year march 9 2009 somewhere, for my daughters birthday. All good!
Anything else you want me to know: Thankyou! :)
Feb 14th '12
Deleted... made a new one.
Feb 14th '12
KOM's
Kind Of: mom
Name: Larissa
Words: non-cio, partial co-sleeping, bottle feeding, loving, dreaming, letter writing, educating, silly, single, in school, moo and mini-moo,
Fast/Medium/Slow: medium
Kit: rhyme time -
Anything else you want me to know: i want the cow and moon for sure in the g*****c.
thank you.
Feb 15th '12
Custom Graphics
Name Tag, Siggy, or Layout: Name Tag
Names/Sayings you'd like: TTC baby #3 (top) Hoping for a boy (bottom)
Photos: None
Kit:

Anything else you want me to know: Not picky, how ever you do is fine :)