Our Story. (Pic... tmi)
Sheldon
17 kids; Clemmons, North Carolina
1549 posts
3rd Oct '12
*I have already posted this in the intro section. Just need to get it off my chest and out there*
My name is Hannah, my husband is Robert. We have been married for 4 years and have a 4-1/2 yr old son. We had been trying for about a year and half to get pregnant. We had a miscarriage at 5 weeks October '11. We got pregnant again in May '12 and the pregnancy was going so well. Apart from a miscarriage scare around 6 weeks, I had no morning sickness, I was eating well, exercising. I was doing everything by the book, doing just what the doctor told me to do. We went to have the anatomy scan at 21 weeks on Friday, September 28, 2012. The baby was perfect, so healthy. We were having another boy and the doctor told us everything was growing the way it was supposed to, our boy weighed 13 ounces. He was perfect.
We went to visit family over the weekend to announce the wonderful news. I went into preterm labor, started bleeding heavily. We rushed to the nearest hospital, they did a cervix check and the nurse felt bulging membranes. Apparently, the amniotic sac was coming out through the cervix. They tried leaning me back as far as I could go, with my feet practically over my body, in hopes that the sac would go back in. After no success, they told me and my husband that I was going to have the baby, there was nothing they could do, and at 21 weeks he will not survive and they will not resuscitate because he was too small to survive. So at 1:35 pm on Sunday, September 30, 2012 my perfect, healthy son was taken from us, and died at 1:50 pm, just 15 minutes later. We named him Zachariah David. And on Saturday, October 6. 2012 we will hold a memorial service. In the mountains, where he was conceived, born, and taken.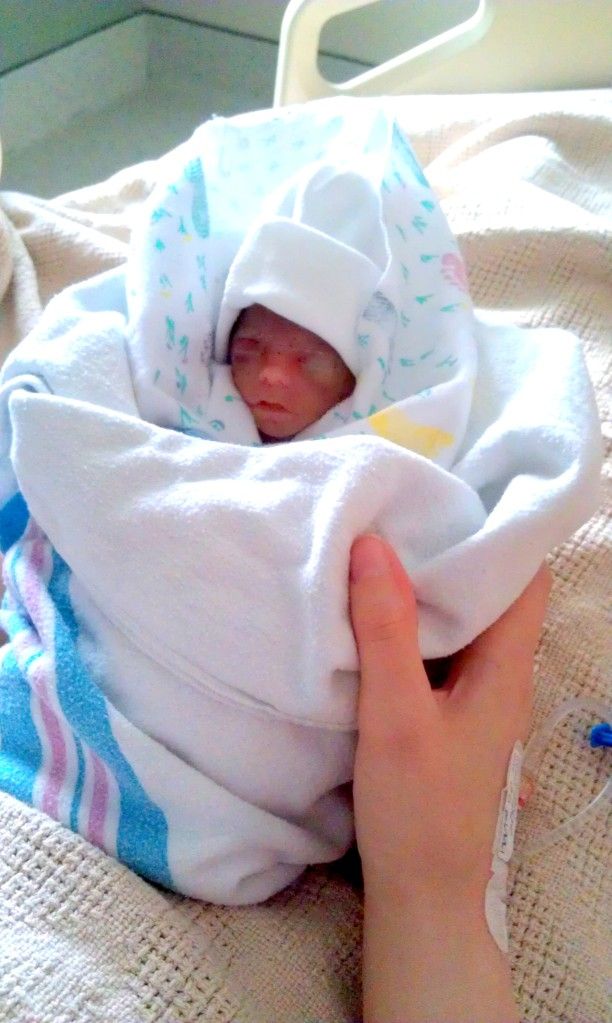 3rd Oct '12
I am so sorry mama. He was a beautiful little boy.
Mrs cree
Due November 23; 33 kids; Ontario
1907 posts
3rd Oct '12
Oh I'm so sorry he was a real cutie things will workout for you and your hubby
3rd Oct '12
I'm so sorry for your loss. He was beautiful.
3rd Oct '12
I'm so sorry for your loss. You and your family will be in my thoughts and prayers. He is precious!
*~Terra~*
65 kids; Montgomery, Pennsylvania
32918 posts
3rd Oct '12
So sorry for your loss. And what a beautiful photo!!!!!!!!!!!!!!!!!!!!!!
zombie.
2 kids; Leadville, Colorado
23606 posts
3rd Oct '12
I'm so sorry <3
He's beautiful.
3rd Oct '12
So terribly sorry for your loss, Mama. What a gorgeous little boy, taken way too soon.

You'll have an amazing angel watching over you for life. :)
3rd Oct '12
:( hugs to you mama. Sorry you had to go through this. He is so handsome, God received a wonderful baby boy. You will see him one day. Hugs.
3rd Oct '12
What a beautiful, gorgeous Angel you have. My sympathies are with you and your family sweetie.
SpecialA
2 kids; Victor, New York
856 posts
3rd Oct '12
So sorry for your loss. He's beautiful.
3rd Oct '12
this made me cry...so sorry for your loss mama...i agree with the other moms he's beautiful!*hugs*
status
3rd Oct '12
He is so perfect. I love y'all. Tell Robert to give you a hug for me.
slayera
4 kids; 3 angel babies; nowhere, ca, United States
541 posts
3rd Oct '12
so sorry for your loss, hes perfect!
3rd Oct '12
I'm so sorry for your loss hun. If you need anyone to talk to there is a group on FB called Hearwood. I am a member of that group if you'd like to be added. The women in there are awesome. They know all about child loss and will help get you through. They've helped me a lot when I lost my son at 16 weeks. Let me know if you'd like to be added ok.