Post-baby Belly photos
*~Lori ~*
1 child; Texas
46 posts
25th May '08
Hey ladies! I know post-baby belly issues are EXTREMELY important. And we are all here to help each other. Does anyone feel comfortable sharing the "progress" of their post-baby belly transformation? I will add all my post-baby belly photos, once I deliver! I think we can really help each other by preparing us and giving each other encouragement! You ladies are all so awesome. I'm excited to see the posts!
25th May '08
Here's mine, I'm 18 pounds off from my pre-pregnancy weight.
I feel really down about my weight right now. I really need a gym membership heh and to spend 2/3 hours at the gym, but I can't do that with a 4 month old on my hands. I don't eat fatty food often, but the weight isn't shifting unless I start working it off sometime soon.
4 months PP:


I used to not have ANYTHING hanging heh, I'm battling my post partum body, and I swear I'm lucky it didn't drive me into PPD. Not being able to fit into size 0 or 1, and not having any bigger clothes except one pair of jeans is awful. And going out and buying a bigger size, well if I do that I feel like I'll lose all motivation to lose weight and I do not want to give up.
25th May '08
I completely understand! You are awesome! And good luck. I went from a 0-1 and now I'm a 5! @ 35 weeks. Some 3's will fit if I'm lucky! But my butt and thighs are def bigger than before. I know they won't disappear after the baby. How much weight did you gain during your pregnancy?
I think you are looking awesome girl! Keep it up!
25th May '08

`this is at 9.5 wks pp. my stupid pre-prego pants like choke my fat belly and give me a muffin top. I hate it!! but i have been working out more lately, so heres to hoping that changes! :)
25th May '08
4 months PP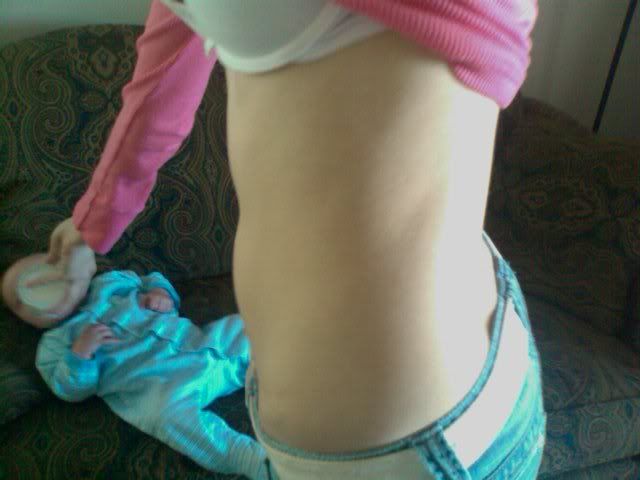 25th May '08
I'm sure it will! But you have your pre-prego jeans on! And they are zipped!! Cheers to that! You will lose the "muffin top"!! haha I love it. I use that same phrase for what you are describing. You too are doing awesome! 9 weeks. you go girl!
25th May '08
Evil one! That is a perfect name for you!!! 4 weeks! I am sooo proud of you! How much weight did you gain during your pregnancy? And are you tall! WOW!!
25th May '08
I don't! I LOVE YA for sharing! Your belly is beautiful. I hope you and baby are both doing well!!
25th May '08
It's been a year since I had Emma, and I'm 10 lbs off my target weight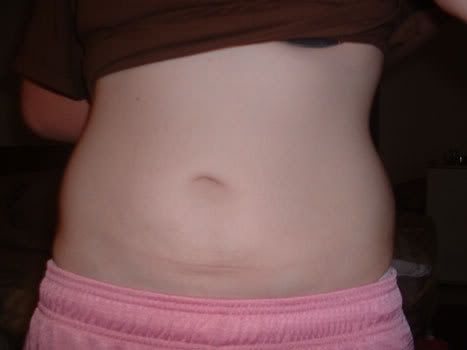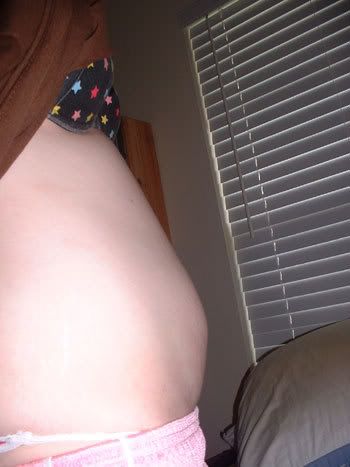 25th May '08
Doing good Dani! Keep it up! I know it is hard with a little one! You are looking great! How much weight did you gain during pregnancy?
25th May '08
3 weeks post partum....I gained 28 lbs, but I had 5 lbs to go here. I'm currently 7 lbs less than pre-prego.