My lines are getting darker! *pics*
Jess✿
3 kids; Australia
4331 posts
10th Oct '12
So on Friday night I found out to my shock that I'm pregnant.
SO & I were TNTC after two miscarriages in the past 10 months that left us very raw & hurting. We decided that we couldn't go through the pain of losing another baby so we made the decision 4 months ago that we weren't going to have anymore babies. But looks like someone had other plans.
My first miscarriage happened at almost 12 weeks & it was a placental issue & was a complete freak occurrence. My second happened at 5 weeks & I discovered it before I actually lost the baby when I peed on a test & it came out negative. The lines were never really that strong to begin with.
Tomorrow it will be a whole week since I found out I was pregnant. My blood tests came back with 137 for hCG levels at 3 weeks 6 days which my doctor is very happy with. We're hoping for a happy & healthy nine months & beyond. So any donations of sticky dust are welcome :)
First tests at approx. 3 weeks & 2 days pregnant:

Second & Third tests (Left at 3 weeks 4 days Right at 3 weeks 6 days):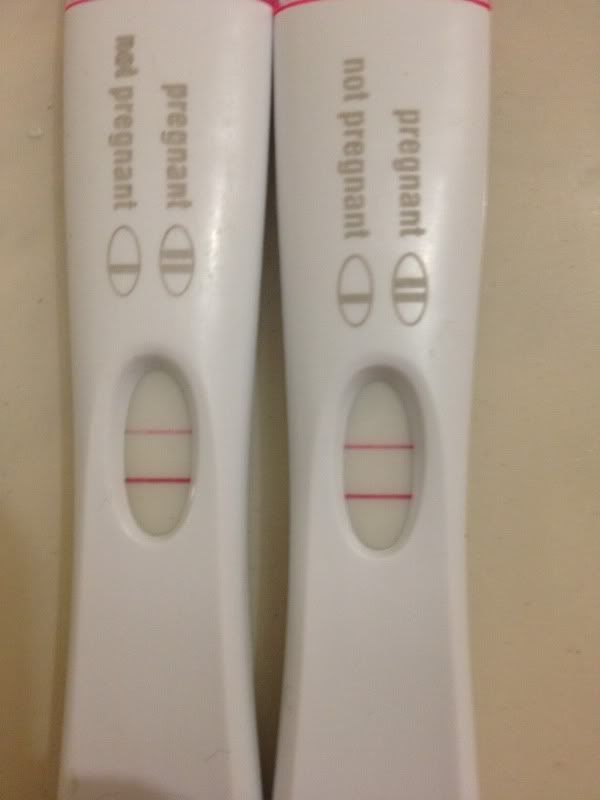 And these ones are from last night (4 weeks). The last sticks I will be peeing on lol.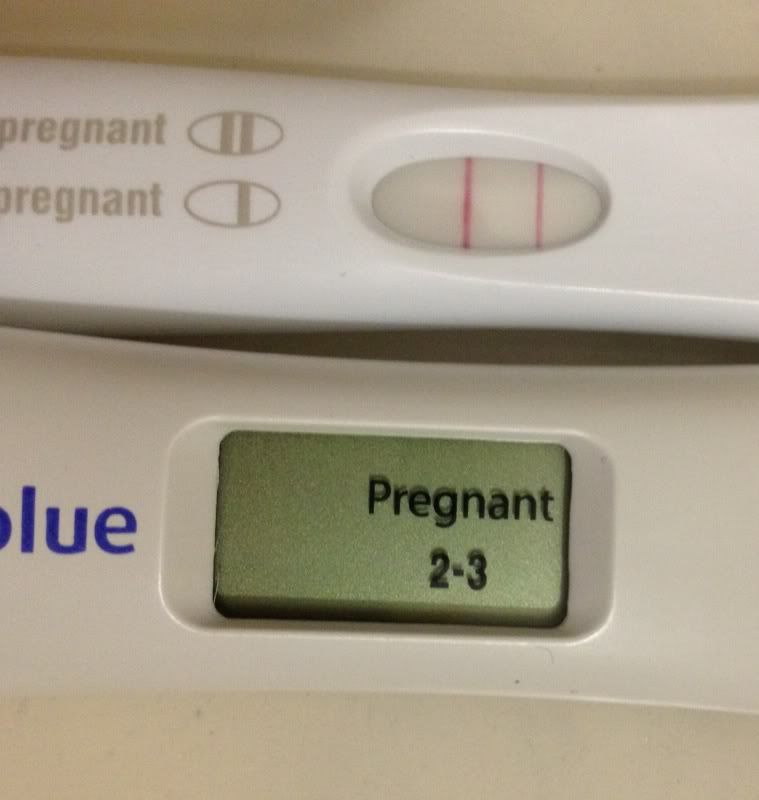 10th Oct '12
Congrats! Sending sticky dust your way!
10th Oct '12
Sticky baby dust to you hun! :D
10th Oct '12
congrats! whats up w the 1-2 and 2-3? is that weeks? ive never seen a test like that
10th Oct '12
Silly question- what are the numbers??
*Turtles*
Due July 27; 1 child; Someplace, UT, United States
6070 posts
10th Oct '12
user banned
Iowa
1784 posts
10th Oct '12
10th Oct '12
Congrats! On the clearblue that say pregnant 1-2 and so on mean how many weeks you are?
Jess✿
3 kids; Australia
4331 posts
10th Oct '12
Thanks ladies :)
The numbers are conception indicators. 1-2 means 1-2 weeks past conception 2-3 means 2-3 weeks past conception.
They are really expensive so I always take a FRER & make sure it's positive before buying one lol.
Rabbit.
Due October 29; 1 child; Wpg, Mb, Canada
383 posts
10th Oct '12
10th Oct '12
The numbers are how many weeks past ovulation she is.
10th Oct '12
congrats..sending you some sticky dust!
paperduck56
Due December 11; 1 child; Adelaide, Australia
18 posts
10th Oct '12
Congratulations! It's amazing what agreeing to stop trying to conceive will do for baby making! My hubby and I conceived, then miscarried in similar circumstances to your 5 weeks one, and we decided after that that we would try for number 2. Gave up 2 months later, because I was so stressed and for some reason there was a permanent faint line on all the tests I peed on!! :( ... Literally 2 days after we sat down and had the 'we won't try any more, we're already luckier than some people because we've already got Midget, so if it happens, great.. If not, we're happy with him' talk... 2 DAYS LATER -- I kid you not, I know this because it was the only time we did anything that week because I was ovulating and we'd decided not to try any more -- we got pregnant with number 2!! Lol! The stress of TTC is a baby killer!!
Now I'm 31 weeks and can't wait to have him here! It not been such a dream pregnancy as my first, but I know he'll be here sooner than I think and I can't wait to meet him! :D
So all the best, lots of sticky dust and happy pregnant thoughts to you! This little one is obviously meant to be here, your numbers are going great guns.. At the time you measured 137, most docs are happy with 50! ;D You're doing brilliantly!! Best of luck, and may you have a healthy, trouble-free pregnancy! <3 xx
Join BabyGaga For Free
Ask questions, meet people with similar interests and more!