So he is here.... :)
user banned
19th Nov '12
So I got a new computer for my anniversary last night and I have been trying to set it up so I can write my story and post pics! YAY, but I didn't get it set up so I am using my hubby's laptop and quickly trying to write this before the baby wakes. Anyways......
Friday 5 pm my water breaks and yep if you read my story I was not thrilled. After trying everything to get contractions going, which I have never had that problem before. I did walking, sex, nipple stimulation bouncing on a ball, everything. Well nothing happened. So I was like ok I am going to rest and I am sure in the middle of the night it will do something. So I went to bed. I slept like a baby and woke up the next morning and still nothing. Water still gushing out like crazy. So 7am I make coffee and start walking, pumping, sex, bouncing and still nothing. We went on for hours trying EVERYTHING that is supposed to work. Now I am a little worried. We are getting closer to 5pm Saturday and I was worried that with having sex I would get an infection since nothing was going on. So we decided that for safety to head into the hospital. We had called my midwife and she advised us to head in. Never told us she wasn't in town.
We arrive at the hospital and wait to be seen, 3 hours later we still haven't had anything happen as in IV, antibiotics nothing. Apparently my nurse was trying to track down my midwife and keeping the on call away from us. The on call was ready to section me due to my water being broke. We never even saw him nothing, so we had no idea. Anyways my nurse who was amazing found my midwife was in Seattle and was doing everything to get her back. She even offered to pay for my midwife to fly back. well my midwife paid her own way making her husband beyond mad. But she wanted to be there to help me. She ordered antibiotics, iv and pit to see if a little push would get my body going. well it didn't. We kept upping it slowly to see.....nothing. She got there and never left my side. We kept upping it and she waited with me. Finally I was in dying pain but I could manage it I refused to do any more medical interventions. Which she knew that the pit was not my favorite but was willing to do it to get him out. I didn't want anything for pain. I was maxed out on pitocin and he still wasn't dropping which was weird because he had been so low before and I was really dilated before. He had moved up apparently. So I told her please check me and tell me what is wrong because now I was dying in contractions getting worn out and doing everything to get him to come down. She had transformed my hospital room into a natural playground, balls, bars lights off, music playing and she was massaging my body continuously working pressure points to help with pain and everything. I got checked and she was shocked he had turned posterior and was severely stuck. He had also moved up. I thought I was going to die. I wanted to quit. She tried a few times to turn him and nothing he was jammed. We decided to do positions that specifically encouraged him to turn naturally and nothing. So again we tried to have her turn him. It hurt more then anything having her stick her hand and arm up there and trying to yank him around. Which she didn't want to use any tools because she needed to feel him and make sure there was no pops and things for his safety, but it was going to cause me pain beyond anything I have ever felt. I begged for an epidural she said no girl you got this. After many times of her slowly turning him he finally turned enough to try and bring him down. I was told to push. I was beyond tired and just begged to quit. I had no energy left at all. The pain was everywhere including my back from him being stuck. I just couldn't she grabbed more lotion and started to work on more points and told me I could do this I was strong. I wanted to die all I could think of was find a freaking knife and cut myself open and get him the crap out. The rest and the talk got me upset. When I get upset I push and I don't quit. So I turned stopped crying and I thought I was screaming bloody m****r but my husband said I was just moaning and rolling my head around with my eyes shut. I took position and let it go. His head came out, I took a quick breath and pushed again and he was out. He was delivered into my husband's hands then he put him on me. I sat there in shock, I had no idea I pushed him out. I was just mad. But there he was gorgeous and laying on my stomach. we did delayed cord cutting and watched as his cord stopped pulsating then my husband cut the cord. We sat there staring at him for 45 minutes in disbelief. Finally I was like I want him weighed be is so small. He was 7lbs. for me he was tiny. Hudsen Leon was born November 18th at 2:18 am 7lbs. 21 inches. He was perfect. No problems with him. My midwife sat there with me crying saying she was so proud. I did this all without pain interventions, I had a little something she gave me at the end to relax me and try and convince me I was going to make it. But it wasn't for pain. I still don't know what it is called. I agreed to stay the rest of the night to make sure I was ok. But a few hours later I was up and cleaned my room got Hudsen and I dressed and was ready to go. We came home after the pedi. cleared him we rested the afternoon away in our bed all together as a family. He is doing great and so am I. I would of NEVER made it without my God sent angels my midwife and my nurse. It was a VERY hard and different experience but SO worth it and I would do it again. My bleeding has almost stopped and I have been out enjoying my baby and getting things done ever since we took our family nap. :) enjoy the pics.... it was a few pics from my journey. Which yes I know there is tears in one of my pictures. But I am not going to lie this was a hard delivery and I wanted to quit so bad. My other three were NOTHING like this.
Before the pit was way to high!!!
" /> Crying while I sway to try and bring him down.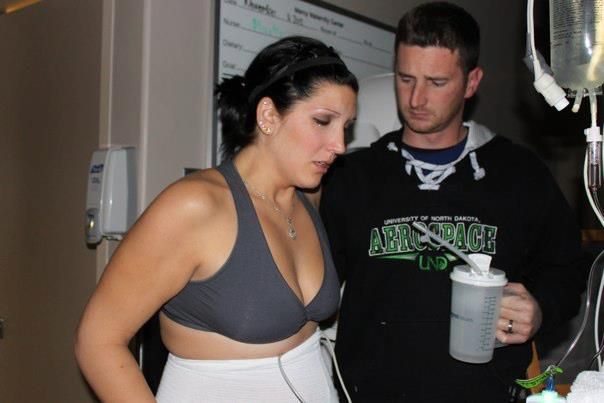 " /> My pep talk with my midwife to just finish it up
" /> My shock
" /> Daddy holding him again after his weight check.
" /> Dressed 5 hours after I had him.
" /> 7 am waiting to leave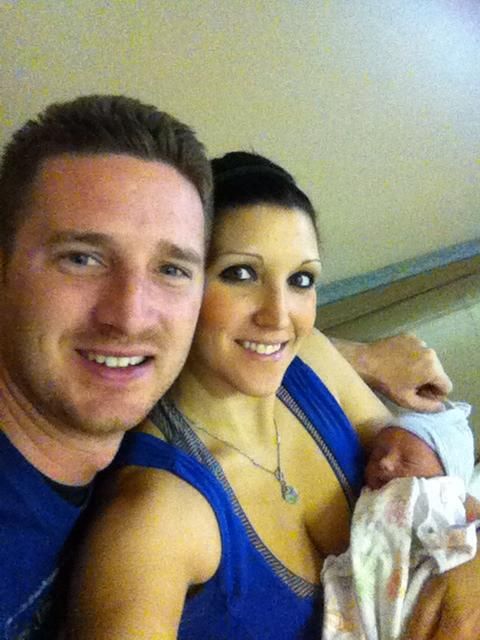 " /> Hudsen at home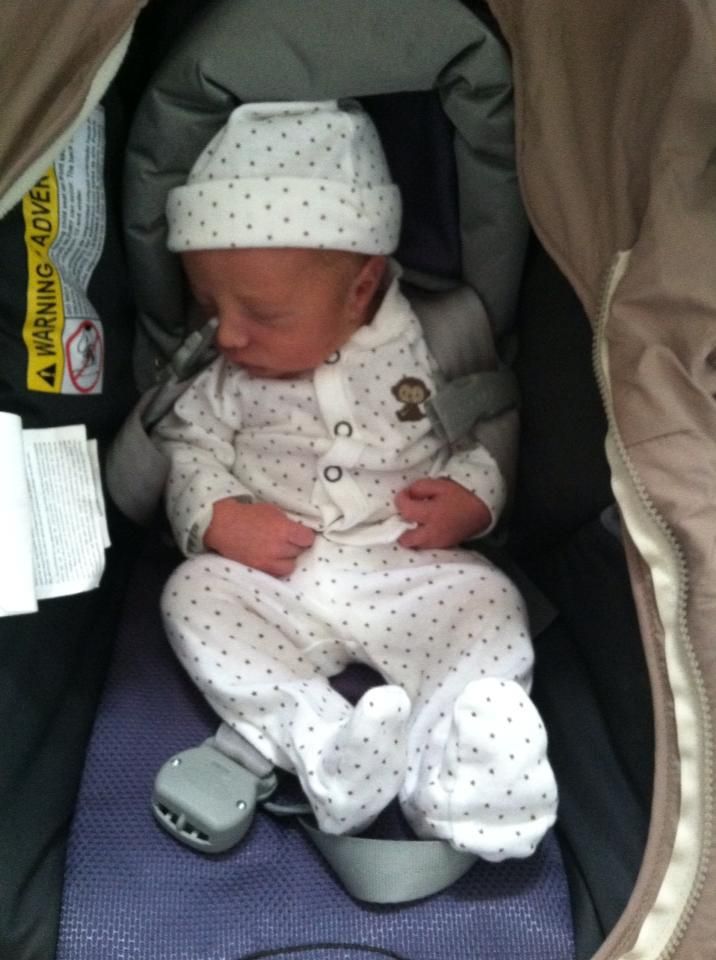 " />
19th Nov '12
umm you're a freak for being so pretty during a labor that hard.
[Ashlyn]
Due November 23; Panama City, Florida
32 posts
19th Nov '12
Congrates!
pennylove
Due July 9; 17 kids; 1 angel baby; Australia
988 posts
19th Nov '12
I named my son hudson too but with a o instead" its such an awesome name congrats. You look so pretty if i only looked that good after giving birth
19th Nov '12
That last outfit is one I'm bringing to.the hospital too. :)
Congrats!
19th Nov '12
Quoting CRSx2Mommy:" umm you're a freak for being so pretty during a labor that hard. "
I was thinking this same thing. "I know there are tears in one picture." Umm yeah. You still look gorgeous!! I'm jealous. I looked rough during my labor haha
But congrats! That was an amazing labor story It was so inspiring that you didn't give up and had him all natural :D
Did you birth in a hospital or birthing center?
19th Nov '12
Way to go, mama, congrats! You looked gorgeous and your lil boy is adorable, so tiny!
19th Nov '12
Congrats! He is adorable and you look amazing!
19th Nov '12
Aww momma congrats. You were a real trooper. :)
20th Nov '12
Sorry to hear u had such a hard labor. But ur so making for going though it not only pain medicine free but also looking like a model! Geese I wish I looked half that good when I was in labor. I debt with painful contractions for 75 hours and could barely eat or sleep by the end and only got to 3 stinking 3cm I just wanted the pain to stop and couldnt be happier when they offered a c-section. I was so worn out I could have gone any longer and then been able to push. So big props to u. Ur son is so cute. Congrats
20th Nov '12
Quoting CRSx2Mommy:" umm you're a freak for being so pretty during a labor that hard. "
Agreed :) I am going to look like the boogyman before its all said and done :)
20th Nov '12
Quoting Ashley Agnes:" Agreed :) I am going to look like the boogyman before its all said and done :)"
exactly. She said she had tears in one picture. Not only can I not tell but that makes me hate her more because I look like Farrah from Teen Mom when I cry
user banned
Logan, Utah
3594 posts
20th Nov '12
Congrats! He is gorgeous!