OFFICIAL DECEMBER TTC CHAT THREAD
Kat♥TTC_Mama♥
TTC since Mar 2010; 64 kids; Madison Heights, Virginia
8876 posts
30th Nov '12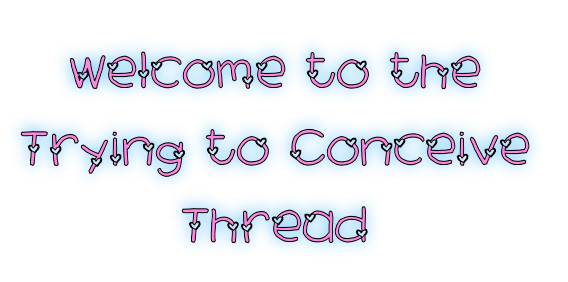 This is the new thread stemming from the previous "OFFICIAL TTC" threads (found here and
here
) All TTC ladies are welcome to join us and chit chat!
Good luck ladies on getting your BFP's! And **tons of baby dust**
-TTC Info and FAQ-
When is Day 1 of my cycle?
Day 1 of your cycle is the first day of red menstrual flow, not any spotting that may precede
AF
.
If everything spills out after intercourse, is conception possible?
This is the "most frequently asked question" so here's the scoop:
If you stay prone (lying down) for 20 minutes after intercourse, the only thing that "spills out" is seminal fluid and abnormal s***m.
Normal s***m is ejaculated into the v****a and immediately travels into the cervix (safe haven from the acidic environment of the v****a). (v****a - cervix - uterus "VCU")
Seminal fluid is the medium that carries the s***m out of the body.
Abnormal/malformed s***m are not able to advance through the net-like mucus (ferning) which we know as Egg White Cervical Mucus EWCM).
How do I chart my basal body temperature?
Your
BBT
is taken first thing in the morning before getting out of bed, after a minimum of three consecutive hours of sleep. Your temperature should be taken at about the same time every morning, preferably within an hour or so. It is usually taken orally, but can be taken vaginally. By charting your
BBT
Kat♥TTC_Mama♥
TTC since Mar 2010; 64 kids; Madison Heights, Virginia
8876 posts
30th Nov '12
I'll start off. Im Kat, 25, hubby is Jason and 33. We've been trying since March 2010 with 4 pregnancies but no living babies. First was born early at 22w4d and lived 20 minutes, next 3 were miscarriages before 7 weeks along. This is month 32, not sure which cycle number itself since average 34 days per cycle.

Currently CD 23 and 11dpo
Kat♥TTC_Mama♥
TTC since Mar 2010; 64 kids; Madison Heights, Virginia
8876 posts
6th Dec '12
bumpbumpbump