28th Jun '13
Quoting Ayzya:" I felt like I wasn't healing right because my bladder felt so full that I started feeling like something ... [snip!] ... too, so I dunno.. I hold her upright and its hard to effectively burp her when she's fallen asleep but I dunno, I feel so fail."

Hmm.. I dunno about the bladder thing. Maybe it's just getting used to not having a baby pushing on it..? :?
I'm not really sure about the spit up thing, either. I don't know what's normal because Layla hardly ever spits up and when she does it's just a tiny bit. Alisa was talking about pyloric stenosis, hopefully that's not what it is but if I were you I'd call her doctor and ask because you definitely want to make sure she's holding something down and getting what she needs. I usually burp Layla on my chest, I'll pat her back pretty hard and kinda massage it, if that doesn't work sometimes I'll lay her down on her back for a second and when I pick her back up she'll usually burp. Or if I hold her on my chest and just kinda bounce her, sometimes that'll get a burp out of her. Don't feel bad, these little ones don't come with an instruction manual.. it's all trial and error.
28th Jun '13
Try laying baby across ur lap on its belly to help burp. You could also lay baby on its back and gently help fold the legs toward the chest repeatedly to expel gas. If baby is spitting up a lot watch that it's not losing too much weight. Agreed. Try a different formula. Do it slow like old formula mixed w new and keep adding more new vs old w each bottle til the old is gone.
28th Jun '13
Here is my attempt at my labor story while baby is sleeping!
Tuesday June 25th I was scheduled for an induction at 11am. The hospital called me that morning and delayed it due to being so busy. I waited anxiously all day for the phone call which we got at about 5:30pm. We decided to eat dinner and get everything ready before heading to the hospital.
We got to the hospital at around 7:30pm where we checked in and all that. I was 3cm still and having contractions. At 9:35pm they started pitocin and we waited for my doctor to come in and see me. The contractions started to get uncomfortable around 2am and I asked for some stadol so I could get some rest. I was checked a couple more times but there was no changes.
My dr came in and broke my water at 8:45am. I got my epidural at 9:30am - I was only having painful contractions for about 30 minutes! My nurse checked me again at 10:30 and I was at 4cm. I was comfortable but my legs were completely numb!
At 11:30 my nurse checked me again and I was 5cm. Baby started having heart decelerations and we kept changing my position to see if it would help. Nothing helped. With each contraction her heart rate would drop. At 12 my nurse called the doctor and he was on his way in to insert a device to measure my contractions and the pressure and to fill me back up with water because baby did not like losing her swimming pool! At 12:10 I had a contraction and felt like baby was moving down so I told me nurse and she checked me again - I was 10cm and ready to push! I went from 5-10cm in a matter of 30 minutes.
My dr arrived around 12:30 and with a few pushes Emily was born at 12:40 weighing 7lbs even and 19inches. She scored a 9 and 9 :)
And some pictures :)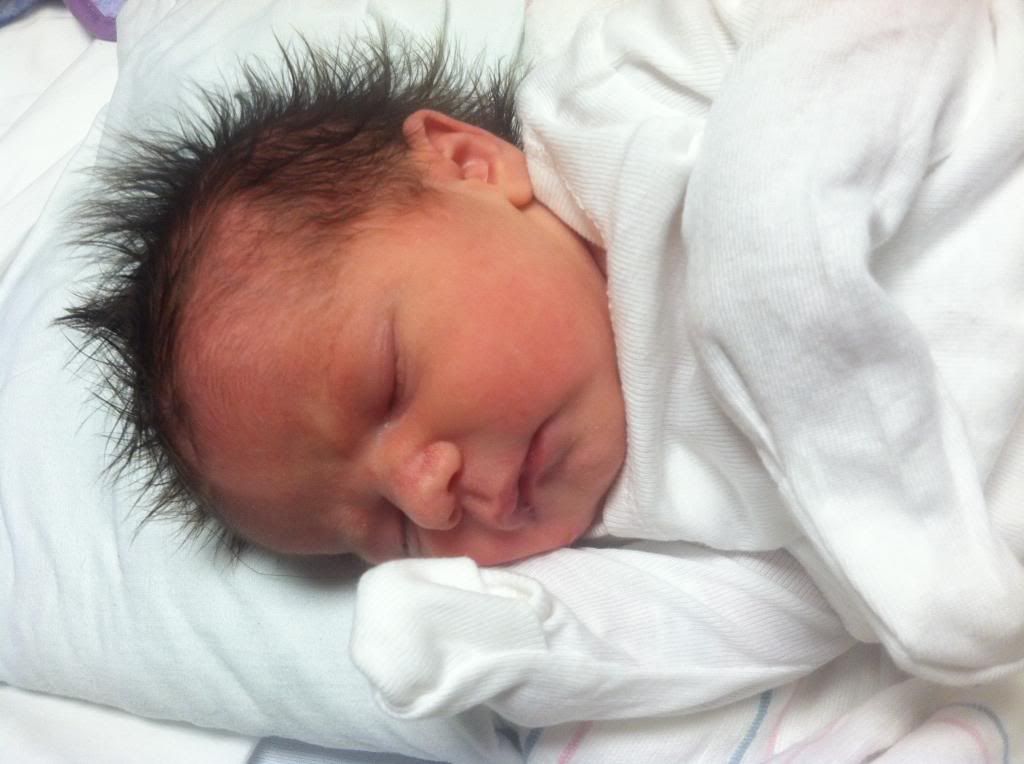 so much hair!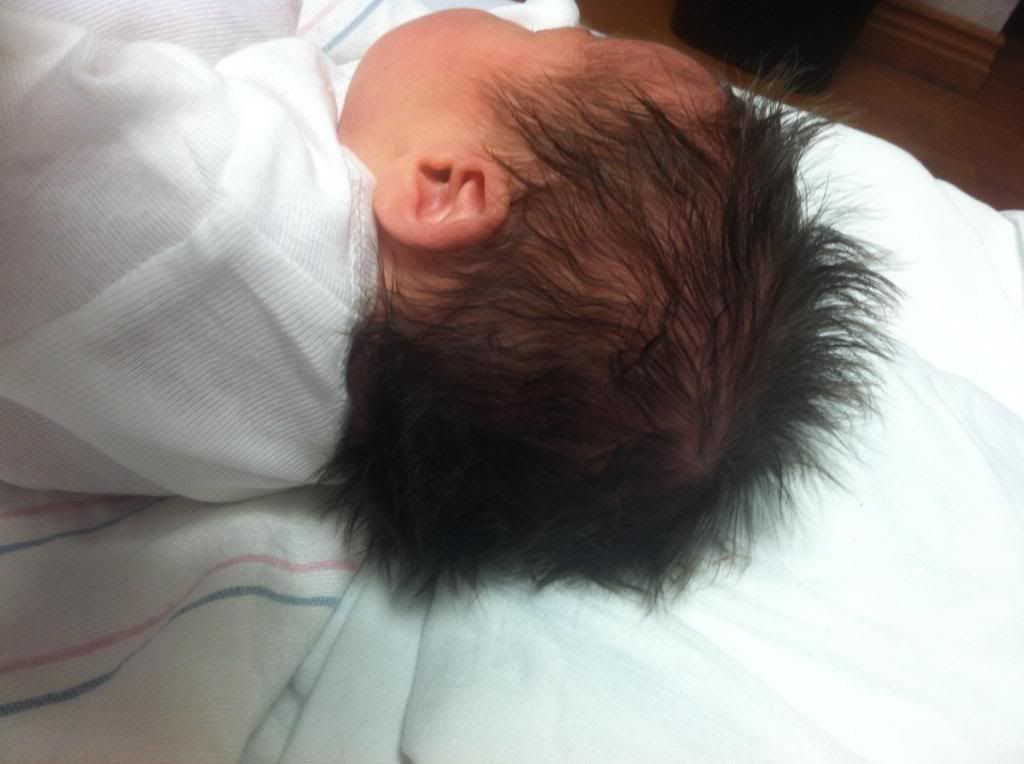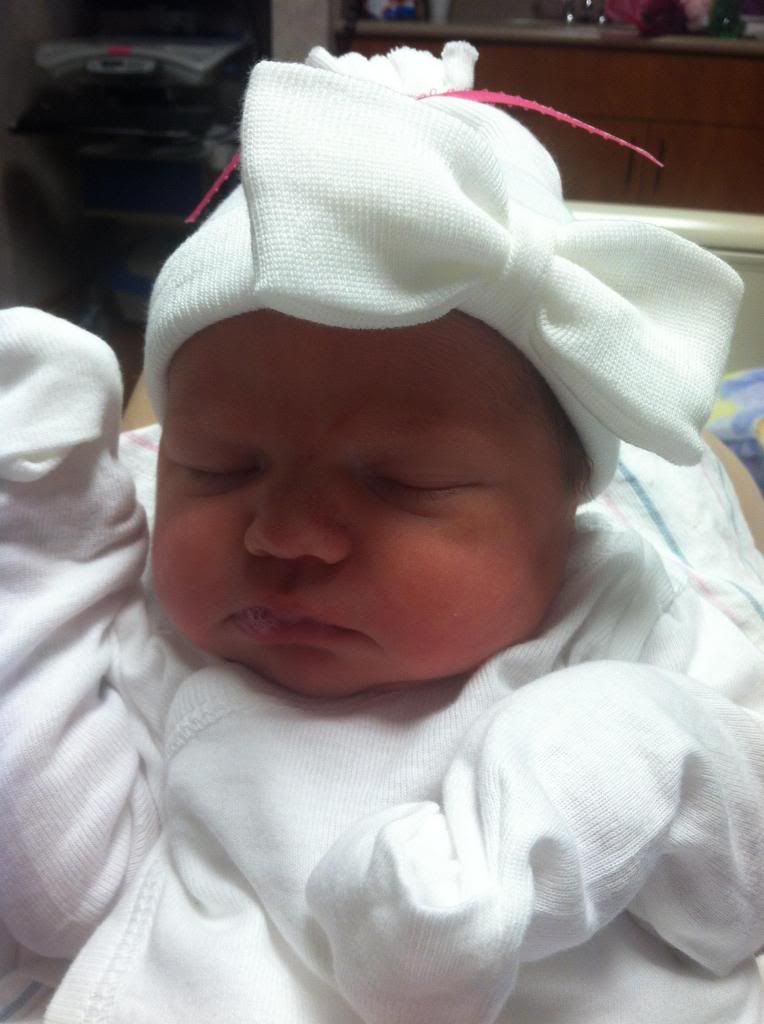 She is doing amazing at breastfeeding. She hasn't had to have any formula! We had some difficulty in the hospital because she just wanted to sleep but we just kept trying and it worked out. It is still painful and I am sore but were working through it. She slept really well last night too :)
I am doing great as well - the only pain I have is the cramping. No rips or tears and it doesn't even sting to pee! Lol
user banned
Due September 24; 1 child; 1 angel baby; Minnesota
815 posts
28th Jun '13
Quoting James Mama:" Here is my attempt at my labor story while baby is sleeping! Tuesday June 25th I was scheduled for ... [snip!] ... too :) I am doing great as well - the only pain I have is the cramping. No rips or tears and it doesn't even sting to pee! Lol"
Congratulations on quick labor and delivery.
She is so pretty! Enjoy your wonderful baby!
28th Jun '13
Quoting StewedAngie:" Congratulations on quick labor and delivery. She is so pretty! Enjoy your wonderful baby!"

Thank you :)
28th Jun '13
Quoting James Mama:" Here is my attempt at my labor story while baby is sleeping! Tuesday June 25th I was scheduled for ... [snip!] ... too :) I am doing great as well - the only pain I have is the cramping. No rips or tears and it doesn't even sting to pee! Lol"

Ohmagawddd, so much hair! She's adorable! Congratulations!!! :D
I'd be losing my mind if I was scheduled for an induction and it got delayed! :shock: That's kinda how I felt when I was waiting for the nurse to call and tell me I could pick Layla up from the nursery, I didn't know what to do with myself.
29th Jun '13
<blockquote><b>Quoting James Mama:</b>" Here is my attempt at my labor story while baby is sleeping! Tuesday June 25th I was scheduled for ... [snip!] ... too :) I am doing great as well - the only pain I have is the cramping. No rips or tears and it doesn't even sting to pee! Lol"</blockquote>
Omfg! She is soooo stinking cute! I just wanna squeeze her chubby little cheeks!
29th Jun '13
So today I was at my mom's and looking through some old pictures and I found this one of my sister..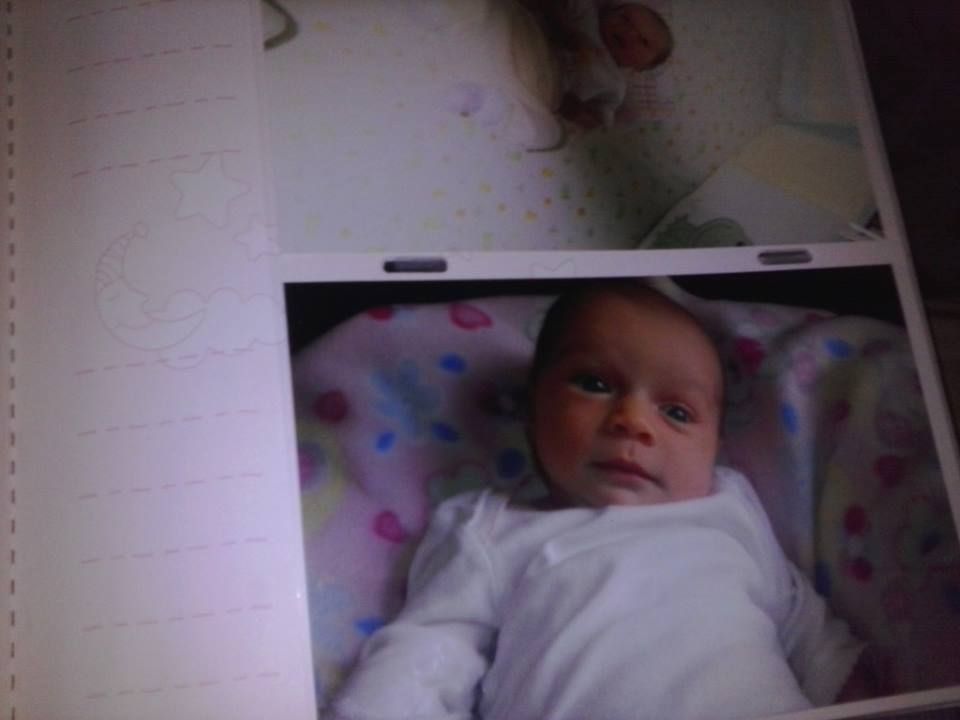 She looks EXACTLY like Layla. And she's not even my whole sister.. we have different dads. Must be some strong genes on my mom's side because they look like they could be the same baby (this is a pic I took of my mom and Layla today, she seems to be making the same face my sister was making in the above picture).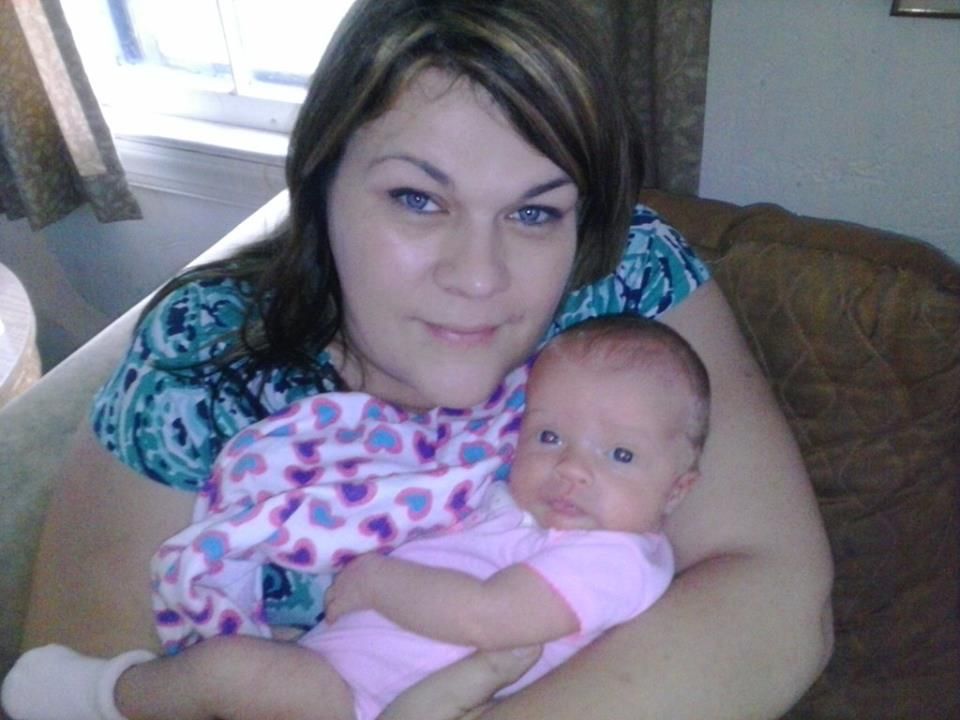 I know a lot of newborns look the same, but still.. I definitely see a strong resemblance.
Ayzya
1 child; California
467 posts
30th Jun '13
Actually I was gonna say when I first saw that photo before scrolling down to read what you wrote I thought you had another photo of Layla so I'd say yeah that's pretty strong resemblance!
Claire looks so much like her dad, it's a no contest. He doesn't like his photo put up anywhere so I can't put it up of him, but yeah in all her photos she looks so huge but really she's just a tiny little thing.
Here's a photo of my friend holding her, doesn't give the best idea but she's tiny I tells ya!
And back to the breastfeeding thing; it's gotten better about her feeding exclusively from the breast now, I'm taking fenugreek seed supplements to try to see if I can produce more milk. Claire seems pretty satisfied after feeding. It takes about half an hour on one breast though, sometimes even longer; but at least she seems full enough after she pulls off. Here's a photo of what she looks like after feeding: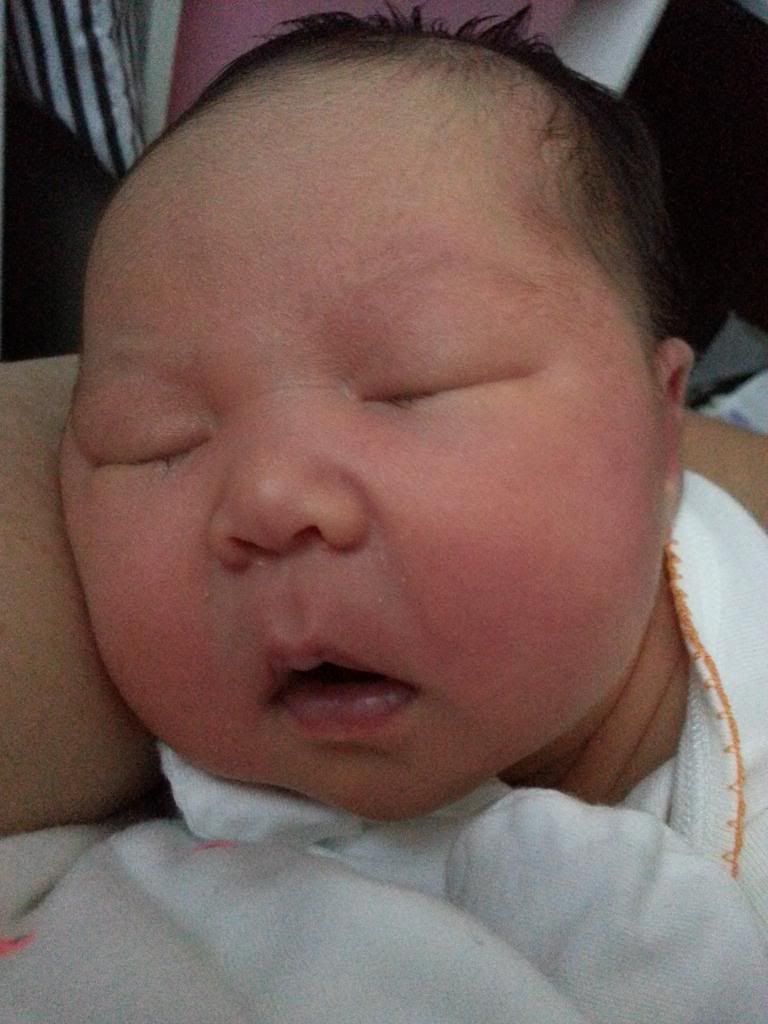 It's funny though because everyone's photos you guys have such tiny babies and mine looks like such a chubba-muffin.
But yeah no matter what I do in burping (I use the methods you guys talked about) and I try to keep her upright for a good while before laying her down and it still doesn't help. Even if I put her in a semi-recline position she spits up like that and also has hiccups all the time still. The pediatrician told me that hiccups aren't a good thing, so I'm gonna talk to her about the reflux and hiccups when she gets back into the office on Monday.
PreemiePowerOn
1 child; 2 angel babies; Gaylord, MI, United States
51 posts
30th Jun '13
All your babies look huge, lol. Mine was only 2.9 pounds.
30th Jun '13
lol I think this picture is a better one to compare to: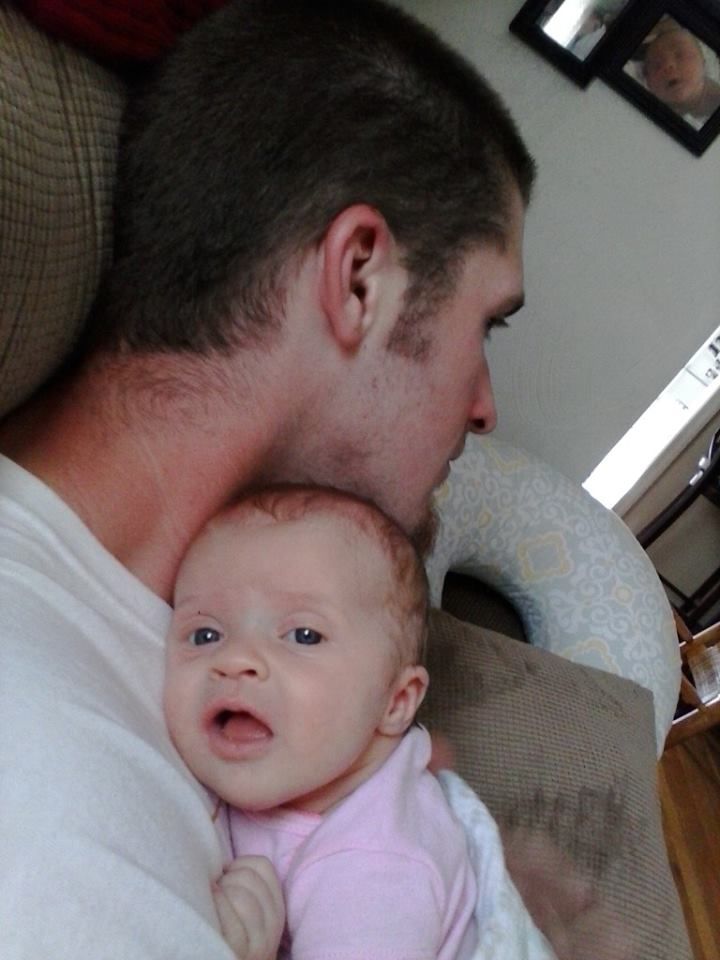 They look so much alike! I keep looking at the picture of my sister and almost forget it's not Layla lol it's crazy. And we don't even have the same dads so it just blows my mind. My mom must have some strong genes! Which is surprising, because SO's family has some super strong genes (seriously, everyone in his family looks exactly alike).
Claire is so chunky and beautiful lol I love her little lips! Too cute! :D
Last night my mom watched Layla over night. Me and SO wanted some adult time.. we got a couple of our friends to come over and we had a few drinks. I didn't get drunk, just a little tipsy, but SO got pretty drunk (he hasn't drank since I last drank) and ended up going on this rant about how much he loves Layla lol it was adorable. He was talking to his friend and I was on my FB doing something and a picture of her popped up, and he stopped what he was talking about and starts talking to his friend saying, "I don't want to be one of those guys that forces my kid on people.. but look at that! (pointing to the picture) Look at her! She's so f**king adorable! I just love her so much! I already know I'm gonna end up killing someone over that little girl, I love her so much!" Hahah it was too cute, and his friend who was also pretty drunk was all like, "That's awesome dude, I'm so happy for you!" lmao It was pretty funny. :lol:
1st Jul '13
So I tried applying for food stamps again and I just got done with my phone interview. The lady told me I may qualify for something just for this month since I was on maternity leave, but with me and SO both working full time we don't qualify. They said for three people (me, SO and Layla) to qualify for food stamps they have to make less than $2000-something a month. :shock: Seriously? I'm not THAT broke, but I'm still struggling. It really upsets me that when you bust your ass to pay rent and pay all your bills and keep food in everyone's bellies and meet your baby's needs, they deny you any kind of assistance, but if you were sitting your fat ass on the couch all day not even attempting to support your family, they'll give you everything. It takes a lot for me to ask for help, and this is my second time now and once again I've gotten turned down. It looks like I'd be better off if I just quit my damn job. :x
Ayzya
1 child; California
467 posts
1st Jul '13
I'm sorry Carmen, I guess even if you mention he has to pay child support that doesn't do anything to help? I forget if you applied for WIC yet? It is pretty frustrating when it comes to applying for these things..
Either way, hang in there mama. I wish I knew of something else that would help. Any chance you guys have some old stuff you can sell off?
1st Jul '13
While I was pregnant everyone kept asking if this was going to be our last baby and we talked about it and we were undecided. We were not 100% either way. Now (just 5 days pp) I am like so sure I want another! And DH already started talking about another too.
I feel great, my stomach is already back to the same is was pre pregnancy and I am LOVING our new baby!
Anyone else having these feelings or am I crazy?
1st Jul '13
Ayzya, I've already got an appointment set up for WIC, I just gotta see if there's any way I can reschedule it because I scheduled it before I got my work schedule and the appointment is like the day after I go back to work, so I'ma see if I can go in on my day off. If not I'll just have to set up an entirely new appointment later on. And I told the case worker everything we pay, she still says we make too much. When I told her I pay $205 a month for my car loan, she said, "Oh, we don't look at that.." I don't understand why because that's technically a bill I have to pay, but I guess because a car isn't something you NEED, they don't consider it important. :roll: But yes, they do know about his child support and the almost $600 a month we pay for insurance, it doesn't seem to make a difference. :? We must be doing something wrong, then, if they're saying we make too much and we're still struggling like this. Maybe we gotta go over how we spend our money and figure some stuff out. Ugh.
And no.. no more kids for me! My first pregnancy was a breeze but didn't end too well, this pregnancy was a freaking NIGHTMARE. I don't want to know what a third pregnancy would be like for me. SO and I have both agreed we're done lol. And I can't say I'm back to my pre-pregnancy body. I mean my stomach looks like it went back down to it's original size, it's just a lot more jiggly/soft and has a lot more stretch marks. :? I had my PP appointment today and I'm 22 pounds heavier than I was pre-pregnancy so I gotta lose that. I think it's mostly in my hips, ass and thighs, though lol.
How do you ladies carry around your little ones? Like if you gotta take them to an appointment or something.. do you put them in their stroller? I just carry Layla in her carseat and everyone's always like, "Do you not have a stroller?!?!" I just think it's easier to carry that opposed to having to pull out the stroller, unfold it, put her in and have to put it all back later. It's also easier than pulling her out of the carseat and just carrying her (although that would be a lot lighter lol). I dunno.. people keep commenting on how I carry her around in her carseat when I go places like I'm doing something wrong lol.