4th Aug
Picture Time :) I cannot believe Logan is 7 weeks old already he is pushing 13 lbs and is 23 inches long. He is in size 2 diapers and wears 3-6 month and some 6 month clothes. All the newborn clothes and 0-3 month clothes had to be taken back since he couldnt really fit in them since day one lol. The doctors all joke with me saying I gave birth to a 3 month old lol
Brother time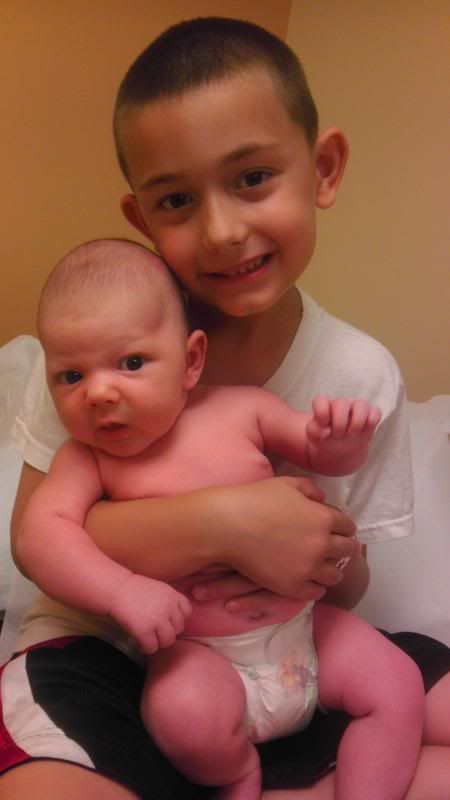 Boobie time
Bath time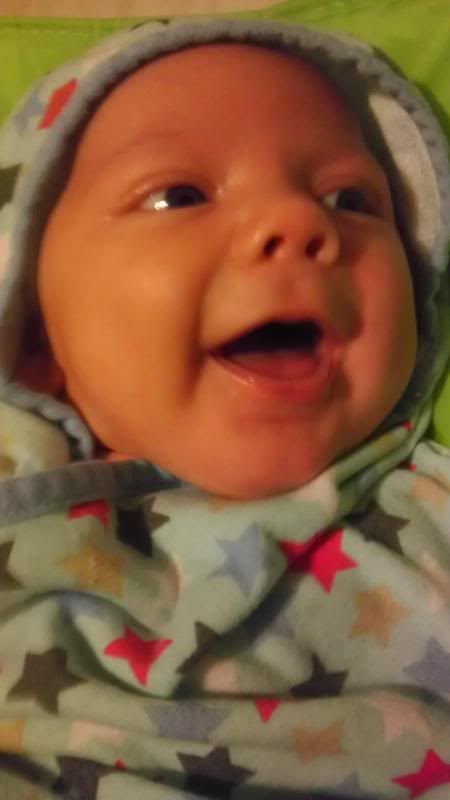 4th Aug
Aww Logan has chunky thighs like Aaron :) i love it hes adorable!! aww layla! he's over 2 months old, size 3 diapers, 3-6 month clothes, 15.4 lbs. idk how long though. He's hard to contain lol flips from belly to back and tonight he was on living room floor while I got his bath together. Came back 5 mins later and couldn't find him! He ended up in the kitchen (10 ish ft away) behind the island! He's not fully crawling but he pulls his legs up under his hips, digs his feet into the floor and pushes hard to propel forward- like a frog lol he's getting faster at it too.

Been MIA. Had to make emerg trip to NJ to see my great uncle. A retread from tractor trailer flew off and hit him in the face throwing him from his motorcycle. Was on life support, coma, possible amputated toes, etc. weren't sure he'd make it. He's ok now. 6 broken ribs, chest tube for collapsed lung, nasty road rash (burns) head to toe, broken collar bones, etc. he needs surgery for the collar bones and he's in a trauma center for the burns. He's got a long recovery ahead. 19hr car ride w 3 kids?- neeeevvveeerrrrr again! Otherwise we're exhausted but home safe. Came home to neighbor brat opened a rabbit cage and his dog killed one of my bunnies, the other we had to catch. Pics tomorrow of kids. Too tired to get laptop out night ladies!!!
5th Aug
OMGosh, your babies make Layla look like a little shrimp hahah. She's still in size one diapers and 0-3 month clothing. Her pedi said she's in great health and growing like she should be, so I'm not worried. I want her to stay itty bitty for as long as possible. :D Although, DifferentDay, I am a little jealous that Aaron is already rolling over for you. I feel like Layla is taking her sweet time and it scares me that she's gonna develop slower than she should. :? I know it's different for her because she doesn't have any older siblings to keep up with, I'm just being paranoid. I just wish she'd do something instead of just laying there lol. Her pedi said she should start rolling over and using her elbows to hold herself up within the next month. I keep laying her on her belly and try propping her up on her elbows but she just doesn't know what to do when I do that and it doesn't look like she's even thought about rolling over.. she just lays there and looks around. Hopefully she does something soon..

And holy shit. :shock: I'm glad your uncle is okay! That sounds horrible! :( And aww, your poor bunnies!!! I have a soft spot for bunnies now ever since my dog used those five baby bunnies in our back yard as chew toys. :?

Ladies, please keep your fingers crossed for me.. I'm planning on trading in my car sometime this week. I have an '05 Chevy Cavalier and I want to trade it for an '03 Honda Civic Hybrid. Even though the Honda is two years older and twice the price of my car, it's sssooo much better and so worth the price! It only has 73,000 miles on it and gets 48 MPG, which is almost twice what my current car gets (25 MPG). It just s***s because I'll have to finance for the next four years. :? Crazy to think.. I'll have a four year old by the time I'm done paying off that car! But it'll be so worth it. I'm just worried because my car is a POS (got in an accident last year and it's been a pain ever since) and I'm afraid they're not gonna offer me enough to pay off what I currently owe on it (a little over $600) and to pay off all the fees for the new car.. I have no money I can give them up front, it has to be a straight up trade or I can't do it. They have other cars there that are cheaper and in great condition, but none of them get 48 MPG and that's what I'm the most excited about. If what they offer me for my current car isn't enough to pay it off and to pay off all the fees, I'm gonna see if I can up my loan amount at my credit union but I'm not sure how that's gonna work. Hopefully, since I work at the credit union I want to finance with, they'll be willing to up it a little bit if I qualify. Ugh. I really hope this works out because I need a safe car to drive Layla around in.. I don't feel safe in my current one (like I said, it's a POS). So pleaseee keep your fingers crossed for me! I'm nervous. I've never gotten a car on my own (my mom and stepdad helped me last time) and I've never traded one in so this is all new to me.
5th Aug
Morning Ladies! Love seeing everyones updates and pictures!! Ya'll babies are growing so fast and they are BEAUTIFUL!! Madison is growing like a weed too and is a total mama's baby. She seriously cries when anyone else holds her or I leave the room. It s***s because im stuck being the only one taking care of her but also I love it cause my first was NOT a mams baby at all! lol Madison 2 month old check up is next week and im not looking forward to it cause of the shots but I know they will help keep her healthy..just s***s :( She is loving tummy time/play mat time. We got her a new mat and shes been on the floor playing with all the toys. lol
Picture update: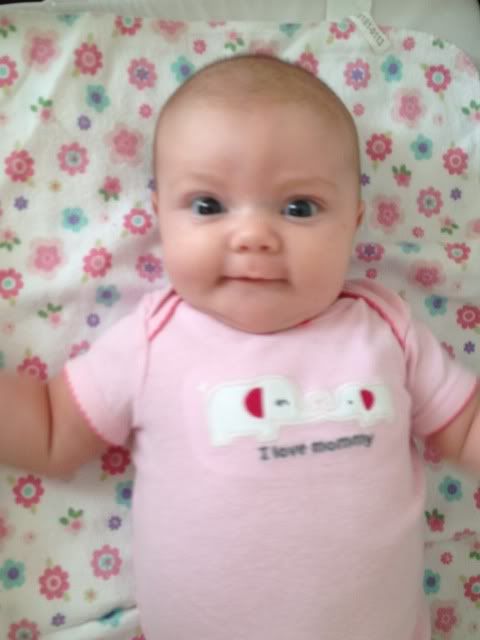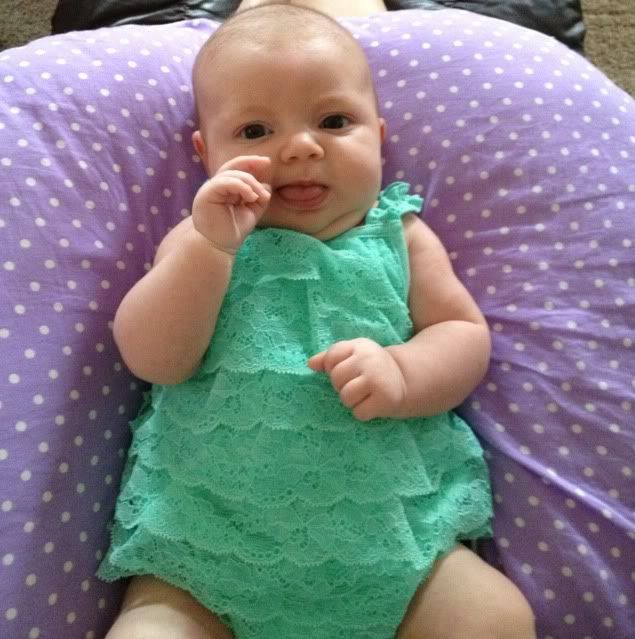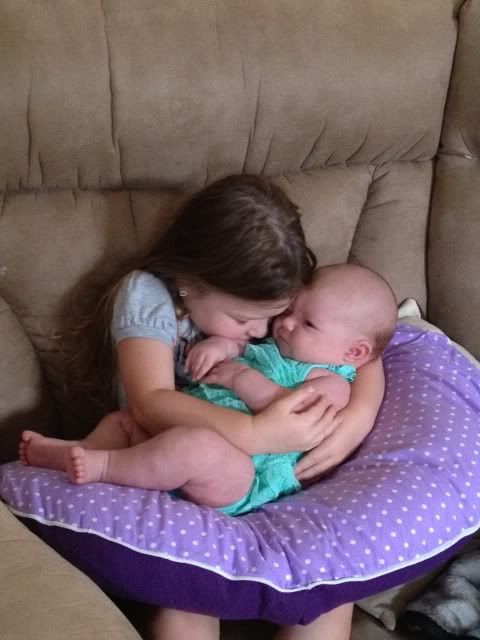 The tu-tu I made her...she hates it btw lol
Our first real family photos taken last weekend.. the sun was horrible and the shadows sucked in alot of them :(
Madison was not happy lol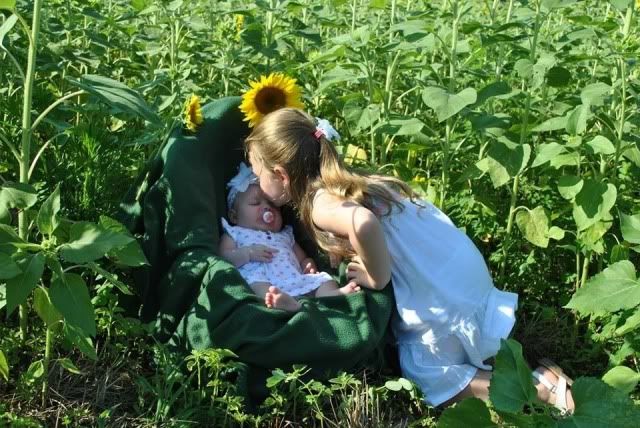 Sisterly love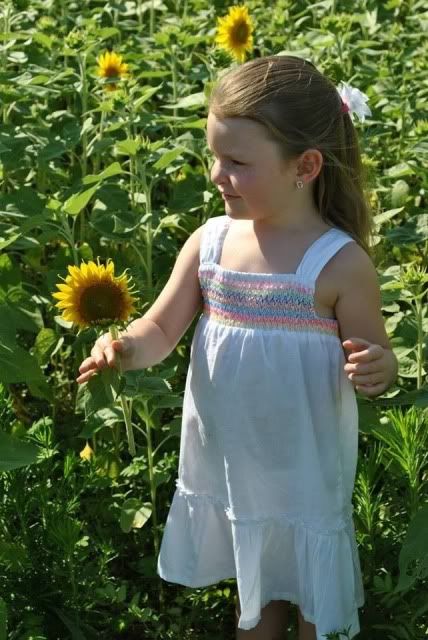 My Big girl Lexi
Madison 1st trip to the ZOO!! She did great!
Sorry for the pic OVERLOAD! lol
5th Aug
Quoting Mama to Lexi & Madie:" Morning Ladies! Love seeing everyones updates and pictures!! Ya'll babies are growing so fast and they ... [snip!] ... was not happy lol Sisterly love My Big girl Lexi Madison 1st trip to the ZOO!! She did great! Sorry for the pic OVERLOAD! lol"
Oh. my. GAWD!!! That tutu and bow is toooooooo freakin cute!!! :D And don't worry about the shots, she'll do fine! Layla did great with hers, took em like a champ! She cried as the lady was sticking her, but she pretty much forgot about em the second she was done. We popped the paci in her mouth and she was happy once again lol. She did get a little fever the next day (which I was told is normal) but she was fine and I'm sure Madison will do great too. :)
5th Aug
awww madi is so pretty in that blue ruffly romper too!! love that! ooo which zoo? after our NJ trip we're broke so no trips for a bit. Hmm good luck with the car! we're thinking of trading my HHR in for a van. we're not van ppl but... I'm not driving the Suburban either. Way too big, but a van or ford flex might be doable. I wanna look into a Honda Odyssey especially. Thanks yes he's alive and I'm so grateful for that. I lived with him most of my young life and he raised me so he's very very important/close to me. Aww layla will develop on her own, you're lucky bc they grow so fast as it is and with siblings to wanna catch up with? they grow faster! :*( we timed aaron today- 1:05 mins to flip over. and his gums are already hard and hurting him. I can feel a top back pointy tooth pushing through already. You ladies would've died laughing last night, hubby almost did. So I was getting ready to bf aaron and popped my b**b out lol he grabbed my nipple with his fist so fast I had no clue until the pain set in. I screamed so loud bc he had a death grip on it and wouldn't let go. after 5 mins of struggling, I had to track hubby down in the bathroom. he was laughing bc aaron gets his chest hair like that, well.... I don't have chest hair! when I showed hubby he understood. Took him 5 mins to break Aaron's strong grip too. no b**b, just nipple. in his FIST. I had to feed him on the other side to give the tortured one a break. Today he did it again but I realized it quick enough and pulled him away until I could grab his hands, but bc his gums are hard? yeah that hurt like hell too. now some pics:
"why is my meal covered?"
stupid flash lol my mom's dog- Kyra and the girls
girls at my mom's and I did their make up :)
trip home sleeping with help of motion sickness pill ;)
my grandmom and her life partner Frank with my kidsj (her only great grandkids)
me and the kids with my grandmom and frank
my daddy (stepdad) with my girls
daddy (Pappy to my kids) with aaron
daddy and me. ppl say we look alike idk.
my mom (Mimi to my kids) with her only grandbabies
and finally- aaron staring at himself in my mom's glasses
5th Aug
So ladies.. how often do your LOs have tummy time? Daily? And how long do you let them lay on their tummies? Do you think it defeats the purpose if I let Layla lean on her Boppy while she's on her belly? I'm trying to show her how to prop herself up on her elbows and she's kinda getting it, but her head is still so wobbly! I'm wondering if it'd be more effective if I laid her flat on her belly. I'm thinking it would be but wanted to get opinions. She doesn't seem to like laying flat on her belly too much. :? I guess she's gotta get used to it..
Ayzya
1 child; California
454 posts
6th Aug
Oh my gosh the pictures are all sooooo cute!!!!! Love all the warm family shots! So happy for you mamas, way to go!

Also wishing Uncle a safe and speedy recovery and good luck on the car! Husband drives a Honda Odyssey (wedding gift from his sister for us to start a family which we did!) and I myself drive a Mazda CX-9 but funny thing is I wanted a Flex too. They are really nice!

And tummy time is just her on my chest. She pushes herself up using her legs to scoot against my neck and nuzzles in when she wants to cuddle and sleep. She also tries to hold her head up and look around and I do that with her for a bit each day after feeding maybe two to three times a day?
6th Aug
His tummy time is after each feeding. Sometimes he falls asleep during but mostly he plays. He loves the playmat. My friend has a flex and it was nice looking aside from fact she locked herself outta it w her son inside. At least the air was on n kid was strapped into car seat. I want a sporty ish looking van. All this depends on if I can even drive it. Girls go back to pre k soon yay!
9th Aug
So how are your LOs sleeping lately? Layla will be 11 weeks old on Sunday and last night was her third night in a row sleeping through the night. It's awesome! SO wakes up feeling a lot more rested and so do I. We've been laying her down between 8 and 9pm and she's usually up between 6 and 7am (and I'm already up by then getting ready for work). And I've noticed she seems a lot more happier on the mornings that she's slept through the night. I'm a lot more happier too! :lol:
Layla's finally reached the point where we can talk to her and get her to smile by being silly. I love it! I'll sit here before work and just talk to her and tickle her and she'll just have the biggest smile on her face the whole time. She's also been laughing. It doesn't sound like a laugh yet, it's kind of a choking noise lol but she'll get it right soon enough.
And I'm still trying to figure out my car situation. I decided against the Honda Civic Hybrid because I found out that a hybrid battery costs $4,000 to replace. :shock: Eff that! And when I called about the hybrid, the guy at the dealership (which is a place I had never heard of) didn't even sound like he wanted my business. I'd ask him all these questions and he'd just be like, "Eh, we can figure it out when you come up here." :roll: Dude.. I'm not driving an hour to another city to check out a car when you can't even answer my questions. But I found a regular '05 Honda Civic from a reputable dealership and I'm hoping to go check it out tomorrow afternoon. :) Wish me luck!
Picture time!
Baby girl smiling for the camera the other morning. :D
Snuggling daddy on the couch! :) Ignore the glowing eyes, farmer's tan and jailhouse tattoo. :lol: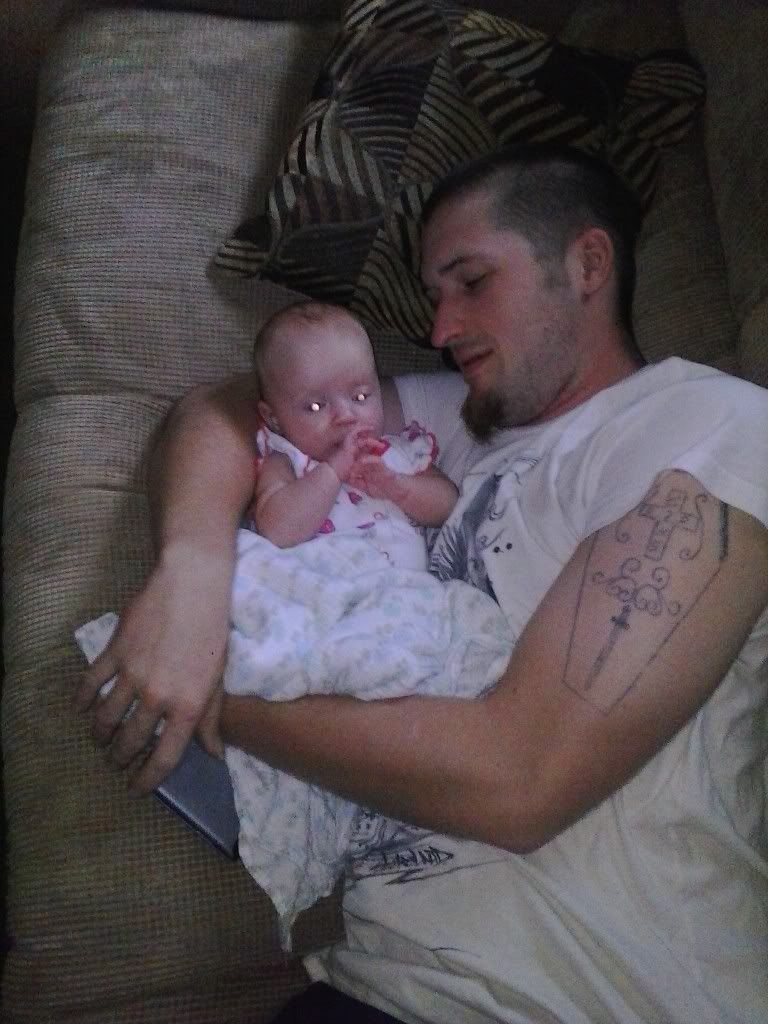 Looking sassy (and kinda drunk) in her hot pink.
And this is the first two-piece outfit I've put on her. Normally it's just a onesie and some socks or a dress and some socks, but I LOVE this outfit hahah.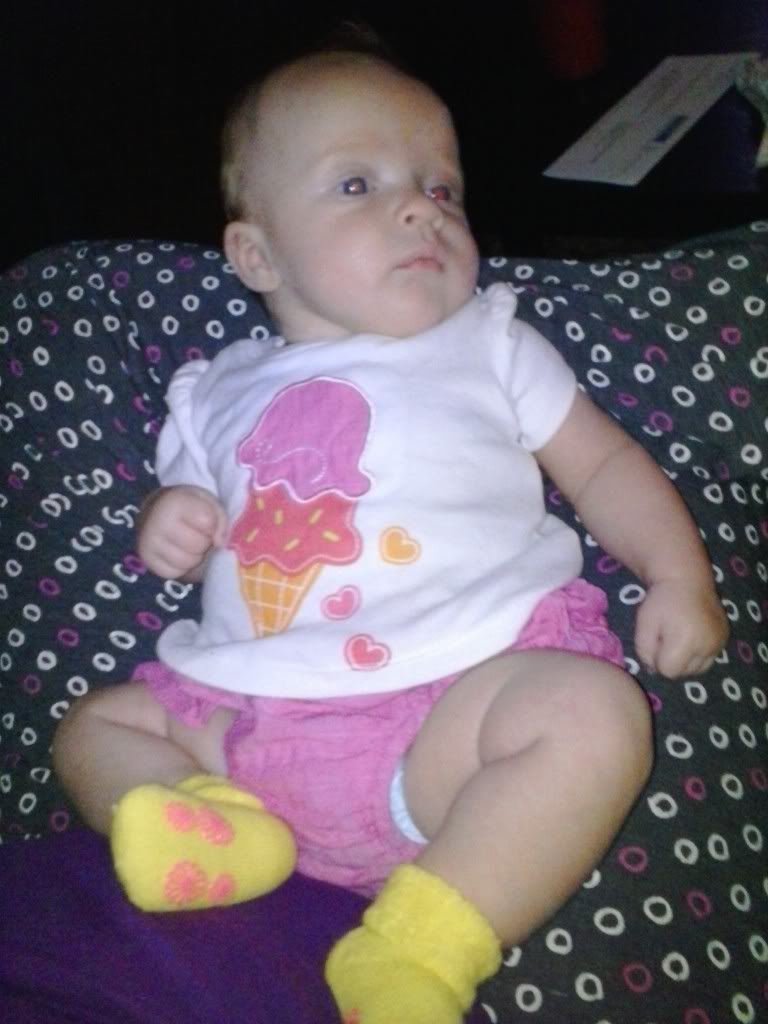 9th Aug
Awe cute pics!!! Love Layla w her daddy :) lol farmer tan, jailhouse tat ha! Aaron does a snort when he tries to laugh. All my kids have (they get it from their mama) he snorts when he's upset too but when he's cooing he makes all these super girly sounds it's adorable! Is anyone else's LO hot blooded? Aaron cannot wear anything more than a diaper most of the day bc he sweats so bad. At night n during naps he has his own fan blowing on him, on high otherwise he gets too hot and fusses until he cools off. It was 90+ degree heat in NJ and he was miserable. My family is old school so no a/c just fans. I have yet to put him in a sleep n play outfit. Nothing long sleeved, no pants. Only part he doesn't sweat? His feet even in socks n shoes. So bfing in public is a nightmare bc of covering up. He gets too hot n so do I. So for the most part we've stopped covering up. I had a few incidents where I was nursing w a cover n ppl got up n left the room. One lady at a rest area stood by my passenger door hugged up against my mirror just staring. She was gonna say something (in the car no cover) so I averted my eyes and eventually she went away. If he wasn't so darn hot all the time I'd be glad to cover up more. I started a milk stash since he slowed down again. Piggy is almost 16 lbs, size 3 diapers are barely fitting him now! $4000?!?!!!! Screwwww that! Yep ditch the hybrid lol we have 4 vehicles, 1 doesn't run- 2 door blazer, 1 needs title- suburban, then my HHR, his Jag. We're window shopping. He needs better credit and we need a down payment saved up before we can. Best of luck w ur hunt! It can be a pain esp dealing w jerk sales ppl!!!
9th Aug
Quoting DifferentDay:" Awe cute pics!!! Love Layla w her daddy :) lol farmer tan, jailhouse tat ha! Aaron does a snort when ... [snip!] ... and we need a down payment saved up before we can. Best of luck w ur hunt! It can be a pain esp dealing w jerk sales ppl!!!"
Thank you hahah. And yeah.. SO works in the sun all day so the farmer's tan is inevitable. And his tattoo really is a jailhouse tat lol he was in jail for like a year long before I met him. :? He has a few shitty tattoos, actually. I keep telling him he needs to get them covered but he likes them for some reason. :roll: They're "a part of him."
And Layla really only gets sweaty when we take her in and out of the car. Other than that, she's fine. SO is an extremely warm blooded person so I'm surprised she isn't. I'm cold all the time though, so I guess she's right in the middle lol.
And props to you for BFing in public. I have respect for any woman who can do it because I know I wouldn't be able to. And would you trade one of your cars in for a new one? Then you probably wouldn't have to make a down payment. SO has terrible credit too, that's why whenever we do get married, I'm not sharing anything with him (as far as putting both of our names on an account or car or something) because I am NOT taking on his terrible credit score (seriously.. it's in like the 300s). And yeah, I had to deal with an a*****e salesman last night. I mean.. he wasn't really an a*****e, and I did kinda lead him on.. I had a car transferred to a closer dealership (the hybrid) and he called me last night to set up a test drive and I was like, "Actually.. I'm finding better deals than what you guys have to offer, I'm sorry." I felt really bad!!! He was like, "Okay, thank you" and hung up. :? I could hear the disappointment in his voice. I'm too nice of a person lol I wanted to call back and be like, "I'M SORRY, I'LL TAKE THE CAR!!!" lmao But yeah.. all the money I'd save on gas in that hybrid would have to go towards a new battery if it were to die. Efffff that! I'm not willing to risk it. But I'm hoping to go check out the regular Civic tomorrow. I just gotta call the people today and make sure tomorrow's good for them. I know I can be approved for a loan and everything, it's just a matter of not paying any cash up front because I'm BROKE! I'm hoping me trading my car in will cover a down payment and fees and whatnot, but I don't know. Guess we'll find out tomorrow..
9th Aug
Aww Layla is too cute!! And good luck with the car search. Hope your able to find a decent one for a good price. I hate car shopping..my next wont be for a year or two but I have to have an SUV which s***s but I need more room for kids and a Large 100lb pit that hates being left behind when we go anywhere.

And Kirsten yes Madie is a little heater!! She sweats so bad that I have to change her outfit at night when she wakes up. I may have to invest in a little fan as well and maybe she will sleep through the night.

Is anyone else's little one a night nurser like Madison that seriously cries all night if she's not attached to my b**b ALL night long? She sleeps in my arms and when I put her down she wakes right back up?
10th Aug
I'm glad Layla doesn't get hot because our house is old school and has no central AC lol the poor girl would be a little fireball.

And OMG I love the pics! LOOK AT THAT SMILE!!!! Tooooooooo freakin cute. :D I love that I can get Layla to smile now.. I just gotta be silly or just talk to her and she's smiling like crazy. She's definitely a happy baby. :)

And the car search didn't go as planned. Tell me why I called these people yesterday to verify that the car was still there, drove all the way up there (about a 30 minute drive) in the middle of a crazy storm to check it out, and when I get there they tell me it was sold a week ago. :shock: They said the person I spoke to was there receptionist, so she didn't know any better. :roll: Seriously?! She should at least have access to an ACCURATE inventory list. Ugh!!! And then on the way back there was some accident so I was stuck at a dead stop on the interstate in the middle of a storm with Layla screaming in the back seat. :x So it doesn't look like I'll be getting a car this weekend like I had planned because all the dealerships around here close at like 6pm on Saturdays. Grr.