Emergency birth addict
Cheek Hole
16 kids; New York, New York
64535 posts
14th Dec '12
Ok...I have time, so I'll type this shiz out now :lol:
Some of you knoooow that my lovely little 5 year old, Olivia, insisted on being a spaz and made her debut in the back of an ambulance. Oh happy day!
Well.... my sweet new baby apparently needed to one up her.
Here's my story (and it will be bloody long, but I won't be a total b***h, and I'll be sure to post a couple pictures at the end :wink: )
I was due with girl #4 December 5. At 34 weeks I went to the hospital with contractions every 10 min, and was given the "false labor" diagnosis. No dilation, great. Constant contractions for the next 6+ weeks....bite me.
I dealt with painful contractions for hours every day, and I was only dilated 1-2 cm at my 40 week appointment.
My awesome doctor, we will call him Dr. Creepy, absolutely refused to listen to my worries about having a fast delivery. As I said, my second daughter was born in an ambulance. With my third I went from 5cm to screaming infant in 35 min. I talked with Dr. Creepy about this, and told him that my quick deliveries, paired with the fact that I'd been having fairly painful contractions for so long, made me worried that I would not realize that I was truly in labor until it was too late. Dr. Creepy looked at me with his creepy eyes and said "I understand. I truly do" MMHMM
At my 40 week appointment we set up at tentative induction for...either Monday, Tuesday or Wednesday (Dec 10,11 or 12) :lol: Yeah...It was a "whichever day we can squeeze you in" type deal. He called the next day and said they'd call me Monday morning and let me know if they had a bed available.
I contracted steadily for the next week. Had the painful sex, did the painful walking, jumped on a trampoline :lol: It was pretty dang obvious that I had yet another stubborn little girl (my 3rd time going overdue) and would be facing the induction that I really was hoping to avoid. *sigh*
My inlaws had come into town Dec 2, and left Sat, Dec 8. On Sunday, I slept in and we had a nice full day of relaxing scheduled. Nothing to do. I was going to take a shower that night, and do my hair (I needed to straighten it for the hospital, y'all). We had the sex in the morning (I made a post in K&S about my husband getting a small bit of mucous plug on him, and how he was never going to have sex with me again), and I lounged around all day while my kids played outside, or watched cartoons and my husband played video games. Chatted with my sister via text about gingerbread houses and the stubborn fetus I was harboring in the uterus. Chatted on BG. I had my normal annoying contractions, and paid no mind...other than a moment of telling my husband that it would be nice if I could go just that day without contractions, since they weren't doing anything and I was being induced the next day anyway.
Around 2 I asked my husband to fix the net on the trampoline, and went outside to chat with him while he did that. I pulled out the lawn chair to sit on and immediately had a contraction that made me change my position in the chair. Kept talking, then I had another one that made me stand up. I told my husband that those ones hurt a little more than usual, and he told me that it was still just the false labor, and I'd be getting induced the next day. Then he made some inappropriate jokes that would normally make me giggle, but instead made me want to junk punch him. I went inside and went potty, because the pressure was moving things. Then I text my sister.
Note the time.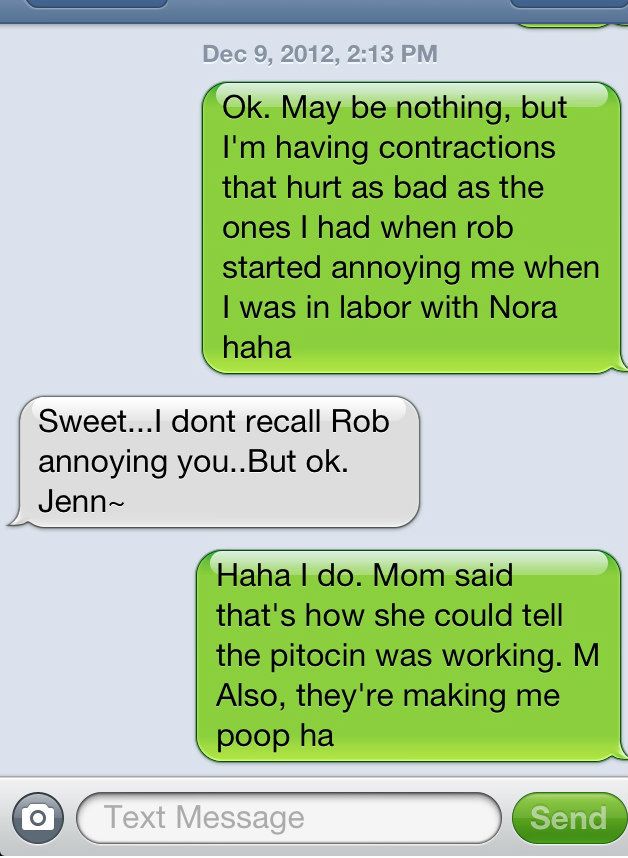 Things started moving pretty quickly from there. The contractions started coming pretty quickly, and were hurting more. I remember asking my husband to think about packing bags for our girls, all the while throwing the rest of the things I'd need in my bag. I remember the look on his face when I realized I couldn't even stand still with each contraction. Pretty sure I saw the light go off
in his head that I wasn't playing around. I asked my oldest daughter to get hers and her sister's school clothes out of the dryer. Then I told my husband I was going to take a quick bath. (I had to shave, y'all!) The bath was pretty much a bust. I had to flip onto my knees with every contraction. Barely managed to get my legs shaved (At one point I yelled to my husband that I couldn't shave my legs :( ) Before I got in the bath I tried to text my friend who was supposed to watch my kids (Text sent at 2:22) and when she didn't text back by the time I was out I called her. At that point I could barely talk. She kept asking me questions and I had to pause for each contraction. I asked her to come get my kids, cuz I didn't think I could make it to her house. Then my sister text me again.
Again...Note time:
I remember quick snapping one last belly shot :lol:
I can see the look of absolute frickin misery in my eyes.
It took about 10 min for my friend to make it to my house. Meanwhile I was doing everything I could to ease the pain. Rocking, getting on all fours on my bed. There's no helping that pain. None.
My husband was kinda freaking out, and he was fussing at the kids. OI! Not what you want to hear when you're in agony.
When my friend got there she asked what was up and I replied "I'm effing in labor!" Haha. She was like "That's evident" I was pacing around the living room, trying to get all the last minute stuff for my kids. Asked my husband to get the toddler's car seat out of the car and my friend sat with me while I labored. I got on my knees on the floor and leaned over my couch....and that is where I stayed :lol: She asked me what I wanted/needed and I told her that I didn't think I was going to make it. I said that we may have to call 911. She got all bug eyed and was like "are you serious?" Um. Yes. My husband came in and told me he was ready to go and I told him I couldn't get in the car. He tried insisting he could get me there, but there was no way in hell I was going to get in
that car (not that I could have walked at that point, anyway) Then my kids came in screaming at each other and I frantically motioned for them to get out. (Again...not what you want to hear when in agony) My friend's husband was awesome enough to take all my girls outside and put them on the trampoline. Then I felt the pressure. You know....THE pressure. I help my fingers up in the "phone" shape and started waving them at my friend. It took her a second to realize that I was telling her to call 911. She quick yelled to my husband that she was calling and I said "She's coming, now" She called, and my husband started gathering towels, even though I don't think he believed that I was really having her, still.
I remember my friend asking me questions, and saying to dispatch "Well SHE isn't answering me!" when I couldn't respond. Apparently they yelled at her for not answering their questions. I still had my pants and shoes on (and it was REALLY bugging me that my shoes were still on, but I couldn't take them off, or ask for her to take them off) Then my body did this weird convulsion thing and POP! there went my waters. Right in my pants :x Then my poor friend had to pull my pants down, and she was kind enough to remove my shoes at this point. My husband found one towel and shoved it between my legs, then ran off to find more. I felt baby crowning right away, and it was about 2 more pushes and she was born. I looked over to see my husband running down the hallway with towels as my friend caught the baby. Heard the gurgling of the baby trying to cry, looked to the side of the couch and saw one of my kids standing there (turns out it was the oldest) then heard baby cry.
My husband tied his shoe string around the cord (he still has a small piece of 550 cord tying his shoe :lol:) and wrapped her in a couple towels, and I had to do some crazy acrobatics around the umbilical cord to turn over and hold her.
About 2 min later we heard sirens and the paramedics showed up. They had my husband cut the cord with a scalpel (which they left at my house *KEEP*)
They got me on the stretcher and we were off to the hospital, a day late and a dollar short :lol:
I was texting my sister in that picture. Last time...Note the time :lol: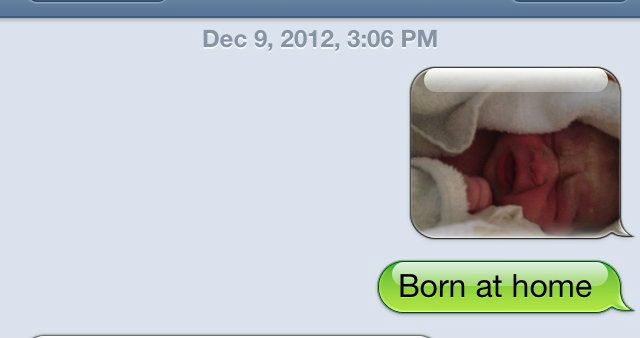 According to the dispatchers, my friend said "The baby is out!" at 2:58pm.
So here she is. Miss Amelia Kay, born Dec 9, 2012 at 2:58pm, at home, after less than an hour labor. 7lbs 5oz, 19 1/4 in long. (Btw...we have hard wood floors...no major damage done :lol:)
All my girls (please pardon that they look like white trash...obviously mommy was not the one to do their hair that day)
Amber ♡
Due August 11; 1 child; Kansas
17248 posts
14th Dec '12
wowwwzer! congratulations :D
Nom Nom Nom
TTC since Jul 2012; 1 child; 2 angel babies; Texas
13634 posts
14th Dec '12
OMG. That was amazing and congrats!
14th Dec '12
What a story. Congratulations, she's beautiful.
Ravey Candyass
2 kids; 1 angel baby; Boston, Massachusetts
101714 posts
14th Dec '12
Dude, that was awesome! Congratulations! They're all beautiful.
14th Dec '12
i was like "thats way too long to read' then i read the first part...and couldn't stop. that's crazy! how does your friend feel about delivering a baby? lol.
Ꭶwan♥Nemo
1 child; Kansas City, Missouri
7396 posts
14th Dec '12
woooooooooow! That was the best labor story Ive ever read on here lol. And she so cute! Your entire family is
14th Dec '12
I still can't believe you had her on your floor. haha.

She's so beautiful!
14th Dec '12
Congratulations on your unexpected homebirth! :lol:



Craziest labor story I have EVER seen. lol.
KNZ.
3 kids; Washington
59188 posts
14th Dec '12
haha, thank god for wood floors :D
And CONGRATS!!! beautiful baby, beautiful children!
14th Dec '12
Wow, what a labor story!

Congratulations, she's beatiful (just like her sisters)!
14th Dec '12
Congrats on your homebirth.
:lol:


Wow.
14th Dec '12
I am envious of your short labors. (not having baby at home though haha)

Congrats on your beautiful little girl. I would have been FREAKING out.
14th Dec '12
What an amazing story!
user banned
3 kids; Portland, Michigan
15675 posts
14th Dec '12
You're amazing!! I wonder where the next will be born if you decide to have another. :lol: Your girls are adorable!