Hernia: Picture. Please respond!
Mama BooBoo(:
1 child; South Carolina
575 posts
31st Jan '13
i posted another post a few hours ago about this, but decided to put a picture up to see if anyone can tell if my son has a hernia/ i think he does, his belly button pokes out very far, and his belly is really round. he vomit a lot too. if your child has ever had one can you please tell me if this is one or not? i know people say it's nothing to worry about but i am a mommy, i worry(: lol.
Ashlee♥
3 kids; Puyallup, WA, United States
68147 posts
31st Jan '13
Looks like what my cousin had.

He is soooo cute!
GrumpsMama
1 child; Tulsa, OK, United States
15312 posts
31st Jan '13
It kinda does, it also looks like an outie. My friends baby still has one at 2, and it pokes out a lot further then that. I can't remeber if that's how it started or now
31st Jan '13
It looks like one to me. And btw, he is friggin cute!
user banned
New York
15996 posts
31st Jan '13
My son has the same thing. His pedi said he should grow into it by 3 or 4 and if its still the same theyre gonna fix it. I sadly lost my whole bellybutton to a hernia. Now I have zero bellybutton
31st Jan '13
My son had one, it closed on it's own though and at 3 he now has an outie belly button let me see if i can find a picture of his hernia when he was a baby.
31st Jan '13
Here it is at 3 months, it was big and scary. DH's family freaked me out saying something was wrong with him but the Dr said it would probably go away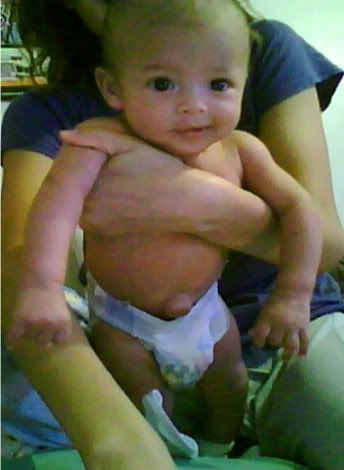 31st Jan '13
My nephew had one. The doctors told my sister that it would go away on it's own and it did. I would not mess with it. You should let your doctor know and see what he/she has to say about it.
31st Jan '13
Looks like it. My daughter had one, they usually close on their own. My daughter had to have surgery back in september to close it. She was almost 3 and a half. It's really nothing to worry about usually. His doctor should be able to answer your questions :).
31st Jan '13
my daughter had one and it closed before her first birthday.
31st Jan '13
ok thanks yall(: i just get worried! he sees his doctor tomorrow for his 2 month shots so ill talk to him about it then and see what he says(:
1st Feb '13
yep looks like one!
this was my sons at a few weeks old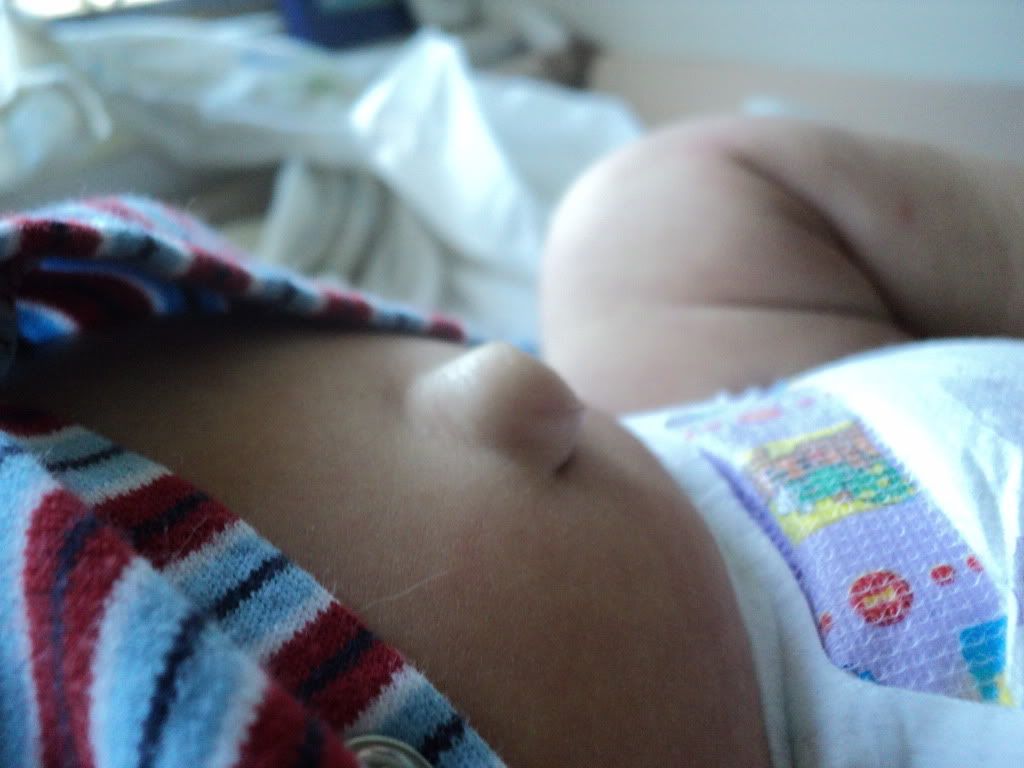 1st Feb '13
thanks for the replies ladies! i went to the doctor today and yes he does have a hernia! the doctor said usually babies will grow out of them. so i hope he does(: