3D ultrasound vs newborn baby..compare pictures.
Dude, you Fugly!
18 kids; Winston-Salem, North Carolina
19869 posts
7th Mar '13
i didnt get them with my dd's, so it something i would really like with this pregnancy. when did you get yours done? i know they say the longer you wait during pregnancy, the better the quality. when did you get yours done? post pictures of your 3D's vs actual newborn shots!
7th Mar '13
On my phone, can post in the morn. It's 11.30pm here
----&&
2 kids; Scituate, Rhode Island
3903 posts
7th Mar '13
7th Mar '13
I was like 26 weeks. The pictures were OK but weren't the clearest.. I definitely recommend waiting a little longer, closer to 30 weeks. You could def tell it was her though!
7th Mar '13
I think she looks like her 3D picture because it shows the chubby cheeks and the vein in the middle of her forehead. You may see it in the newborn picture but I see it now and shes 9 months. It was very accurate!
This is my LO at 25 weeks.

7th Mar '13
Quoting ----&&:" 28wk US Also had an US at 34 wks but he had already dropped and they couldn't see his face"
in his ultrasound it looks like he is flipping someone off.
7th Mar '13
I had weekly sonograms and my Dr.s office always does 3D but none of mine were very good. My son was pretty squashed up against my uterus and he liked to hide his face with his arm.
34 weeks


4 days old

7th Mar '13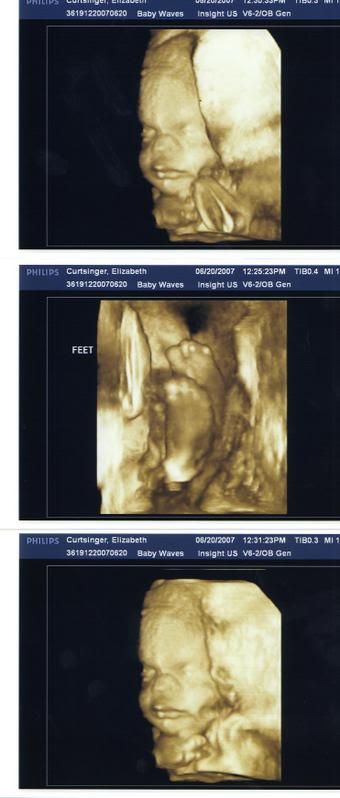 7th Mar '13
7th Mar '13
19w

newborn