22nd Apr
All time favorite snack/desert ?
can be from the store or homemade
*feel free to post pictures :)


My favorite snack would have to be snickers icecream ! Delicious ! :)
22nd Apr
it completely depends on the day and my mood. there are so many snacks that I just love but only eat when I am craving them lol.
22nd Apr
Davids BBQ sunflower seeds
22nd Apr
I am completely in love with cheesecake.

I also really love any dessert with cream cheese... Mmm.
22nd Apr
Mug cakes. Yum :D
22nd Apr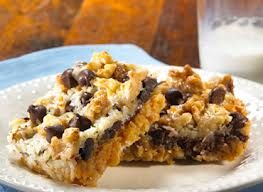 MAGIC BARS!!!!
22nd Apr
Sunflower or pumpkin seeds
22nd Apr
Because of my pregnancy, I've been craving the hell out of sour cream & cheddar chips!!! They're my fave :)
homes cool
2 kids; 2 angel babies; Indiana
60370 posts
22nd Apr
Vanilla cheesecake from a local place called Jankos. Or creme brulee.
22nd Apr
americone dream ben & jerry's
22nd Apr
Ooh and chili's molten. Loooove that shit.
22nd Apr
Green or red grapes and watermelon
22nd Apr
Extra ordinary cheese dip is my fav of all time but lately ive been craving sour candies, sour cream and bacon ruffles and zesty cheese doritos dipped in sour cream.
22nd Apr
Baskin Robbins world class chocolate. Its just so smooth and creamy. Although the new oreo cheesecake at cheesecake factory is killer.
user banned
California
36390 posts
23rd Apr
Snack- French onion dip with chips
Dessert- German chocolate cake or fruit crisp (berry mostly but I'm making peach soon)