Home (Water) Birth of Piercen Callum
GL♣PC
Due May 7; 2 kids; Tampa, FL, United States
9385 posts
10th May
I went into preterm labor at 33 weeks, I was 2cm dilated and 50% effaced. After 3 rounds of Terbutaline and a muscle relaxer, I was discharged from the hospital and put on strict bed rest until 37 weeks.
Saturday, April 20th I made it to 37 weeks! That evening I began contracting every 7 minutes for 3 hours, I then took a shower which brought them to 3 minutes apart for an hour. Per my midwife, Kim, I had a Benedryl and a glass of wine and laid in bed as my husband rapidly finished painting the bed room. The next day my contractions were not consistent but got much more intense, I stayed put the entire day.
On Monday I laid in bed all day until my contractions went back to being consistently 4 minutes apart. I woke my son up from his nap at 5pm and we headed to my midwifes office which is a couple blocks away. She then checked me, said I was still 2cm and 70% effaced, she also said the baby was posterior. Kim said that the baby's position could be causing pre dramatic labor and gave me a couple of exercises to try to flip him.
That evening I rocked on all fours all night and it worked! Now, Tuesday morning, my husband, Zac, had to be up at 5am, waking me up I realized Piercen had flipped back to posterior. I could hardly move, so before my husband left I made him do Rebozo exercises with me. We got the baby to flip again so I went back to bed.
8 am my son woke me up asking for breakfast, I rolled over and was soaking wet, I thought I had sweat.. A ton. I walked to the bathroom and as soon as I stepped foot on the tile.. GUSH.. My water broke!
I called Zac and Kim twice, no answer. Grey and I went downstairs I wasn't having contractions yet so we went about our morning. Kim called me back, said to keep her updated and start filling the pool when my contractions were 4 minutes apart. Zac called and was on his way home.
9 am my contractions started at 4 minutes apart, lasting 30 seconds long. I began filling my pool, or should I say I tried to began trying to fill my pool while Greyson pulled the hose out every time I turned around...and didnt get to finish until Zac got home.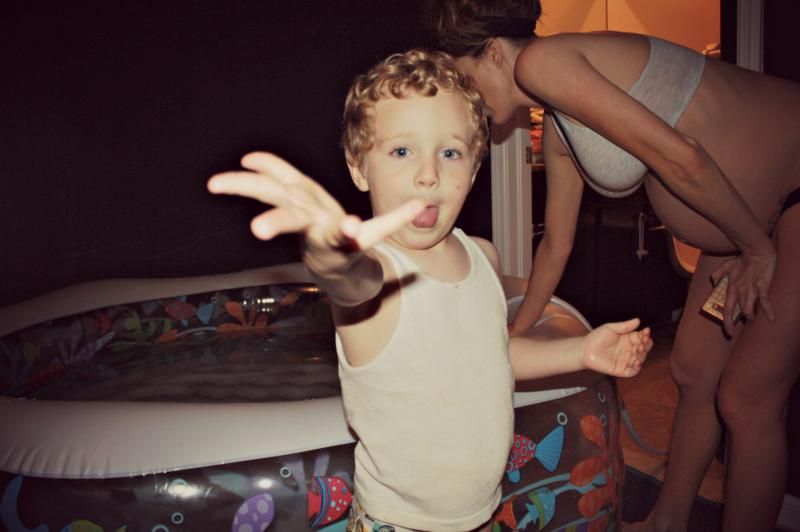 Zac got home at 10 am, took Greyson down stairs and called my friend to pick him up. I really thought I wanted him to be a part of the birth, completely changed my mind once in labor. I got on my yoga ball and rolled side to side on my stomach while watching Gossip Girl. Thirty minutes later my contractions began lasting a minute long, I texted Kim and she said she was packing up and heading over.
11 am my midwife got to our house, my contractions were 3 minutes apart and I got into the pool. Shortly after my friend got Grey and Zac finally joined me.
12 pm I asked Kim to check me, I began to feel like I needed to push with my contractions, but I was only 7-8cm and moving into transition. I couldn't sit down during a contraction, I HAD to be upright and completely straight, I used Zacs knees to prop myself up while he pushed on my tailbone.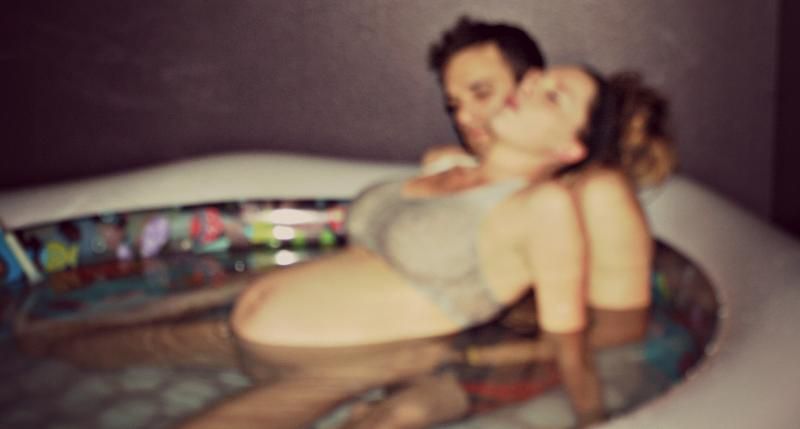 I didn't want to use anything from my birth kit, oils, massagers, candles, music, snacks, I just wanted to sit in silence, in the dark with my fan blowing on my face.
1 pm the contractions were horrible, I started to think I couldn't do this. I got so tired in between contractions, I began dozing off and just wanted to sleep. I was on my knees, leaning over the pool and had to have Zac press on my hips with every contraction. I could not make it through a single one without him squeezing.
The water cooled down so my midwife suggested I try moving to the bed to rest and Zac began boiling water.
Moving to the bed was a horrible idea. I was stuck on my right side, I had an extremely full bladder, but my contractions were on top of each other. My water was completely broken and every move the baby made intensified the pain. I kept thinking how in Ina Mays book she said to think of a contraction as a "surge" or try riding the wave, that was bullshit. I tried taking slow deep breathes until Kim told me to breathe faster as the pain gets worse and that was truly the best advice. I laid on my side clenching onto my sheet screaming with each contraction, hoping I could get a break long enough to be able to move my leg to have Kim check me.
Finally, she was able to check me, said she couldn't find my cervix, so just give a push and we will see what happens. I gave a small push and Piercens head came right down. Zac came up with a pot of water and my midwifes assistant, Kim told both of them to stay in here, were having a baby! Kim asked if I wanted to move to the pool, but I was stuck on my side with the baby's head crowning. Zac said "No, you wanted this water birth, you are having a water birth", he picked me up and put me in the pool! I was on my knees and immediately began pushing.. I had my hand on my baby's head and had never been so focused and intune with my body.
It all became a blur after that,.. I just remember giving a big push and his head plopped into the water, then Kim checked for the cord as i held his head and I pulled him right out with the next contraction!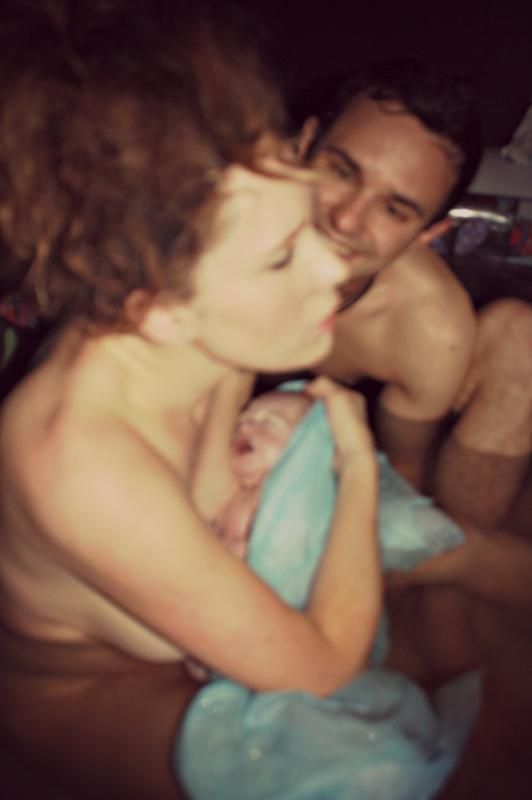 4 weeks of preterm labor, 3 days of early labor, 5 hours of active labor, 10 minutes of pushing and I finally had my baby in my arms! Piercen Callum was born Tuesday April 23, 2013 at 1:53 pm weighing 6 lbs 15 oz and measuring 19.5" long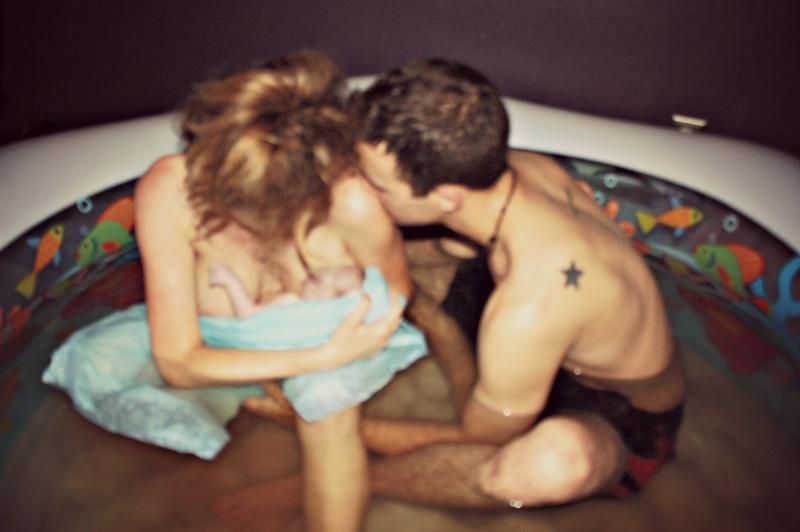 I did it, I finally had my dream birth and it was the most painful, yet AMAZING experience of my life!
Once the cord stopped pulsating, because it was so short, Zac had to cut it in the pool. Zac took P as I moved to the bed to deliver the placenta. Zac brought Piercen back to me, we nursed and he brought me steak, fruit and protein shake in bed (my midwife requires that you eat a high protein meal within an hour of birth). After we both finished eating I had to shower while Pierce was given his first exam
All finished, Kim and her assistant left us to nap in our own bed.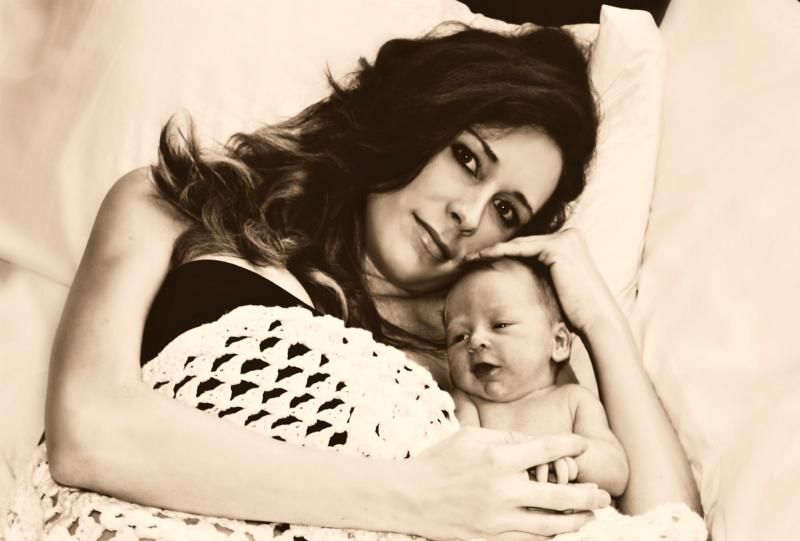 Most awesome and empowering day ever.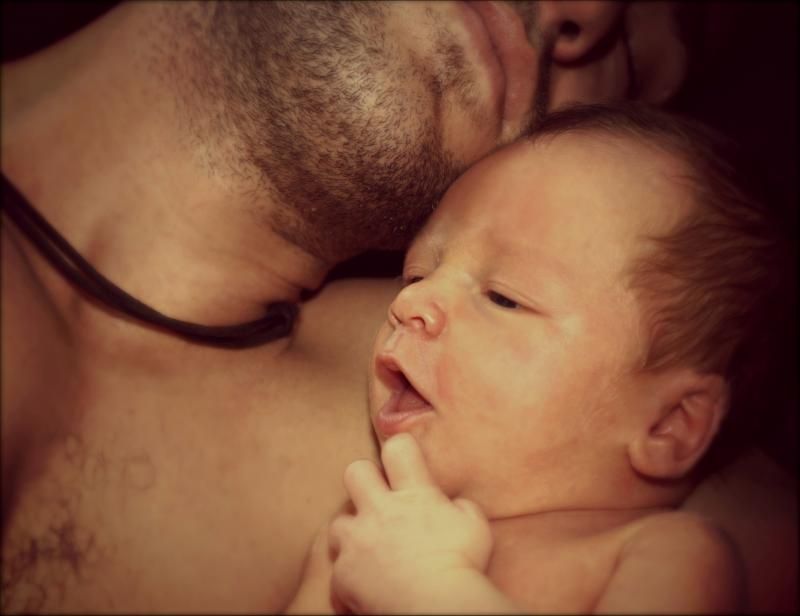 hobbit*
3 kids; New Zealand
44783 posts
10th May
What an amazing birth story! I wish more people would have water births, mine was amazing too. Congratulations on your little man, he's beautiful :)
10th May
I'm so glad you got the birth you wanted!! I've told you this already, but he's beautiful! :)
10th May
Congrats! Good job!
10th May
Congrats. What an amazing birth story. You have a beautiful family.
[yo.]
1 child; Gayville, South Dakota
13371 posts
10th May
Congrats he's adorable
L♥vey +2
Due October 2; 2 kids; 1 angel baby; Nevada
2320 posts
10th May
Beautiful birth story! I am so glad your hubby carried you to the pool so you didn't have regrets or disappointments! *tear :)
10th May
That is amazing. I've always wanted to have a water birth. Congrats to you and your family.
10th May
If I havent told you yet Mal, you are amazing! And he is so darling!!! <3 I love that picture of you and lil man.
10th May
<3 Wow, reading stories like this really remind me that I want to be a midwife someday. Lovely story. :)
10th May
I laugh/cried when I read how your SO picked you up and moved you into the tub so you could have the water birth you wanted. What a amazing home birth! Congrats strong mama!
10th May
Quoting hobbit*:" What an amazing birth story! I wish more people would have water births, mine was amazing too. Congratulations on your little man, he's beautiful :)"
Thank you! I agree .. I really wish I could re do my first birth, though home births are not as accepted in the Illinois versus Florida.
10th May
Quoting .jakes mama.:" I'm so glad you got the birth you wanted!! I've told you this already, but he's beautiful! :)"
Thank you Kara :)
10th May
Quoting MorningWood:" Congrats! Good job!"
Thank you!
10th May
Quoting *Mac and Keagan's Momma*:" Congrats. What an amazing birth story. You have a beautiful family."
Awe, thank you!