15th May '13
this was taken yesterday! THat is the baby you see in the sac! it was done trans vag!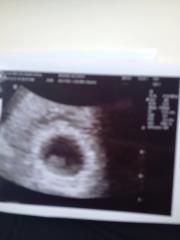 Faye's Mama
1 child; Springfield, MO, United States
4569 posts
15th May '13
Those look like sonogram pictures to me... Not trans-vaginal.
15th May '13
well they were trans vag! THey deff had the probe in me
15th May '13
Ramzi theory is usually 11+ weeks!
15th May '13
<blockquote><b>Quoting Rebekah Garden x3:</b>" Ramzi theory is usually 11+ weeks!"</blockquote>

I think your thinking of the nub theory. With ramzi it has something to do with te left and right
15th May '13
I know what you are talking about, the Ramzi Theory and the implantation on the left or right of the uterus. I believe it was left for girl and right for boy? The only problem is determining if the ultrasound picture you are looking at is actually right or left side. Read this link - it will help you understand that its a rather confusing thing. Next time you have an ultrasound ask the tech specifically for each picture - they will tell you. I asked my tech and she said that the baby is on the left side. http://community.babycenter.com/post/a29739637/hi_turtle-_question_about_ramzi_method
15th May '13
This is really confusing to me but maybe you may understand it? I just read this online ; (let me know if you understand what she's saying lol)
Hi Ladies,
If you have struggled with Ramzi Theory I have the solution.
Everybody mixes up flipping their ultrasounds which is why 95% of the time, I believe, people think that the method is incorrect, when actually it was right all along...
I think this works.... try it!
Place your LEFT HAND behind your back. Locate the placenta in your ultrasound with your RIGHT HAND. Now, is the placenta on the same side as your RIGHT HAND? That means LEFT, which means GIRL. If the placenta is on the LEFT of your RIGHT HAND, that means BOY. (Another way to look at this, is if you move your RIGHT hand to the other side of your uterus/sac, you are in the LEFT side which means BOY)
This should work, clear up any confusion and give you an indictation of what you are having!
Try it, it should work! Good Luck!
28th Sep '13
I think the confusing part is the us...being transverse or not. :)
28th Sep '13
Seeing that this an old post, you should know the sex by now. So was the Ramzi theory correct or not?