9 week bellies?
E'M Shikari
Due March 10; 1 child; 1 angel baby; Preston, United Kingdom
1734 posts
9th Aug
Would anybody be willing to share what they looked like at 9 weeks pregnant? It's my second pregnancy and people are commenting on my 'bump' already and although I know it's mostly just bloat, it would be nice to see it isn't just me :) I would upload a picture but it wont let me for some reason
*edit* here is mine, excuse the baggy trousers they are my maternity joggers from my last pregnancy and I was six stone heavier haha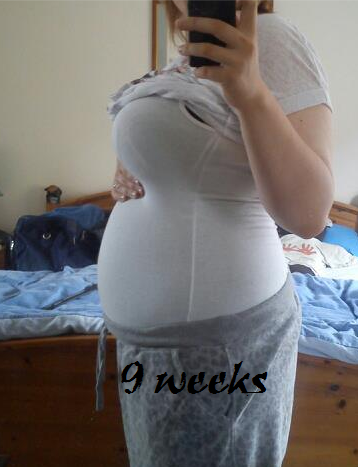 P E N I S
Due February 27; 34 kids; Washington
13744 posts
9th Aug
Im 9 weeks with my 5th pregnancy, 3rd viable, I already have a small belly mostly due to bloating though. I didnt bloat with my other 2 children until 12 weeks.
Squid Kid
Due July 2; 1 child; 5 angel babies; Tennessee
22065 posts
9th Aug
photos are gone
9th Aug
E'M Shikari
Due March 10; 1 child; 1 angel baby; Preston, United Kingdom
1734 posts
9th Aug
Thank you for your replies! :)
9th Aug
9 weeks bloat (fat) with my first
Don't have any with my second
My third
8 weeks & 10 weeks :-P