Show me your 12 week belly pictures and a vent
BRowell
Due March 26; 34 kids; Virginia
3213 posts
12th Sep
First for the vent. Last night we went to the fair (!2 week belly picture) and MIL, I love her, don't get me wrong, says "wow your belly is really sticking out there tonight." I agreed, obviously it was. lol Then she touched it and she said "omg Brittany, its hard already too. You need to talk to your dr. you're not suppose to be this big this fast and your belly isn't suppose to be hard, something's gotta be wrong." Then she just walked off. ummm ok.
I've always gotten big fast during pregnancy, I knew I would this time too. As soon as I get pregnant I just bloat up like a balloon, I cant help it you know. I've only gained 2 pounds so far, I'm not eating terrible or too much. I know that was a ridiculous statement\
for her to make but of course now I'm nervous that something is wrong, and I was soo excited to make it to the 12 week mark too.
Anyways, here is me this time around at 8w, 10w, 11w, and 12 w. I'm aware that I'm getting big fast. I just want to see others belly pictures, hopefully I'm not alone. lol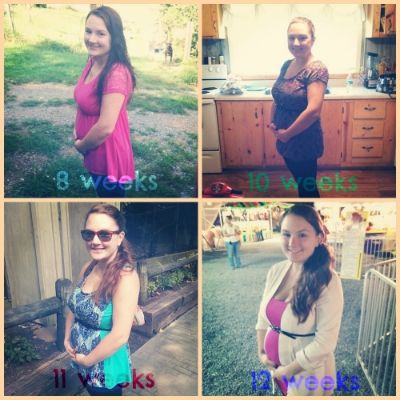 12th Sep
Part of it is bloat so I don't see why she had to be so rude about it. Your uterus is barely above your public bone now. I never took belly pics of my last pregnancy until 14 weeks because even though I "showed" at 12, I was more aware that 14 weeks was actually baby showing. I didn't show for a good minute with my 2nd but I'm at 22 weeks now and huge
14 weeks
16-18 weeks
12th Sep
I was tiny with my first, but started showing quickly this time around. :) Except I was bigger at 10 weeks than I was at 12.
Here's 10 week belly;
& here's 12 week;
12th Sep
this is 12 weeks with my 6th
6 weeks with baby number 7
9 weeks with my 7th
13 weeks with my 7th
BRowell
Due March 26; 34 kids; Virginia
3213 posts
12th Sep
Thanks for sharing ladies! I don't know what would make her say that. I'm thinking she must not remember my other pregnancies because even with my first I bloated up like this. I'm afraid she's comparing me to her daughter who recently had a baby. It was her first, she's super tall and lean and she didn't get even a hint of a belly until she was about 6 months pregnant and of course right after she had my nephew she went right back to her flat stomach. It's hard enough for me to not compare myself to her, I really hope everyone else isn't going to. It makes me feel better seeing others pictures, I know everyone is different and every pregnancy is different. I know nothing is wrong but it would be nice for her not to give me anything to worry about it.
☠BryBry'sMuM☠
Due March 19; 1 child; Fullerton, California
15229 posts
12th Sep
im sorry ur MIL made the rude comment & made you worry something is wrong! that wasnt nice at all and she should be more understanding every pregnancy is different & you show faster when with your 2nd,3rd & so on.
bad thing i did gain 8lbs within a month but it helped with MS.
me @ 10 weeks (i think cant remember)
me @ 11weeks5days