*MrsDuns*
2 kids; Speinshart, Germany
3445 posts
11th Jul '08
YAY!!! This is going be really great!!!:)
Mama C~
TTA since Nov 2010; 10 kids; CHERRY POINT, North Carolina
11665 posts
11th Jul '08
Yay!! Thank you.
FleurDeLys
3 kids; Groton, Massachusetts
9150 posts
15th Jul '08
Ok it's been a few days and I'm ready to give my verdict...... This is TOTALLY AWESOME!!!!!!! Thank you! You guys just keep making BG better and better. I love it.
20th Jul '08
I just found this!
Outstanding!
*!Kerri!*
1 child; Springfield, Illinois
212 posts
25th Jul '08
what are siggies? im new...
23rd Aug '08
I'm new here and I'm having trouble finding any place to get pictures for my profile pic. If someone could help me I would appreciate it. Thank you.
23rd Sep '08
This sticky is great!
Ok I need someone to tell me where/how to make a siggy!!!!
12th May '09
someone told me to come here and ask for a babygaga mama graphic for my profile. im not the artistic type to make any of these nor do i know where else to find them lol, can someone help me?
28th May '09
Im Richelle, and i make siggys so if you want one dont be afraid to ask, id really appreciate any donations in return. if youd like to donate just PM me so i can give you my paypal info
18th Nov '09
this is a great idea
26th Feb '10
Hey there:) I started a post like this and was very quicky notified that "something like this already exists", So thats how I came to search for this forum:D Man..red tape, red ink and monopolies-- gack!
This looks like a friendly place:D So hello all! My name isMary and I am currently baking a Lily. She is 30 weeks in the pot. I cant wait to see the ideas all you ladies are coming up with:)
I have been on a cloth diaper/nappy making kick lately: heres my most recent:
Heres a pre-shrunk 100% merino wool sweater I found at a local thrift. I converted it to a nappy cover for my ever growing handmade, clothdiapering selection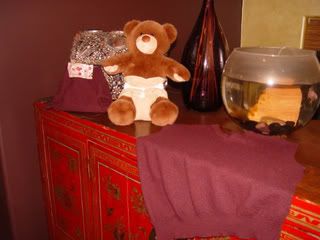 Cover at left and a stuffed Flannel nappy seen to right (bear model cause baby is still baking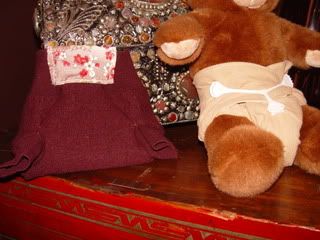 Cover over stuufed nappy -- nice and trim:D
19th Jun '10
How do i pick a design for my about me? Or so i need to ask someone to make one for me and i dont have adobe photoshop? Im confused
20th Jul '10
i was wondering if somebody can help me design my profile and make me a ziggy or so?
Nae-♥-TBT-♥-
Due December 27; 33 kids; Russells Point, Ohio
255 posts
11th Mar '11
anyone wanna make me a background? im having a boyy july 4th:)
&- if you want to make me a cute pick with my name *renae* &- one of his u/s picks; im naming him bentley scott:)

please &- thank you:)