do all babies lose their hair that they are born with??
Mrs Stanford1980
Due December 26; 1 child; San Diego, CA, United States
12091 posts
status
3rd Sep '08
I keep hearing from people whose babies were born with a full head of hair that the babies "lost their hair". When does this happen on average, and does it happen to almost all of them? I had a full head of hair when I was born and my mom didn't remember me losing any.....I really hope Charlie doesn't lose his!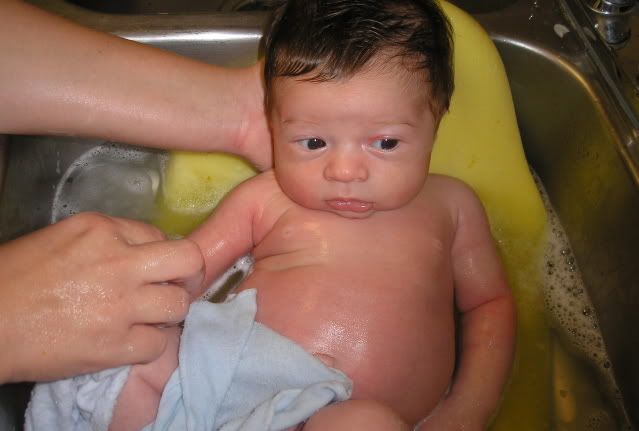 3rd Sep '08
My neice was born with a fullhead of thick black hair... all it did was get thicker and curlier. so no, not all of them lose it.
Carolann
1 child; Clearwater, FL, United States
7680 posts
3rd Sep '08
Yep Addison was born with a full head a dark brown hair (which surprised me cus I was bald until I was about 2) ut now she has very light blonde hair thats barely there
3rd Sep '08
All of my kids did. They were born with darker hair than what they actually have now. They didn't lose it all just a lot of it and then it was replaced with new lighter hair.
3rd Sep '08
I think if they were born with a tiny bit of hair maybe but, not when they have a full head of hair.
user banned
Maine
14450 posts
3rd Sep '08
Quoting Mrs Verdu(Charlie's mama):
3rd Sep '08
Cora was born with hair long enough to braid! And she still has a ton of it. A bit fell out but not noticible at all
Monica♥YASDYARDFR
TTC since Jan 2011; 1 child; 2 angel babies; Beverly Hills, California
57160 posts
3rd Sep '08
McKenzie has a head full of hair and only lost a tiny bit on her right side.
3rd Sep '08
I was born with THINK FULL ON BLACK hair lol.. i looked like an idian baby lol... but eventually it thinned out and lightened up by the time i was 8mos
Jodi8
2 kids; Pennsylvania
1500 posts
3rd Sep '08
My son was born with blonde hair past his ears and almost covering his eye's and he never lost any......needless to say, we've put alot of money into hair cut's already! :)
3rd Sep '08
Quoting Mrs Verdu(Charlie's mama):
Mama C~
TTA since Nov 2010; 10 kids; CHERRY POINT, North Carolina
11667 posts
3rd Sep '08
Gabriel's hair has thinned a little but thats about it.
3rd Sep '08
My little boy was born with dark brown hair and now it is gone and has been replaced with blond hair.
Mrs. Uncouth
3 kids; 4 angel babies; Milford, Delaware
7352 posts
3rd Sep '08
when we were all little (me & my siblings) we had MADDDD amounts of hair. it didn't fall out, tho. but in the back of our heads where we layed on it all the time, it got thinner.