Set of 2 Tommy Hilfiger Blankets
*~Ethan's Mommy~*
18 kids; Newmanstown, Pennsylvania
1434 posts
16th Apr '09
Selling a set of 2 Tommy Hilfiger baby blankets. Used but still very soft and warm. Asking $10 OBO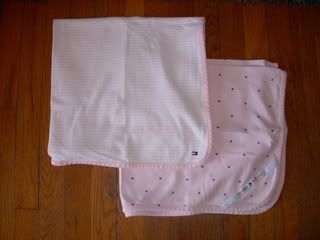 16th Apr '09
Quoting *~Amanda [35 weeks]~*:
Jtina
33 kids; Copperas Cove, Texas
12753 posts
16th Apr '09
16th Apr '09
LOL thats why I am getting rid of them. They were from my fiance's previous daughter and we held on to them just in case but its a boy so I dont need them.
TeriC
Germantown, Wisconsin
1 posts
26th May '13
Do you still have the pink and white striped one? My daughter's is falling apart and i would love to surprise her with a replacement. You can email me at tcox98765@yahoo.com. Thanks!!