Smelly Pacifier?
JennaDoula[EBFT]
Due April 4; 2 kids; Earlville, New York
12755 posts
19th Aug '09
So my daughters favorite nunny as we call it smells. Its a gumdrop. I have sterlized it, washed it in hot soapy water, even put a little bleach in the water and made sure it was all cleaned off. The only way I can describe its smell is like old, musty, mildewy towel.... any suggestions?
If can't get this smell out, Im gonna just break down and buy a few new ones, she loves them when its time to go to sleep and I bought regualr Soothies and she doesn't like the part goig over her nose now!!
19th Aug '09
aww they gave my son a gum drop in the hospital but he wouldnt take it : (
19th Aug '09
theres prob. water or spit up stuck inside, the centers of pacifiers are hollow so if stuff gets stuck in there you are not gonna get it out and it will continue to smell. I'd say buy a new one.
My son loves 6+ month Maams. doesn't touch his nose or chin!
19th Aug '09
Quoting Rachel&JacktheROCK☆:
19th Aug '09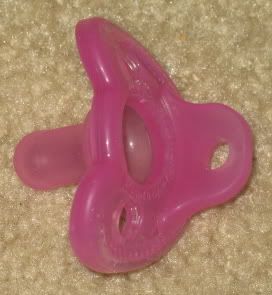 This is what it looks like except hers is Orange. We had this one as well but I think my house ate it, it just up and disappeared one day.
19th Aug '09
Quoting PorkyFlorasMama(Jenna):
19th Aug '09
Quoting Rachel&JacktheROCK☆:
19th Aug '09
You can try the Avent "air flow" (something like that) ones... They don't cover the nose or chin either and have the round nipple.
Good luck!
- Jess
19th Aug '09
Quoting MommyIsMade! - *MJL*:
19th Aug '09
Quoting MommyIsMade! - *MJL*: