creepy ultrasound pictures
menene
1 child; Dickson City, Pennsylvania
4771 posts
Oct 28th '09
has anyone gotten any creepy ultrasound pictures.. im trying to get mine online.. at 20 weeks she had a cute little face but at 32 weeks she looked alittle creepy lol.. that sounds mean but its truee the ultrasound lady said dont worry shes just moving.. but i would like to know if any of you got any crazy creepy pictures of your LO while pregnant
Oct 28th '09
Ive got some of my first with his eyes open, and some of him yawning. Give me a sec and Ill find them for you
Oct 28th '09
Nope!
My son looks exactly like his u/s picture and it wasn't even a 3/4d....
Oct 28th '09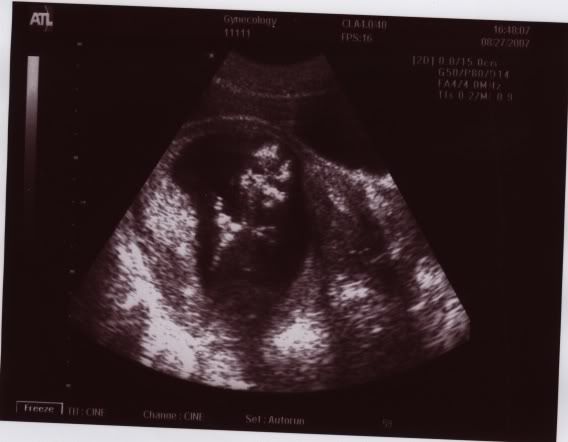 Oct 28th '09
I have 2 interesting ones LOL!!!
My LO at 12w giving us a thumbs up
And Yawning at 28w

And this one is my favorite, Perfect profile at 18w
Oct 28th '09
yep...i have several..BRB and I'll find them
brittanyy [+M]
1 child; Fazbear's Fright, TX, United States
4072 posts
Oct 28th '09
I have one of my daughter when the transducer was like right on top of her. She looked kinda creepy..
Oct 28th '09
Heres one of him yawning

Heres one of him with his eyes open

They were both taken at like 28 weeks, and he looked the exact same when he was born
Oct 28th '09
I have one of my lil girl on my album, creeped everyone out... i still have yet to figure out hwo to post pictures haha