About Me
Hi, I'm Esther. My friend's and family call me Esty or EstherMonster. That's me:
I'm currently a student working on my degree for ultrasound tech, I'm a dancer and I also do part time work in canvassing, political & activist work when I can. My hobbies include: DIY, painting, photography (nothing professional) art, crafts, music, sewing, & passing the time with my kiddies & family.





Aika (あいか) means "love song" in Japanese. She is my love song.
Aika was born on February 8th, 2012 at 6:05 AM. 8 pounds, one ounce. She was delivered vaginally & naturally with the help of our midwife & doula in Boston, MA. Above is the picture of me & her Daddy welcoming her into the world.

Aika back in the day:
Aika now:
Daddy & Aika:


Breastfeeding ribbons:





Rough start.

6 Weeks.


3 Months


6 Months.


9 Months.

12 Months. (One year! Yay!)


18 Months.




I started nursing Aika since the moment of birth. We ended up Breastfeeding all the way until she was 19 months. Extended Breastfeeding was amazing and my goal had originally been to nurse for at least a year. I'm glad I surpassed that. I got pregnant with my 2nd child & my milk supply dried up. We would still be nursing had that not happened. Good memories.




I'm currently pregnant with my 2nd baby:


I'm currently going through Hyperemesis Gravidarum (or HG, for short) with this 2nd pregnancy. It has been one of the most difficult things I've had to go through in my life. HG is a debilitating disease of pregnancy that happens in 1-3% of pregnant women. It involves extreme nausea, extreme vomiting & dry heaving, imbalanced ketones, severe dehydration & excessive weight loss. In severe cases it can cause miscarriage, malnutrition to the mother or fetus and or possibly death.
Wanna know more? Follow me on Tumblr: http://esthermonster.tumblr.com
Instagram:http://www.instagram.com/esthermonsterr
or feel free to PT or PM me.
October 6

Thanks hun :)
September 30

Well i'm glad it has helped a little.. That's about what the Zofran pills did for me. And the boyfriend getting no sleep thing is really familiar to me as well. We actually almost just broke up because of it. He works 3rd shift and I have school during the days so he was staying up until I got home and then sleeping an hour or two a day. Luckily we got approved for daycare assistance so we don't have to struggle in that way anymore. Hope things start to look up for you.
September 29

Just checking up on you since your HG post. Feeling any better? Did you try to keep some popcorn down?
bia.
I have 2 kids and live in Iran
September 16

You are so beautiful!
Mrs. Galeforce
I have 1 child and live in Titusville, FL, United States
June 10

Omg hes screams and shreikes like crazy now! lol I did do that when I was working, Id feed him right before Id leave a nice full feeding, then as soon as I would get home. The few times I did pump at work, we were super busy and they needed me so I was super stressed. I think the stress alone was decreasing my supply. It was making Gavin always super fussy too, like he could feel what I was feeling. Today I called subway and told my boss I wouldnt be able to work there, she was completely okay with it and told me she understands, just so happens her daughter is having her first baby any day. Today has been great. Ive been in a good mood, Gavin has been great, I got to get the whole house cleaned spotless. I need to find some other means of income though, maybe something that doesnt consume hrs and hrs a day. Aika is so adorable!! How old is she exactly?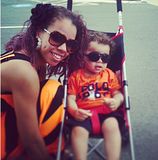 June 9

Lol it was a girl haha ! And okay def waiting ;)
Mrs. Galeforce
I have 1 child and live in Titusville, FL, United States
June 9

I know, ive been pretty busy. im working now so its been pretty hard. Im still bfing but i think i might be losing my supply because i go so long without feeding him while im at work. and pumping hardly works. Hes doing great, getting so big and starting to vocalize a lot. he grabs his feet now too and can hold on to things. Hows your LO doing?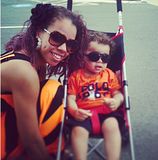 June 8

Bd made me delete it :( lol but u still have my number right ?
April 24

Awww don't feel like an a*****e!! Haha I've been freaked out all by myself all week. Like there's no turning back now. But yea your right i definitely dont want an induction that'll bring shock to my body and make shit difficult. So that cyotex thing sounds pretty rad. And wow! Thats pretty awesome, I definitely want to give birth sitting up because these doctors are very forceful with how you should be positioned. I'll go apeshit get my way, and give birth sitting up ha hopefully. Yeaaa my bf has been mad paranoid lately, he wants he baby to come out as perfect as possible. O well I've been mad uncomfortable anyways. But walking today did some good i think... Ugh I dont see him wanting to be out anytime soon. And yea is that documentary on netflix?
April 23

Holy damn you just scared the shit outta me and thats a lot to remember haha. Your gonna see me on the hospital bed on my phone reading your comment frantically to make a decision lol. But yea cyotek, i think that sounds great hopefully thats an option. I'm horrified of getting induced because i know the contractions are gonna punch me in the face outta nowhere :( scary stuff. I definitely don't want a c-section neither. I'm 3 days overdue right now, and I'm scheduled to be induced on friday morning if nothing happens this week. But I'm having some major pressure down there, been happening for about 2 days now. Soo who hopefully he'll come out before then. I've been walking like crazy, and some more walking tommorow. My bf dosent wanna shake the baby, so he declared 2 days ago that we have no more sex till i'm healed (dammit)... and this nipple thing im unsure of haha. But hopefully maybe tommorow's walk will help. Whoa he's crazy stubborn. He's not stressed and he has enough fluid in there also. He just loves the belly I suppose. Do u have facebook btw?
April 22

I cant wait neither! he's sooo late haha im getting induced on friday morning if he dosent come out this week.
April 15

Awww my gosh, that sounds like an awesome experience with her so far :) I just can't wait to actually stare at him face to face. Maaaan all me and Sal have been doing is eating and sleeping, but its nice quiet time for now haha. But yea I'm extremely excited. Nervous about the process of labor though. But very anxious to experience everything at the end of it all. AAHH I've been telling my bf that i want the baby to bring on the noise already!! I'm a little bored. And with me being due in 5 days it's like I'm countin down the minutes girl.