~Young Mommy to an Angel~
93 Posts | Joined BG: Aug 01, 2011
Last Visit: 1 year ago
Age

19



Gender

Female



Status

In a Relationship



Work

Student/Repo Agent



Location

Idaho



Interest

boxing, wrestling, singing, being a mechanic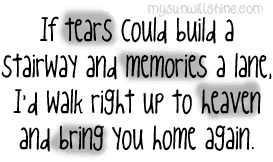 http://nathaniel-fritz.gonetoosoon.org
My sons birth story!!
I had my baby shower on the 5th of November, my friend stayed the night and both days she shook my belly way hard I started having pains I thought they were just stretching pains so I ignored it, we kept rearanging the sheds, we finally ccame inside I had a very bad pain so I closed my eyes trying to take the pain away, I went to the bathroom checked myself I had felt a weird thing and told my mom about it she was like well it might have just been nothing, I went back to the bathroom right after that something had came out I took a picture of it sent it to my mom and dad, and were yelling at my friends to get my mom, I had thought it was his head, but it was the amniotic bag, the EMT got there when it was still coming out at about 9ish it had finally come out all the way with the water breaking right after. The paramedics then arrived at 9 30pm took me to the hospital. I got to the hospital and was in a L&D room they came in hooked me to the monitors, the doctor finally arrived and checked me about 1 am i was 7 cm, they didnt believe that I was contracting because they didnt see it on their screens(I was contracting just the monitors were in the wrong spot) the doctor came back in and checked me i was 9 cm, she told me to start pushing so i did she then got on the phone(not telling us why) and she didnt know what to do(my cord had p*******d) the Pediatrician and another doctor then came in my room and stood next to my bed and told me if he lived he would be mental, have brain problems, have cerebral palsy(which at that point my mom left the room because she was mad at them saying that because I have a cousin that has cp and you wouldn't even know that) and they just kept saying what all would be wrong with him. Then right after that they crossed the line and said "I will choose whether your baby lives or dies", they had pushed him back in by pushing on his head(which I think is the way he had got edema in his head,which I also didnt find out till last week) they told me they were going to fly me to Boise, but the plane didnt land till he was already gone(but it was there at 11 pm when my moms friend had come to get one of my friends) they then had called for an ultrasound, at that point I was fed up with them so I asked for a c-section because when I was pushing I couldnt breathe. They finally delivered my son via emergency c-section at 2 28 am monday morning(the one doctor tried to tell me he was dead on arrival)(he had a pulse of 138-220 bpm)(and lived for about a minute and stayed with me in my room for 1 day in a half)
Jeremiah 29:11
For I know the thoughts that I think toward you, say the LORD, thoughts of peace and not of evil, to give you a future and hope.

Revelation 21:4
Having the glory of God. Her light was like most precious stone, like a jasper stone, clear as crystal.
Nathaniel Andrew Fritz was born 4 months early, he was 12 1/4 inches long, and 1 lb 5 oz. I had my baby shower on Saturday Nov. 5, 2011, I went into labor at 9:30 pm Sunday Nov. 6, 2011, Nathaniel was born at 2:28 am Monday morning on Nov. 7, 2011
.
The whiteness on the top of his head is a full head of hair, he also had alot of facial hair :)