Kimberbee
238 Posts | Joined BG: Aug 02, 2011
Last Visit: 3 years ago
Age

30



Gender

Female



Status

Single



Work

Health Care



Location

Prince Rupert, British Columbia



Interest

All things boob piglet!



My boyfriend and I met in November 2010... We were introduced by my friend from college, who was his sister in law! They thought we both could use a fun date... we went to Terri Clark.... We instantly connected and have been pretty happy since... We spent christmas together (partly because I was living with his brother and sister in law at the time LOL)... Shortly after we decided that I would move in with him... It was all happening so fast! We both live happily in his house with our dog Gracie, we recently said goodbye to our older dog, Bud. In early November we welcomed a new addition to our family.... a weird mix of hound x mastiff x bulldog, at 4 1/2 months old we are happy with our big goof, Hemi. We have get togethers with work friends every two weeks and are all about family. We have met each other parents and we love each other's family. In July we found out we were expecting, although it was not completely planned both of us wanted to have kids and we weren't exactly trying to prevent it as best as we could. The news came as a surprise but a welcome one!! We are now on our journey to become parents! And hope to welcome Baby "D" in March 2012! We found out baby "D" is a boy on October 25th!! He will be joining 4 nephews and we will hope to bring a little girl into the family in a couple years!!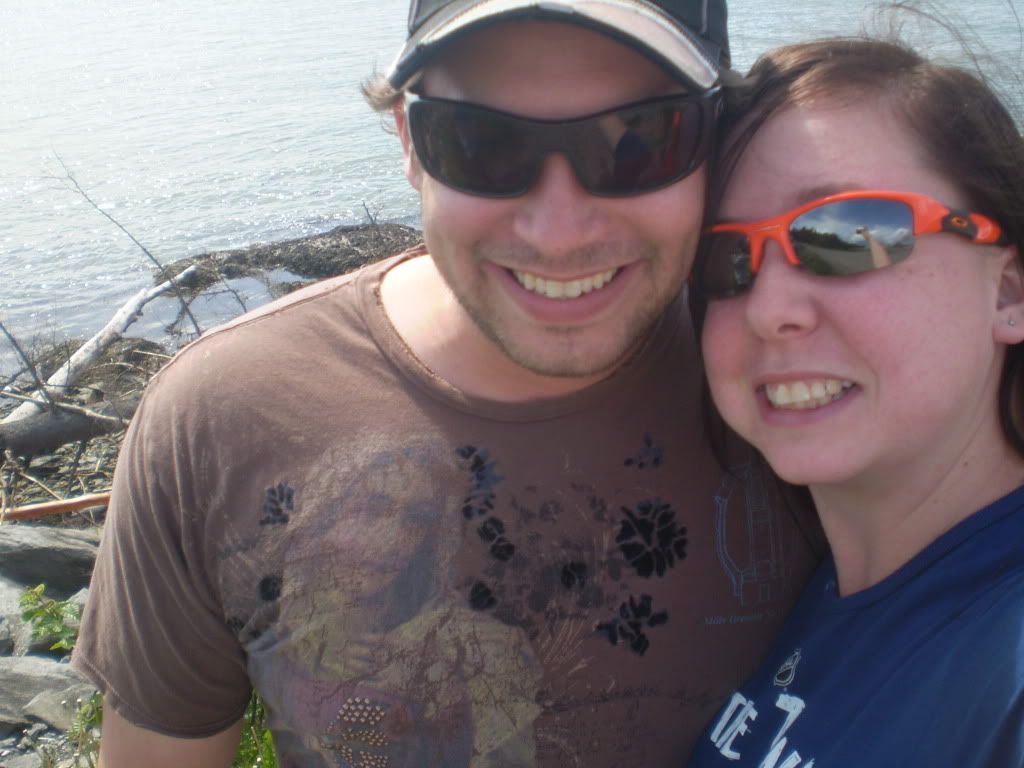 Richard and I, June 2011 on a trip to see my parents!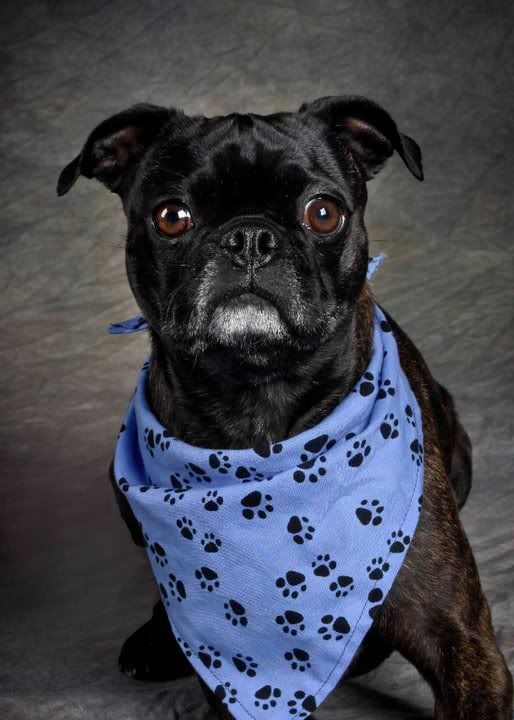 First Positive Pregnancy Test from July 5th, 2011 at 11pm on my night shift!! Took another one the next morning and it was positive too...then went to the clinic and BAM! Positive too!! We're pregnant!
15 week bump...or bloat.... or both?! September 19th, 2011 :)
We got a surprise ultrasound on Oct 13,2011 @ 18 weeks 3 days
full body profile of our little baby D
Close up of Baby D's face :)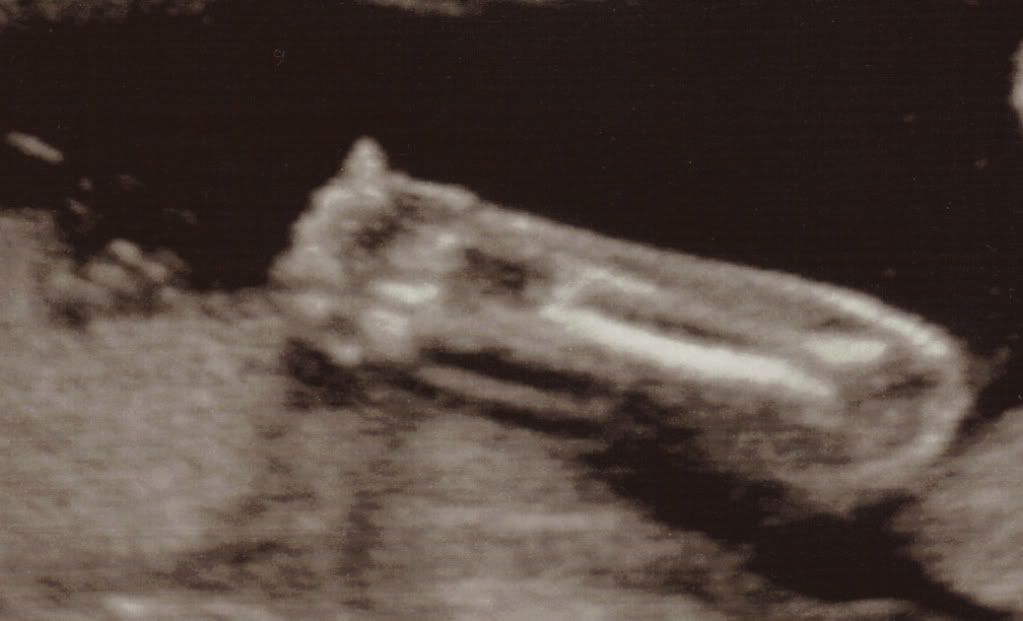 Baby D kept trying to suck it's thumb but just kept smacking itself in the face... my special baby LOL.... close up of hand :)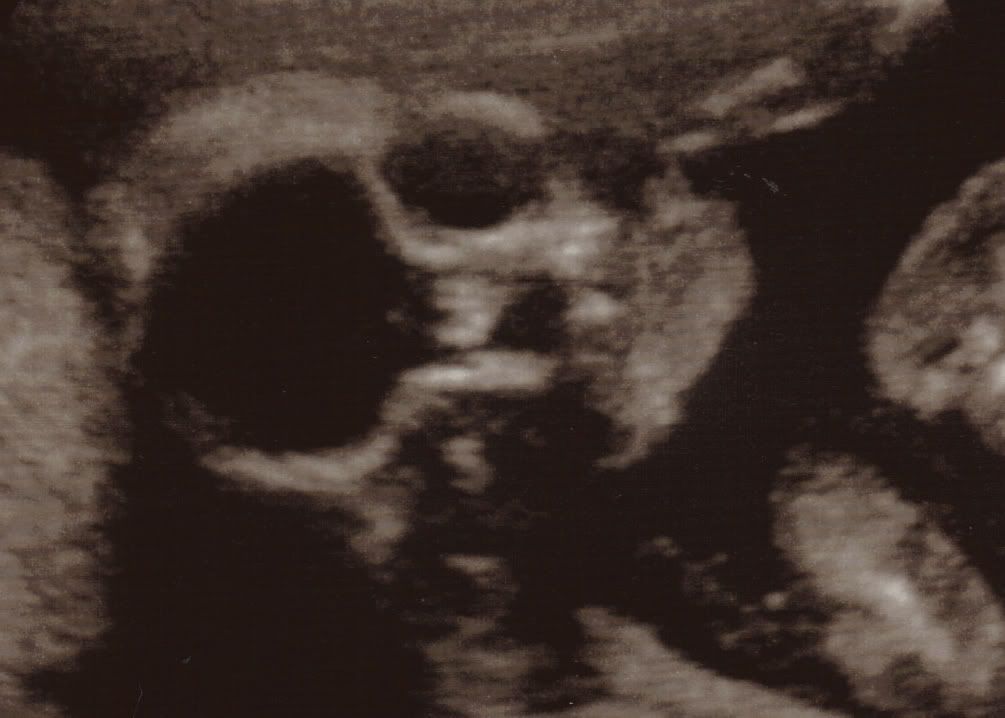 Baby D's alien face!!!
Here is my belly at 20 weeks 1 day :) And the colour of ribbon may mean that.... ITS A BOY!
Here are some more ultrasound pictures....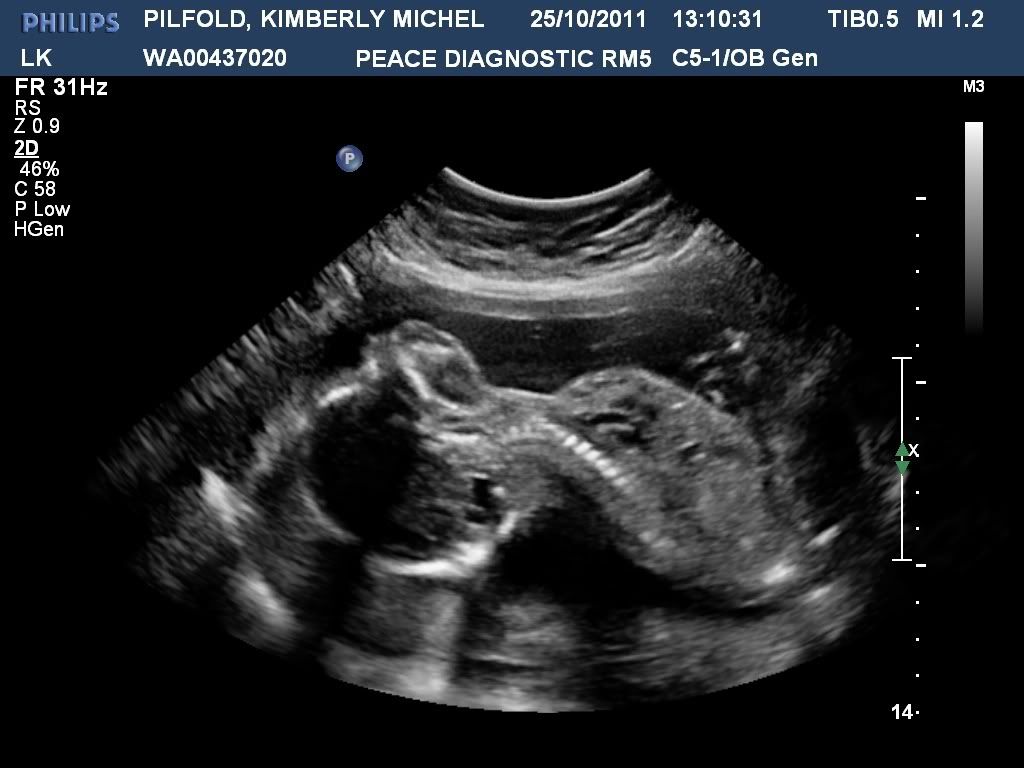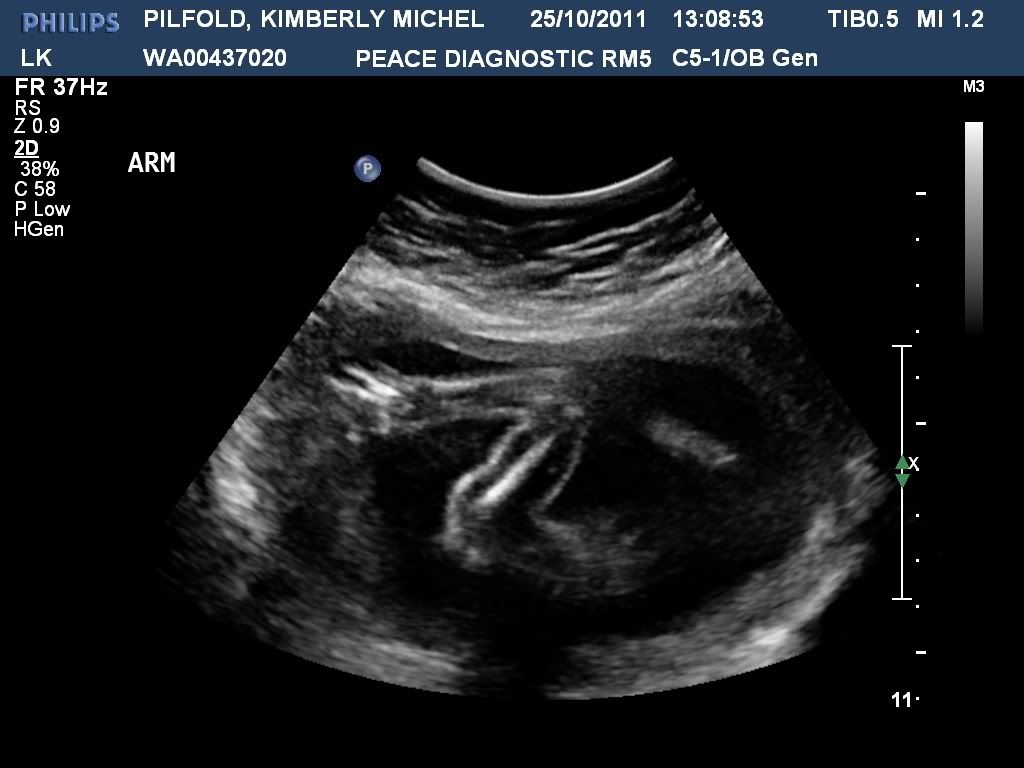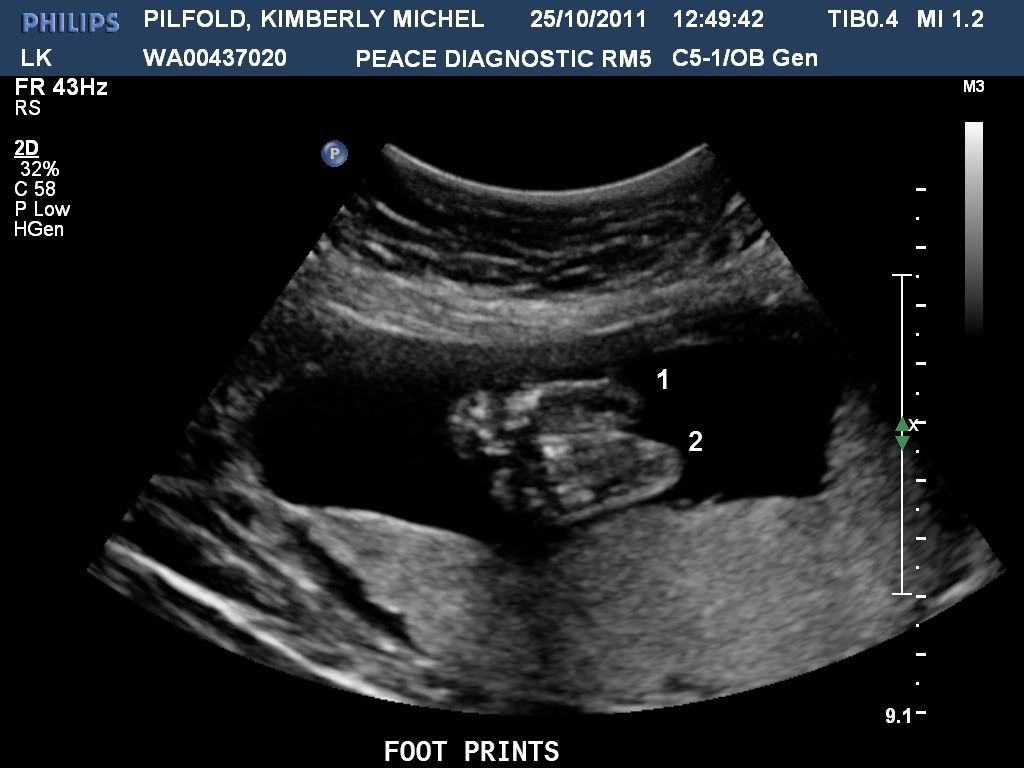 34 week ultrasound of my little womb piglet! LOVE him so much already
I can't believe I've taken this long to write this but.....
HE'S HERE!!!!!!!!!!!! (has been for awhile now lol)
On February 18th, 2012 I was getting ready for my nephew's 5th birthday. I was almost ready to go and decided to quickly take my 36 week belly picture. Right after I took the picture I needed to go pee, so away I went...as I sat and did my tinkle I felt a pop and had a small gush of fluid come out after I had already wiped. This was at 12 noon....Something about this felt weird so I put on a panty liner... and called my mommy lol. I told her something seemed weird and I thought my water had broke but probably was just losing bladder control. While on the phone I soaked through the pantyliner and decided to put a pad on... I put my puppy in the kennel and said goodbye to my dog and headed out the door, gift in tow. By the time I made it to the party location, about 5 minutes, I had soaked through the pad. I walked into the party handed over my gift and said I better go to the hospital as I was leaking fluids... my SIL's both rolled there eyes and said "ya ya we'll see you later"my boyfriend and I headed to the hospital both in disbelief that this might be it. We got up to L&D triage and sat and waited. The nurse hooked me up to see if there was anything going on and surprise...nothing!! maybe some miniscule little contractions but not anything I could feel. After awhile the nurse came and did a swab to test for amniotic fluid... the test came back positive but not a strong positive.... we got told "you wont be leaving without a baby!!" at which point I started to freak out kind of.... my boyfriend left and went home to pack my hospital bag....oops? lol ... I texted away and waited in triage for a room, at 430pm the doctor came in to re-check to make sure it was my water, he used a speculum and did the same swab and it definitely came back positive. Now just to wait for a room to become available (the whole time while waiting we could hear a girl in labor that was super vocal lol).... shortly after the doctor did that swab I started to feel different...I would get moments of uncomfortableness. After awhile I realized they were contractions (duh)....at 5pm they brought me a supper, thank god because I hadn't eaten anything all day. I had to pause inbetween eating to breath through the contractions but they weren't that bad. At about 6pm the room became available and I had to walk from triage to my labor room. I was unable to walk without stopping and breathing through my contractions.... by the time we made it to the room, like 2 minutes, the contractions were way stronger. I was unable to get comfortable after this point. At 645ish the nurse came to check me before she went off shift at 7pm. I was a loose 6, possibly even a 7. This was the first time I'd ever been checked and I couldn't believe it. I regained new excited power to make it through with out drugs, I was at this point moving to my side on every contraction and my boyfriend was having to tell me to breath.... shortly after the nurse checked me my boyfriends family arrived to visit us, since they still didn't believe we'd be having a baby soon lol. They watched me go through two contractions, scaring my nephews for life I'm sure lol, and decided to leave.... right after the left the room I told my boyfriend I felt burning, I didn't know the nurse was in the room but she basically said okay lets check you again and went to check and there was Hayden's head beginning to crown. She told me not to push and started prepping for our son to be born.... all of a sudden I got another contraction and my body just started to push I couldn't stop.The nurse screamed for help and a student nurse came to assist, the doctor had been just called. They told me to push and I pushed for once or twice more and at 7:32pm my son came into this world. They sucked out his fluids and put him on my chest, where he promptly peed on me and I fell in love instantly. He weighed 5lbs 4oz and was 46cm long. We named him Hayden Michael Leon Dowell. Oh, and my boyfriends family, didn't even make it to their vehicles before he was born, we still talk about how quick and crazy it was. Hayden's complete labor was 7hrs and 32mins long, although no contractions were felt until about 445pm (so really 2 1/2 hours of that kind of labor!!)... he was born at 36weeks 5 days gestation....
my last pregnancy photo from that day, freaky when you think about it!!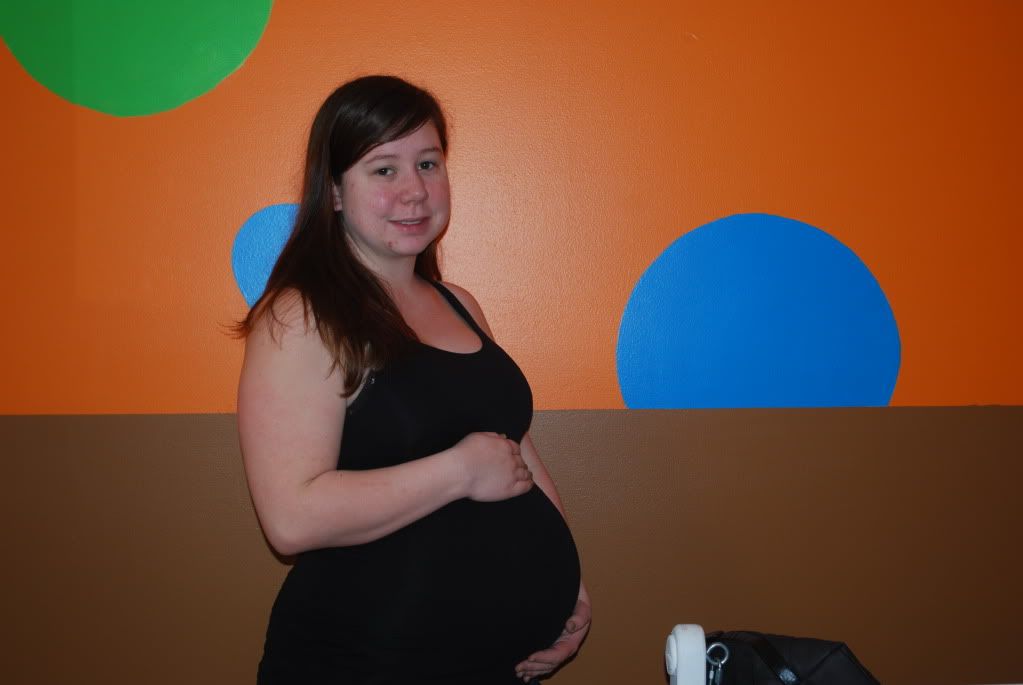 mommy and Hayden meeting for the first time....
Hayden Michael Leon Dowell, after his first bath!
Feb 19, 2012 1 day old with mommy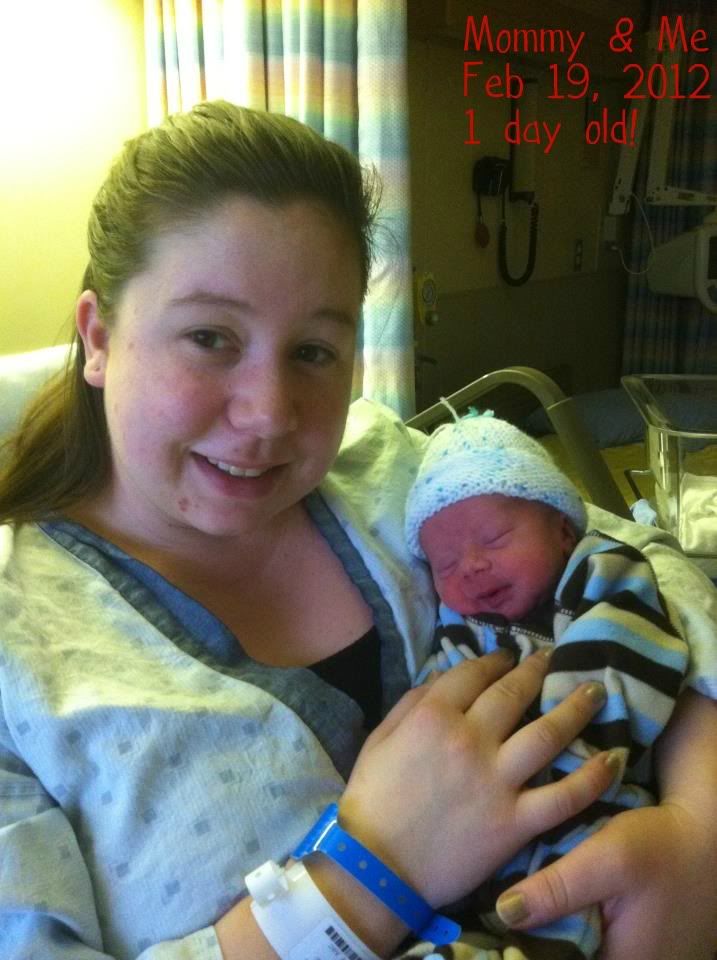 professional photos at 13 days old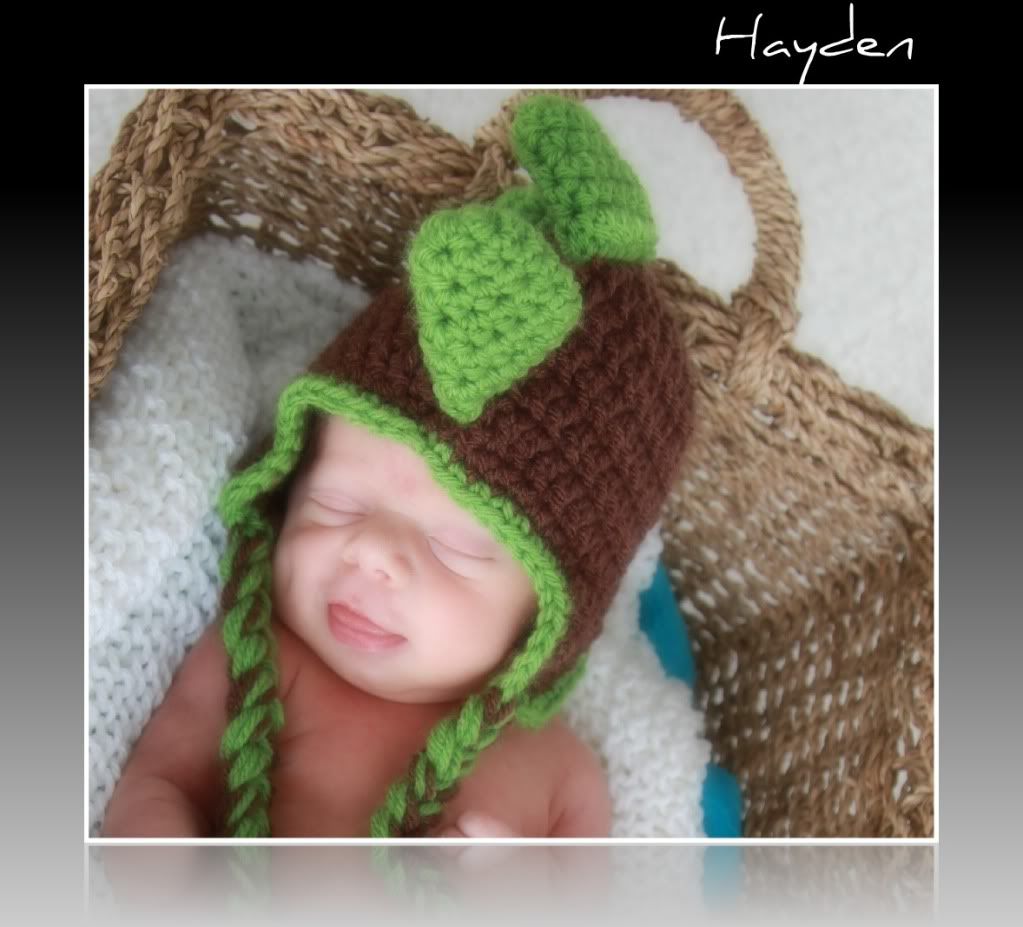 April 19, 2012
my beautiful baby boy is now 2 months old and is thriving. He loves his dog, Gracie, and smiles at her whenever he sees her. He now smiles at mom and all the ladies he can too, what a little flirt. He loves his b**bs more then anything in life and I'm pretty sure he'd be on them all the time if he could :)
January 13, 2013
In October 2012, I became a single mom after my ex and I decided that our relationship wasn't working. I moved back to my hometown with b**b piglet and we're happily living life with my parents currently awaiting a rental place of our own. His father is not active in his life ( a surprise to me kind of but not really)... b**b piglet is doing wonderful...full of monsterous behaviour and wonder. He has no teeth and barely any hair. He can say mama, dada and his version of nighty night and all done. He sings "more" and is learning to wave and kiss bye bye... I love him so much <3