About Me
I'm already a mommy of two beautiful, sweet, smart little girls: Daisee (age three) and Ava (age one). They are my entire world.

I recently had a miscarriage at five weeks along. I'd like to meet other moms who have been through the same thing. Could really use support right now.
April 19

How are you doing?
August 23

I really have no preference on what I have! Happy and healthy is all that matters to me!
August 17

Thank you, we're close in age :) I turn 20 in December!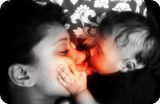 (Arie|
I have 1 child and live in New York
August 16

:) Hey Thanks for the PT
August 16

Oh no, you found me! :wink:
August 15

Congrats on # 2! when are you due? I'm also 19, when do you turn 20?