About Me
Rylynne Ann was born Jan 13,2012 at 6:08pm she was 9lbs 5ozs! I am a stay at home mom im taking online classes to finish up my senior year of high school I do plan on going to college to become a labor and delivery nurse but I wont start classes until shes a year old. I do not work I think its best for Rylynne if im home for the first year and her pediatrician agrees, I know most people wont agree with this and im ok with that. We do co-sleep and co-bathe, the co-sleeping happened by accident but I actually like it for now. I am still with her father we been together since April 28,2010. We do not live together and are in a long distance relationship but he comes and stays with us on weekends and wednesdays, we do plan on living together but not until we both have jobs.

My Labor Story:
On Jan 13, 2012 at 8:30am I woke up got up feeling like I had to go to the bathroom when I stood up my water broke! I called my boyfriend and his mom so they could start the drive up (they live an hour away) than I called my doctors office they told me to come in to make sure my water did break. I got to the doctors office around 10am when the doctor checked me he said I was 5cm dialated and sent me to the hospital. I signed into the hospital at 10:15am after I got settled into the labor room I asked for a epideral so it would kick in before the contractions got really bad. When they started giving me the epideral the guy tried putting in the needle before my back was fully numb but besides that it wasnt to painful. At 12pm the doctors checked me again (by than my mom my boyfriend his mom his dad and his step mom were all there) I was only 6cm, I was annoyed that 2 hours had passed and I only went up one cm. By 2pm I was feeling really sick from all the medications and forgetting to eat that morning from all the excitement. The doctors checked me again at 4pm I was 9cm and fully thinned out I was super excited and ready to see my baby girl. At 5:30pm the doctor came in and said I was ready to push. I only pushed for 40 minutes and my little girl was here!! An amazing 9lbs 5ozs 21 and a half inches long the doctor was surprised at how big she was since I was only 38 weeks pregnant. Great thing is I didnt feel a thing because of the epideral :)
April♥
I have 1 child and live in Georgia
October 3

Awe. Not such a bad luck day after all huh..lol. It was a Wednesday when my son was born. :)
April♥
I have 1 child and live in Georgia
October 2

Its the best day ever. :) Lol
M A R I A
I have 2 kids and live in Washington
January 23

How do you say your daughters name?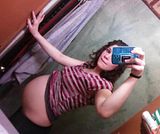 December 13

im 20 so im still pretty young myself, verry nervouse im due jan.22.2012 as well. just hang in their you'll get through it.. all mommy instincts will kick in... this is my biggest fear..
October 12

Hello and congrats :) I am having a baby girl in February, and i am also 17. So i can realte to what you are goiing through right now.
October 7

Me too :)
October 7

What part of Delaware you live in ? Congrats :)
October 4

hey just wanted to say hello and congrats on your daughter. And ill pray for you, im alittle older than you im 22 years old but im having similar problems. So dont worry an keep ur head up
October 2

we have the same due date & we are the same age :) you just might be my new friend lol .