2+1+2=Oh my!
685 Posts | Joined BG: Oct 14, 2011
Last Visit: 3 years ago
Age

30



Gender

Female



Status

Married



Work

Human resources



Location

Bellingham, Washington



Interest

horses, hobby farming, crafting, gardening




Kids

1



Due

Sep 27, 2012 (twins)




Meet Baby "A" - Madison Alexis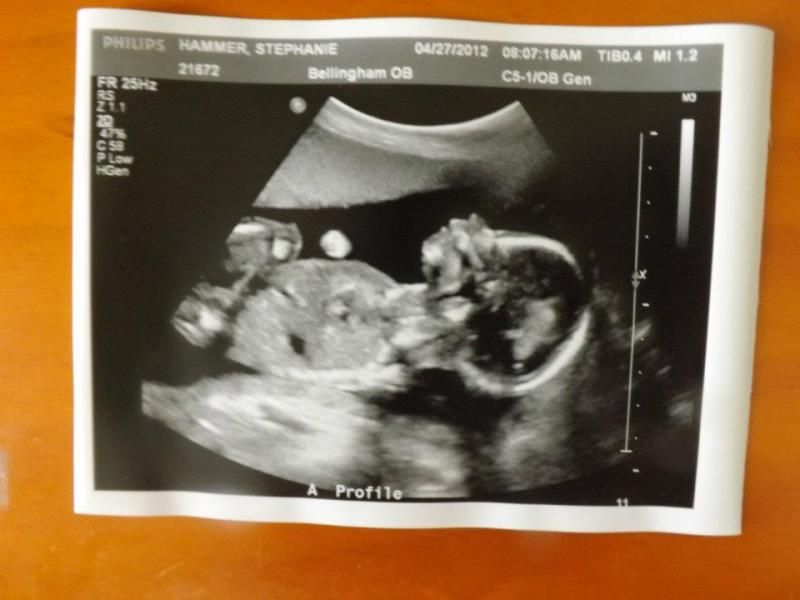 Meet Baby "B" - Naomi Elizabeth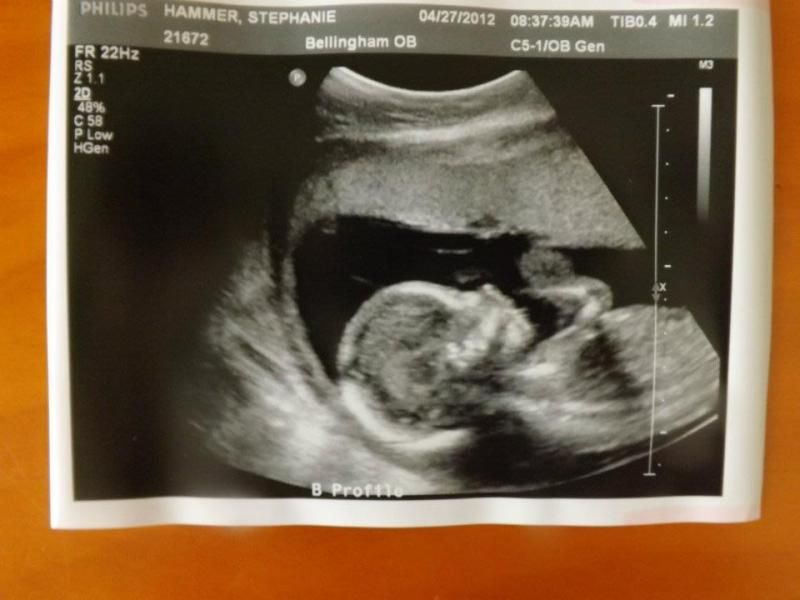 My name is Stephanie and I am married to the love of my life, have the best little 3yo son ever and we found out in February that we were expecting twins! Things are so exciting right now!
To say I'm scared about having twins is an understatement! I'm just here hoping for support and advice on what to expect with 2 on the way and the one already here!
2/24/12 - Week 9 - found out I was pregnant with twins
3/2/12 - Week 10 -We had a 2nd appointment and found out the twins are identical, and that baby A has a medial insertion umbilical cord so things are going to be watched even more closely than they would have even with regular twins. The fear is uneven growth. But, so far, their sizes are perfect.
3/16/121 - Week 12 - had another U/S to check on the wee ones, they're both doing excellent!
3/30/12 - Week 14 - had the early anatomy U/S and the kiddos are each weighing in at a hefty 3ozs and are 50-75th percentile all the way around! Way to grow kiddos! We couldn't get a good gender shot, however it did NOT look like little boy parts, so we'll see, I've got 2 more anatomy scans this month, so we should be able to find out at some time this month what these little darlings are!
4/10/12 - week 16 - Appt w/ perinatologist and a high-risk pregnancy ultrasound scheduled at the University of Washington Medical Center. Well, we found out nothing new, but got a lot of information on the various outcomes. We were told that we will be having ultrasounds at every appointment as our babies are conisdered very high risk due to my size (tiny), their placental sharing (sharing with one having a medial cord insertion), my high blood pressure issues, and the fact that I have an almost constant UTI during pregnancy. We did find out that we're having 2 beautiful little GIRLS! What a perfect way to round out our wonderful family! Had to go dress shopping on the way home!
4/27/12 - week 18 - Appt went well, confirmed their gender, everything is looking as good as can be expected.
5/10/12 - week 20 - Looks great! I adamantly expressed my wishes for a vaginal delivery, and the OB (who has met my very active son) agreed that if at all possible it was my best choice.
5/24/12 - week 22 - The girls are still looking great and are growing appropriately!
6/7/12 - week 24 - Woohoo! Both girls are head down and they said that because of the tight quarters of being twins, they'll probably stay that way and that if they DO stay that way, they will 100% let me attempt a vaginal delivery @ term! They are apx 1lbs 3ozs (Baby A) and 1lbs 6ozs (Baby B) - the doctors were not worried because they were facing opposite directions so the size difference is probably positional, plus their fluids were equal
6/25/12 - week 26 - Passed the GD test, but baby "B" is breech again, oh well! Otherwise, looking good!
7/11/12 - week 28 - The girls are looking great! We picked out names, baby "A" is Madison and baby "B" is Naomi. Madison is weighing in at 2lbs 6 ozs (46th %) and Naomi is weighing in at 2lbs 11ozs (52nd %) - The doctors are not only pleased as punch at how the girls are doing, but also extremely excited about how I'm doing - also known as other than my UTI's and low iron (both totally normal for me and twins) we're doing better than can be expected, and they think this is a beyond textbook perfect pregnancy for Mo-Di twins!
7/23/12 - week 30 - Everything looks good - actually a bit better than last time even - my risk of pre-term labor at this point is pretty unlikely :) YAY!!! However, my doctors are more than happy to write out my paperwork so I can start my maternity leave on August 10th AND use my AFLAC plan so we don't go broke, lol!!! OH and both Madison and Naomi are well over 3lbs each - good girls! Naomi was happily kicking the ultrasound wand and Madison was practicing her breathing like crazy. Not too much longer until I get to meet my little girls!
8/10/12 - the girls are growing like happy crazy little weeds!
8/13/12 - First NST and the only issue was getting the monitors to stay on them, they were moving too much!
8/16/12 - 2nd NST everything looks awesome and they're still super active little squirmers!
8/20/12 - 3rd NST scheduled
8/23/12 - 4th NST scheduled
8/26/12 - 2nd baby shower, hope we make it until then!
8/27/12 - 5th NST scheduled
8/30/12 - 6th NST scheduled
If we make it to all of these NST's then it'll be time to set an eviction date! Yes, we're THAT close!
ABOUT THE MOMMY
Name: Stephanie
Age: 26
Is this the first child?:
No
ABOUT THE DADDY
Name: Justin
Age
35
Is this the first child?:
No
FINDING OUT
What day did you find out you were pregnant?:
January 18th 2012
How did you feel when you found out?:
Excited! We were wanting A sibling for our son
Who was with you?
Justin
How did the daddy react?:
Excited :)
TELLING THE PARENTS
How did your parents react?:
my parents were excited
How did his parents react?:
his mom could have cared less (until we had the first u/s and found out they were twins) his dad was as excited as you could expect for a bachelor, lol!
How often do they call to check on you?:
frequently, lol!
ABOUT THE PREGNANCY
When is your due date?:
September 28th
How far along are you right now?:
30 weeks and 5 days!
Have you had an
ultra sound
?:
Yes, many!
Have you heard the heartbeats?:
Yes
SEX OF THE BABY
What do you want. Boy or Girl?:
Girls
Do you know what you are having now?:
yes 2 beautiful girls
Are you happy with what you are having?:
very
ABOUT THE BIRTH
Who is going to be with you?:
Just my husband because we will be delivering in a surgical room :/
Are you going to video tape it?:
No!
Natural or medicated?
Have to have an epidural because of the risk of c-section
Do you think you will have a c-section?:
probably :(
Do you think you will cry when you first hold your babies?:
No
Do you know what you will say to the babies when you first hold them?:
Hi sweeties!
Are you scared about the labor?:
Labor, no - c-section, yes...
NAMES
Do you have names picked out?:
yes
Are your babies going to be named after anyone?:
no.
Did the daddy help pick the names?:
yes - he would NOT be happy if I named them without his help
OTHER RANDOM QUESTIONS
Where were your babies conceived?:
our bedroom...
Have you felt the babies move?:
Yep - both of them :)
What was your first symptom?:
Intuition
Will you have godparents?:
no
What is the babies room theme?:
We'll wait until they are old enough to choose their own
Are you ready to be a mommy?:
Yes!
What do you think they will be "daddys girls" or a "mommys girls"?
:
Daddys girls! I'm the mean parent, lol!
Meet Cameron: My 3yo son who is my pride and joy! Best and cutest little boy ever (in my not so humble opinion!)! Definitely not the last thing on my mind (ever) but he's here at the bottom so everyone can have their last sight of my profile be his lovely little face!