CLC 7 Weeks
1525 Posts | Joined BG: Oct 22, 2011
Last Visit: 3 hours ago
Age

32



Gender

Female



Status

Married



Work

SAHM



Location

Nebraska



Interest

singing, movies, sewing




Kids

1



Due

Oct 23, 2014



TTC Since

Jul 04, 2009



Angel Babies

1
My name is Christy. My husband and I have been married for 4 years.We live in a very small town in the middle of nowhere NE. It is a beautiful place to live and the people are nice. I have endometriosis and we have been trying to concieve since we got married. I have been through 9 months of fertility treatments plus 3 surgeries and 6 IUI's. I am a music teacher and love kids! My husband has a great job and loves to fish and work on cars. We are very happy except that we sometimes feel like we're missing something. When you can't have a baby it feels like you've already lost it like you had a child and they died. Our next option is IVF.

After our last IUI cycle in Jan 2011 we decided to adopt and I made a couple posts on BG about looking for a baby to adopt. People were not very nice to me but I did not care. The while reason I joined BG was to find a birth mother. And that's exactly what I did! Jan 2011 I met a BM on here who posted that she was looking for someone to adopt her baby. We started emailing, chatting in Fb, and then texting. We became instant friends and a week after talking to her DH and I drive 18 hrs to meet her and her husband and almost 2 yr old twin boys. They were 19 and not ready to have another kid. We both knew that this was a plan orchestrated by God bc it could not have been any more perfect!

Kalyn Marie was born on May 15th 2012 at 35 1/2 weeks. She weighed 4 lbs 14 oz and was 17 3/4" long. We got there 15 hrs after she was born. DH was working 6 hrs away from home in the opposite direction. So I had to wait for him to get home then we picked up my mom and DH drove all night long. I could not sleep a wink I was so excited! We got our own room at the hospital bc I had induced lactation and was bf Kalyn. DH flew back home to go back to work after she was released from the hospital at 3 days. My mom and I had to stay in the state in hotel rooms and 1 night in the children's hospital for 10 days! It was exhausting sleeping in a hotel room with a preemie! Unfortunately we lost out pregnancy at 9 weeks. We named out angel baby Faith. IVF #2 January. 6 eggs retrieved, all fertilized, 5 blasts. 2 transferred, 3 frozen! BFP 2/9! Due October 23rd with twins!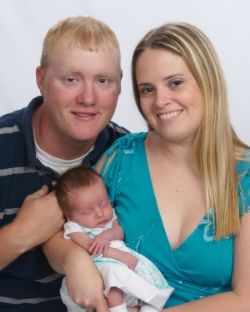 Timeline:
July 2009 Got married and started TTC
April 2010 1st laparoscopy- diagnosed with endometriosis
Aug 2010 Chlomid for 6 months 3 w/ prometrium
Jan 2011 Depo Lupron- 4 months
June 2011 first apt with RE
Hysteralsopingogram- normal
July 2011 first IUI- failed
Aug 2011 didn't get to do the IUI bc my follicles shrunk
Sept 2011 2nd laparoscopy
Oct 2011 2nd IUI- failed
Nov 2011 3rd IUI- failed
Dec 2011 4th IUI- failed
Jan 2012 5th IUI- failed
Began adoption Journey and took a break from TTC.
May 2012 DD born
Aug 2012 started TTC again although I didn't get AF back til Nov bc I was BF.
Dec 2012 DDs adoption finalized!
Feb 2013 3rd laparoscopy
June 2013 6th IUI failed
July 2013 another attempt at ivf
July 19 Egg Retrieval 9 follicles but only 4 eggs
July 20 Only 1 egg fertilized. Apparently my endometriosis cause my eggs not to be mature and to also be abnormal. Plus I have a low reserve which explains why less than half of my follicles had eggs.
July 24 Embryo Transfer!! My One little embryo survived the 5 days.
Stick baby stick!
August 1 Beta 64! Yay I'm finally pregnant after 4 years and a lot if $
August 5 Beta 312! 12dp5dt
Sept 11 Found out the baby's heart stopped beating
Sept 14 Had a D & C
Jan 28, 2014 Egg Retrieval, 6 eggs, all fertilized!
Feb 2   Transferred 2 embryos, 3 frozen
Feb 9   BFP!!,
Feb 10- Beta 241 8dp5dt
Feb 12- Beta 600 10 dp5dt
March 3- it's twins!!