About Me
Well I'm a mummy to two gorgeous little boys well not so little anymore....Oliver James is 4 and George henry is 5 i had them very close together and they are also the same age for 22 days I don't think my age is relevant so i won't share :) i'm engaged to an amazing guy He's like my twin same but different :D we have some great fun we do clash at times but we only end up fine again in 10 mins lol. I'm having another little miracle due july 7th :D can't wait hoping for a princess but a prince will do just fine i love my little family more than anything in the world.
Don't ask i don't know what he's doing either lol. Oliver James (left) George henry (right)
Moi crappy pic but that's all ya getting XD
First Trimester

1-4 Weeks - 1 Month - ♥Baked♥
5-8 Weeks - 2 Months - ♥Baked♥
9-13 Weeks - 3 Months - ♥Baked♥
Second Trimester
14-17 Weeks - 4 Months - ♥Baked♥
18-21 Weeks - 5 Months - ♥Baking♥
22-26 Weeks - 6 Months - ♥Heating the oven♥
Third Trimester

27-30 Weeks - 7 Months -
31-35 Weeks - 8 Months -
36-40 Weeks - 9 Months -
My Pregnancy
Mothers Name:kim
Age: 22
Birthday: 30th july 1990.
Birth Place: chesterfield royal hospital.
Height: 5'9
Pre-pregnancy weight:n/a
Current weight: n/a
Fathers Name: Kenny
Age: 24
Relationship status
Are you with the baby's father?: yep.
Are you married?: not yet :).
If together, how long have you been together?: 2 years.
FIRSTS
Is this your first pregnancy?: no, my 3rd
How did you find out you were pregnant? picked up some tests on a whim.
What were your first symptoms?: nausea, sore b**bs.
Who did you tell first?:My Fiance
Who was with you when you found out?: My Fiance
Was baby planned?: yep we started ttc july 2012 <3.
REACTIONS
What was your reaction?: couldn't believe it :D.
What was the baby's father's reaction?: Happy :D.
What was the parent's reactions? don't know don't have a relationship with them.
What was friends and family reactions? happy for us.
BABY
Due date: sunday 7th of July 2013.
Do you want to know the sex? yes.
Do you know the sex?: yes.
If so, boy or girl?: Girlie :D.
Any names?: Amelia, Emilia
Any ultrasounds?: Yes i've had 2 so far, one at 10 weeks and 2 days and a private gender scan at 16 weeks and 5 days.
Have you heard the heartbeat?: Yes heard it several times :).
Baby ethnicity?: White British
Who do you think baby will look like? Her daddy :).
Will baby have any siblings?: Yes two older brothers.
Will baby have their own room?: yep.
What is baby's nursery theme? Baby pink and blue birds.
Have you and dad felt baby move?: I have movements not strong enough to be felt on the outside yet.
LABOR
Who is your OB/GYN? not met yet
What hospital will you deliver: Barnsley hospital.
Who will be in the delivery room? my Fiance.
Will you use medication?: Nope.
Are you scared about labor?: No, rather looking forward to it.
Will you videotape or take pictures?: Maybe
How will you react when you see baby?: no idea.
What will you say?: no idea.
MISCELLANEOUS
Did you have morning sickness?: Yes, although it only seems to trigger when i'm out and about :/.
Did you have any cravings? Cookies and cream icecream.
Did you have any mood swings?: sometimes.
Are you a high risk pregnancy?: No.
any complications?: Bleeding at 9 weeks.
Formula or breastfeeding?: Breastfeeding.
Have you bought anything for baby yet?: no not yet.
When did you start to show?: bloating from 8 weeks
How long could you wear your regular clothes?: can still fit in my jeans at 18 weeks somehow.
Are you excited?: very :D.
Who will help with baby after their born?: My fiance
What is your favorite thing about being pregnant?: Knowing that my little girl is growing safely in my tummy :D.
What is the worst thing about being pregnant?: Tiredness.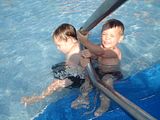 February 5

Love your profile set up! You boys are absolutely adorable!! And your such a pretty mama as well!! Your gonna have to help me set mine up it's so plain and uhhh blank lol ..I Don't know how to do it and I'm kind of computer dumb lol
January 27

Thank you! :-)