Lacey Michelle
678 Posts | Joined BG: Dec 03, 2011
Last Visit: 1 year ago
Gender

Female



Status

Married



Work

Mommy



Location

San Antonio, Texas



Pregnancy #2:
Ella-Sofia Rose
Or Runt - as Daddy calls her. "No banana's baby!"
Estimated date of conception -
Nov. 14th, 2011
Nov. 24th, 2011:
Thanksgiving Day - Implantation bleeding
Nov. 28th, 2011:
First day of missed period
Nov. 29th, 2011:
Positive pregnancy test
Nov. 30th, 2011:
2nd positive pregnancy test
Dec. 9th, 2011:
First appointment with the OB - 5th week - First Sonogram - Sac measured 8.1 mm - So good, so far!
Dec. 27th, 2011:
Second appointment with the OB - 8 weeks, 2 days - Second Sonogram & blood work - Saw a perfectly shaped little baby measuring 16.4 mm with a super strong heartbeat of 180 BPM!!! Due date set to Aug 5th, 2012.
Jan. 3rd, 2012:
Third appointment with the OB - 9 weeks, 2 days Third Sonogram & blood work results - Blood work all perfect - Couldn't find the heartbeat on doppler just yet - First abdominal sonogram and we found our Runt right away - Its grown a bunch since last week, 23.6 mm - Actually measuring a day ahead at 9 weeks, 3 days - with a heartbeat around 160 BPM! Perfect birthday gifts for Mommy and Daddy!
Jan. 24th, 2012:
Fourth appointment with the OB - 12 weeks, 2 days - Went to find the babys heartbeat on the doppler and we couldn't find it so they decided to check with sonogram. That was the longest, scariest 5 minute wait of my life. The doctor found a very acrobatic baby though, wiggling all around! Measuring about 45.9 mm and right on track with the size! The heartbeat was a strong, loud 170 bpm! Its so incredible watching them grow from month to month!!! Next appointment is in a month and then we set up all my second trimester screens as well as my gender scan! I cant wait!!!!
Feb. 21st, 2012:
Fifth appointment with the OB - 16 weeks, 2 days - Found the baby's heartbeat right away on the doppler! Heartbeat was in the 160's. Got lab orders for my Pentascreen and set up my Anatomy Scan for March 8th!
Feb. 29th, 2012:
17 weeks, 3 days - Got the results to my Pentascreen and everything tested completely normal!!! Yay!
Mar. 3rd, 2012:
17 weeks, 6 days - Got my doppler in the mail today! Tried it out and found a strong heartbeat in the 150's-160's!
Mar. 8th, 2012:
18 weeks, 4 days - Anatomy Scan -
Its a GIRL!!!
Everything was measuring great! Heartbeat was in the high 150's!!! Due date is staying the same!
Mar. 13th, 2012:
19 weeks, 2 days - Emergency appointment for unknown pelvic pain - OB checked my cervix and it was long and closed: Found that its muscular-skeletal pain - Now on Limited Activity Restrictions, boo. Could'nt find Ella-Sofia's heartbeat on the doppler so we had to wait about 30 minutes for an ultrasound. She was fine, just a little low and laying with her head on one hip and feet pushing against the other hip... The reason for my pain. Heartbeat was 156 :)
Mar. 20th, 2012:
20 weeks, 2 days - Follow up with the OB for the Anatomy Scan. Found Ella's heartbeat on doppler after searching for a few minutes (Stubborn little girl just like her Daddy!), 150's like normal. Doc said everything is looking great so far and told me we will be doing the 1-hour glucose test at my next visit - Goodie!
April 10th, 2012:
23 weeks, 2 days - Unexpected visit to the OB - My blood pressure has been bouncing from normal to about 25-30 points elevated and I had been having so weird blurring in my vision along with a mild headache. OB checked my urine, found some protein, ran labs and set me up with a 24 hour urine catch. Possibly mild pre-eclampsia, oh boy. Ella's heartbeat was in the 150's.
April 12th, 2012:
23 weeks, 4 days - Call from the nurse, blood work came back normal! Kidneys and liver are working good. Still waiting on results for the urine catch.
April 17th, 2012:
24 weeks, 2 days - Follow up with the OB - Blood pressure was 140/86, protein in my 24 hour catch was 11 under the definitive definition of Pre-E and my platelets were at 126,000. Admitted into the hospital for observation, blood pressure monitoring and my first round of steroid shots. Ella-Sofia looked perfect in the sonogram and all the fetal monitoring looked great. Cervix is still perfect. Released the next day on strict bedrest from here on out. Since bedrest started, labs and blood pressure looks good so it seems were on the right track.
1 - 4 Weeks: 1 Month:
Complete!
5 - 8 Weeks: 2 Months:
Complete!!
9 -13 Weeks: 3 Months:
Complete!!!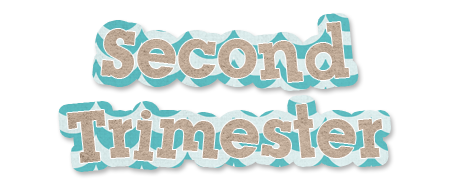 14 - 17 Weeks: 4 Months:
Complete!
18 - 21 Weeks: 5 Months:
Complete!!
22 - 26 Weeks: 6 Months:
Still Growing..............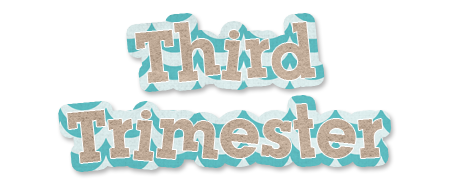 27 - 31 Weeks: 7 Months:
Waiting
32 - 36 Weeks: 8 Months:
Waiting
37 - 40 Weeks: 9 Months:
Waiting
------------------------------------------------------------------------------------------------------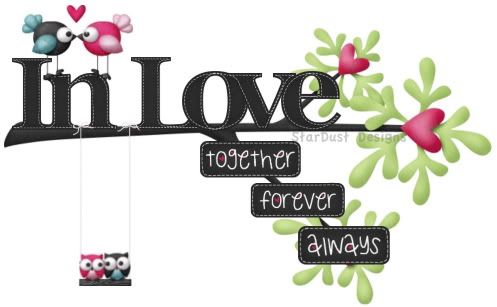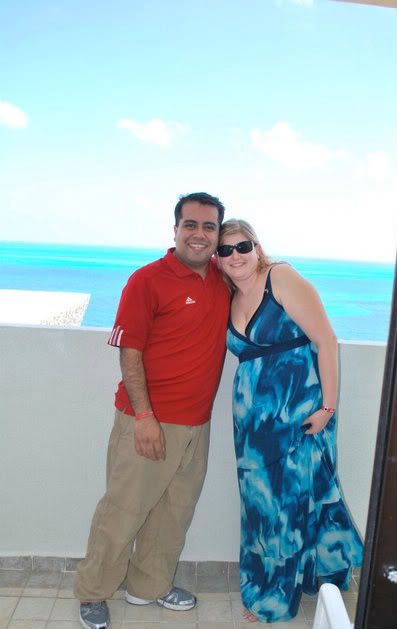 ------------------------------------------------------------------------------------------------------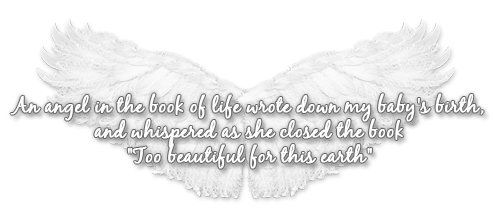 Well never forget our angel baby Peanut <3 Mommy and Daddy loved you from the very beginning! We think about you often and miss you always! God just had bigger plans for you.