October 10

Thank you! I went to Picmonkey.com in the Halloween features.
IDGAF ❤
I have 1 child and live in San Diego, CA, United States
October 9

Oh really? That is awesome!! :D I love talking to SD mamas. Your daughter is adorable!
August 13

She is so gorgeous! just a little bit younger then my Lexi :)
July 27

YES! He turns 3 next weeks.. It feels like it was just yesterday that I had him! They just grow too fast :( How old is your little one now?

July 6

Thank you :)
June 25

just noticed your DD's birthday is the day before my DD's birthday :-)
December 13

yes I did :( They both died 2 hours after being born in my arms. It was Horrible. Dec. 6th was a year since they've been gone. but, I'm excited about our little boy coming!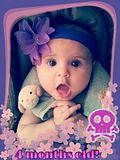 Morbid Moni
I have 1 child and live in San Diego, California
December 5

The Easter bunny is giving me the most wonderful little surprise this year! Not to forget God in this whole endeavor, especially with Easter in the mix (^_^) <img src="http://t1.gstatic.com/images?q=tbn:ANd9GcQNwXWqhT2WdJojA8uoZXGiFNoizhankK5kC1rOBlNKtXkXRJ-drBZU1gSsDg" />