X_Miss_X_Britt_X
397 Posts | Joined BG: Nov 23, 2006
Last Visit: 7 years ago
Age

26



Gender

Female



Status

Engaged



Work

Being A Mommy



Location

Pennsylvania



Interest

Alot Of Things!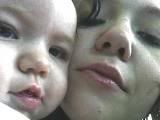 Hey Ladies! I'm Brittni. I'm 18. I have two beautiful children. My daughter, Kelci Rey. She was born Feb. 14th 2007. My little Valentine Baby!! And my son, Kamren James. He was born March 10th 2008.When my daughter was born she was 9 lbs.6 oz. I was in labor for 10 hours and I had an epidural. When my son was born he was 9 lbs. 7 oz. and I was in labor for about 9 hours and I had no pain medication. Let's just say I will never do that again!!
I have a wonderful fiance. His name is Dustin and I love him to death. Him and our kids mean the world to me! He's not Kamren's biological father but they deffinately have a father/son relationship. Dustin and I have been together for almost 2 years now and I plan on spending the rest of my life with him! We are applying for our marriage certificate in about a week and then we will be getting married April 18th on our 2 year anniversary.
I had to take a year off of school when I was pregnant for my daughter so I am now finishing high school online that way I can stay home all day with my babies and Dustin can work. I know I am young and I know that two kids for someone who is 18 is alot to handle but don't feel sorry for me or try to judge me because I love my life just the way it is! Sure it's not the way I planned it but now that this is my life, I couldn't imagine it any other way!