About Me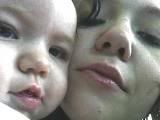 Hey Ladies! I'm Brittni. I'm 18. I have two beautiful children. My daughter, Kelci Rey. She was born Feb. 14th 2007. My little Valentine Baby!! And my son, Kamren James. He was born March 10th 2008.When my daughter was born she was 9 lbs.6 oz. I was in labor for 10 hours and I had an epidural. When my son was born he was 9 lbs. 7 oz. and I was in labor for about 9 hours and I had no pain medication. Let's just say I will never do that again!!
I have a wonderful fiance. His name is Dustin and I love him to death. Him and our kids mean the world to me! He's not Kamren's biological father but they deffinately have a father/son relationship. Dustin and I have been together for almost 2 years now and I plan on spending the rest of my life with him! We are applying for our marriage certificate in about a week and then we will be getting married April 18th on our 2 year anniversary.
I had to take a year off of school when I was pregnant for my daughter so I am now finishing high school online that way I can stay home all day with my babies and Dustin can work. I know I am young and I know that two kids for someone who is 18 is alot to handle but don't feel sorry for me or try to judge me because I love my life just the way it is! Sure it's not the way I planned it but now that this is my life, I couldn't imagine it any other way!
March 19

Awwww your babies are precious!!! She looks like shes a great big sis and he is soo cute and I stilllove that name! Im so excited for tomorow, im actually really nervous I go in a 12AM, Ive been trying to get everything ready and get my bag together I think i packed too much lol im about to have to go over everything and take some out. Wish me luck im scared:shock: but happy:D!!!
March 18

Heyy how have you and your baby been i know youve been a busy mama, I went to the doctor on Monday andim going to get induced this Thursday night (scaryy)!!!! Wish me luck! Im so excited and ready! I'll have pictures probably on Monday if everything goes as planned.
March 12

OMG! congradulations!!! im so happy for you! how big was he when he was born?I cant believe you did it without the epidural or anything I dont know if I could have done that, im so proud you did tho! Looks like that castor oil worked lol. I have only lost my mucous plug since I talked to you, im hoping I go into labor naturally before I get induced on Wednesday. Have fun with your little boy! I cant wait till mines here!
March 7

oh jee i deffinaty would take it the wrong way. i totally kno wat you mean. just really reluctent cause its alot more than having one child and they are so close in age that its going to be alot to deal with totally understandble lol and yea thats how i feel right now with the twins. i love them, and am very excited. just very scared and nervous too. and yes i totally kno wat you mean lol
March 7

HEy how have you been, any contractions lately? Mine are every day now I bet the baby will be here next week im hoping, I have a wedding to go 2 tomorow I hope I dont go into labor there lol. Me and my boyfriend are trying to figure out what were going to do this weekend since it could be the last where its just me and him, I cant really do much without getting tired! O yeh and I tried the pineapple thing and just like you nothing but heartburn all nite!! Oh well it was worth a try and I love pineapple anywayz.:D
March 6

why so reluctent the second time? and yes everyone knows pretty much where i work alota people i dont kno come up to me and are like "your the girl thats having twins right?" lol but my mom is extreamly excited. and gregs parents are supportive but stupid. i dont like them too much loll
March 6

true but i finally was okay with my pregnancy and fully accepted it. and now that i found out im having twins i feel back at stage one lol
March 5

lol well thank you and im verry scared sooo nervous and still quite in shock if feel bad cause i havent had time to enjoy it. im excited too though, but alot is kinda on my mind
March 5

Ive never heard about the pineapple thing imma have to try it! I have been walking alot and it doesnt seem like its helping me just making me tired:(. It would be nice to have an easter baby but I feel the same way I dont want to go that long. Im thinking next weekend would be good for me if I can get induced or if he decides to come before that!
March 5

Hey I'm here to answer your curiosity....about my son. I guess not many people get this option but I was offered something called chromosonal testing. It was to see if there was a chromosonal defect as the reason he died. It isn't always possible but we were fortuante. The testing also verifies the sex. XY and we got a boy! :)
March 5

lol thank you =] i think alota girls assume everyones body is the same on here. but to be honest i think alota girls are differnt. some show early some show later. some show really late. i have an aunt that started showing, actually showing, at 9 weeks lol. just depends on your body =]
March 3

Heyy I just went 2 another doctors appointment 2day and im still 1 cm:( but she said if i dilate any more next week i could probably be induced for next weekend! I have been thinking about what would induce labor naturally, if u know of any let me know!