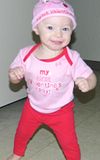 January 3

Thanks, if you ever need advice feel free to PM me. I don't know all of the answers, but I'm honest and will admit that. As for my profile, if you go to "edit profile" there is a section under your photo that says "advanced features" click that to unlock the feature. It's annoying because you have to do surveys, but if you're ever bored it gives you something to do.
Royalle
I have 33 kids and live in Eagle Butte, South Dakota
January 3

everytime i try and post a forum, my name, my picture, all my info doesnt show up at all. it just says account removed. wth? can someone help?