About Me
I am 24 years old, married to a wonderful man, and have 1 child, Mikah Aiden Jimenez and 1 angel baby named Ein Zeno Gabriel Jimenez.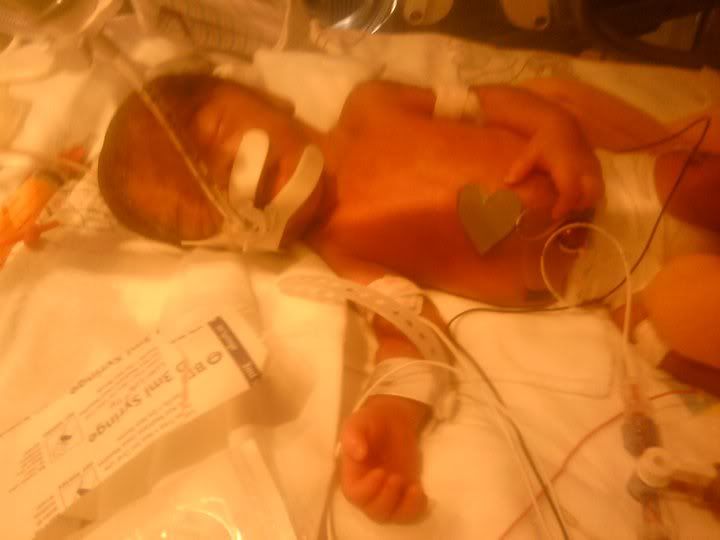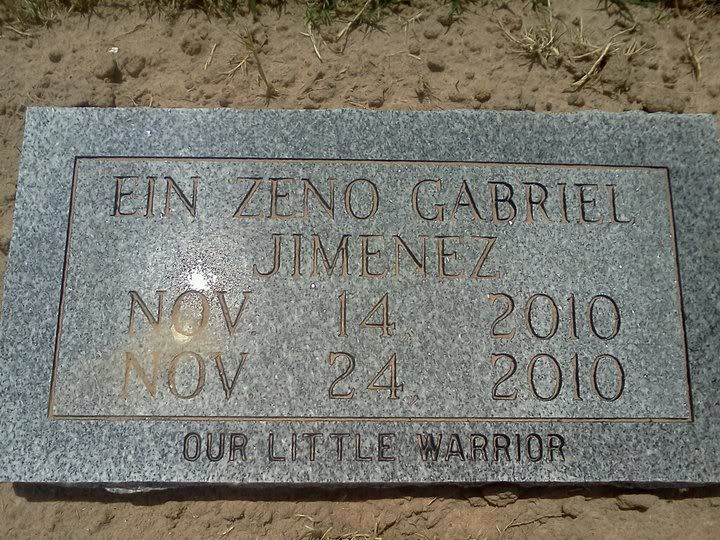 Ein was born November 14, 2010, due date was February 5, 2011, I was 28 wks that morning when I went into labor. He was 2lbs 10oz with a 90% chance of surviving. He was doing so great!
Nine days later on the 23rd he had to be air lifted to Dallas Children's Hospital for surgery on his intestines. The doctors diagnosed him with Necrotizing Enterocolitis and said he had a 10% chance of survival. Our baby boy took his last breath in my arms at 4:23 am the next morning of the 24th.
Didn't think I would ever be happy again. Then my husband and I found out that we were expecting number 2! A little boy we will name Mikah Aiden Jimenez and he will be loved! Everyday is a new adventure filled with excitement and fear. I thank God for this second chance. Ein will not be forgotten. His life had meaning and Mikah's will too.
Mikah at 22wks gestation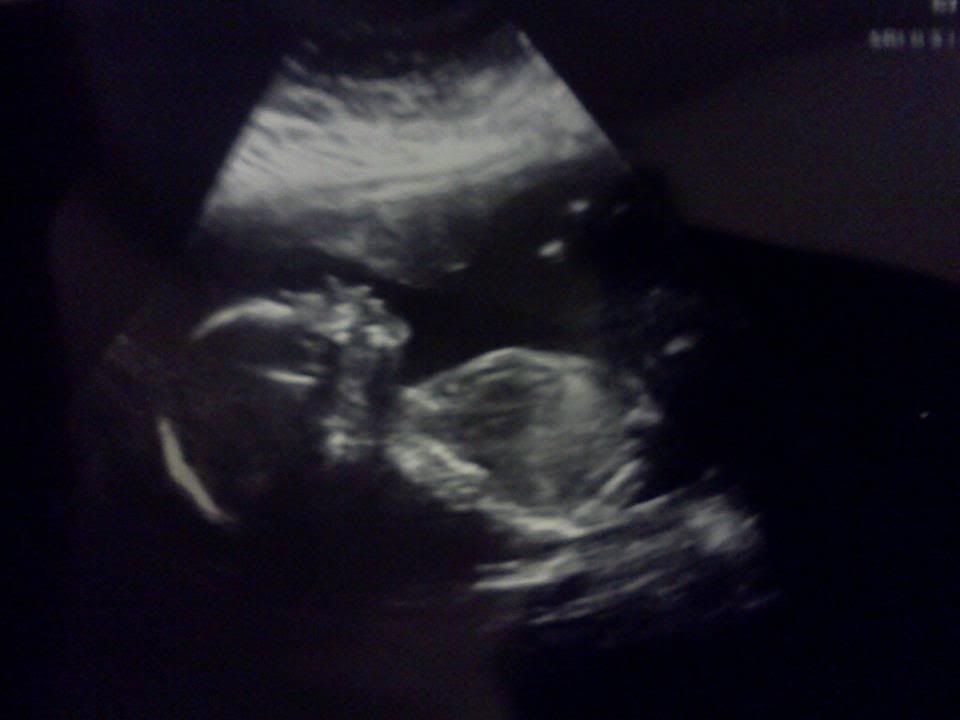 Mikah was born April 15, 2012 at 35.5wks gestation due to pre-e via c-section. Despite his early arrival, Mikah has been on the fast track with his weight gain and development. God has certainly been good to us so far and I pray his mercy continues.
Mikah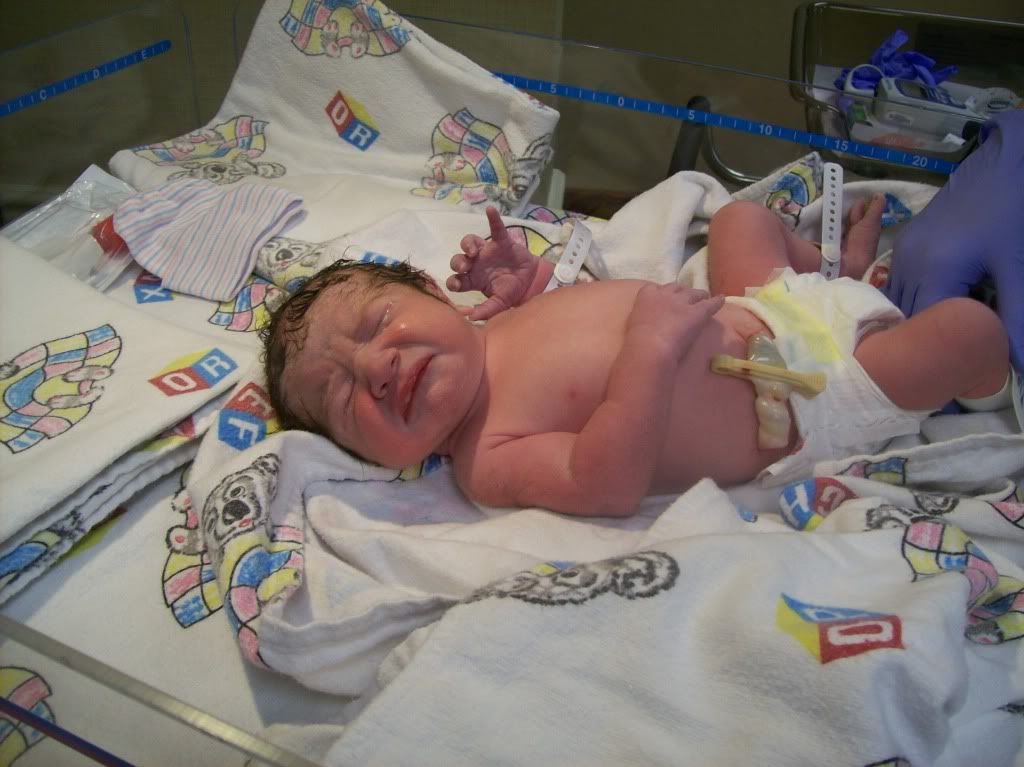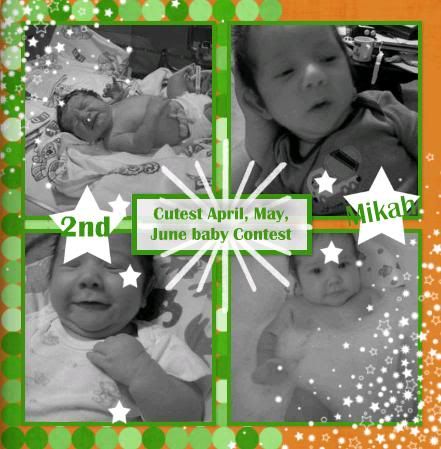 I'm originally from Marrero, Louisiana and am a Unitied Houma Nation Native American and French and my DH is Half Mexican/ half white. We make pretty babies. :) And yes, my profile name is my Indian name given to me by a cousin, a family Holy Man.
I'm a Christian by the most basic definition: I believe in Christ. I believe he is/was the Son of God, I believe in the Holy Trinity and that Evolution, The Big Bang Theory, and Creationism are one in the same..
However, I am Pro-choice, Pro-Gay marriage and am Anti-Hate! I believe that everyone has the right to their own opinion but I have the right to not agree. I don't pick fights but will defend myself in sensitive manners.
I believe the system of Child Protective Services is corrupt and ruin more lives than they actually save. I truly believe everyone is Co-dependent and that society is to blame for everything. Yes I realize I am part of that society and am trying to make amends for this.
I think, to have a happy life, you have to laugh more than you cry, cry more than you yell, and yell more than you stay quiet. When it rains it pours but if you just sit back and watch, it'll clear up eventually.
I am superstitious, believe in Magic, ghosts, Karma, an afterlife, and Reincarnation. Family is the most powerful and oldest institution we have and am grateful I have a big extended family instead of the typical family of four and nothing else. That just seems very lonely to me.
Even though I'm not Catholic, I believe and love the idea of Godparents. I don't baptize my children but they will have a Nanny and Parrain just like I and my siblings and the rest of my family have. I love my Native American and French heritage but it isn't as big a part of my life as I would still like it to be. Would love to get active in local tribal activities.
December 20

OMG your avi is killing me. I'm trying so hard to be serious in that thread and I keep laughing my a*s off at Oprah. LOLOLOL!!
October 18

Thank you fpr voting for my little one on I swear I am cute.
Oh, wow! That's awesome! I know you enjoyed the camp and those memories will be something you'll cherish for a lifetime! Maybe they still have the camps or something similar for lil man to attend. To me, that's so important, to learn about your heritage and different cultures....
Girl, you're not biased....That's the truth! lol It is a beautiful mixture of all of them! I've always loved the dark skin, eyes, hair and bone structure of NA people. I thought for sure Judah would take after his dad's side and have at least <i>a little</i> coloring to him! When he was born, he had a nice tan but it soon faded. I was very disappointed. :? He is a spitting image of me now; he has blue eyes and auburn hair. I had NO idea my genes were THAT strong; we pick and call him our little Whindian (white indian), lol! My grandmother passed (back in '93) but she always traveled to Cherokee, which is a few hours from where we lived, to see her kin and to see how much everything had changed. She had the most beautiful skin and facial features; she wore a scarf around her head a lot and when we would go into an unfamiliar store, like traveling out of town, the employees would follow her around because they thought she was a gypsy. My first tattoo was in honor of her; she would always tell me of the totem animals and what each animal represented so I got tribal dolphins (manna) on my calf. She was also what they call a caulbearer, which is where a baby is born with a "veil" over their face. She had special powers, certain abilities....like premonitions, seen auras....She was so cool! 8) My SO and his family participates in the powwows in Lumberton/Pembroke area. When his mom was in school, they segregated the NA and whites so she went to an all Indian school. She is very pretty also and very witty and fun to be around.
We're doing great, getting things together for Judah's 3rd birthday party next weekend. Oh happy, happy, joy, joy....I love setting up and decorating but hate cleaning up the mess! lol! I'm glad everything is going good your way. Your little man is so handsome. :D Oh, I didn't mention this before but noticed you're NA. My maternal grandmother was Cherokee and my SO is Lumbee. Pretty cool! I love the cultures and traditions of NA....and they're beautiful people too! lol
May 10

Wow, I know lil man is growing too quick!! I just wanted to stop by and see how y'all are doing. He sure is a handsome lil man....Love and Prayers from me and Judah.
May 1

yea my son was the same he didnt like the shield but when hes hungry he will take it lol.
April 29

Thats good to hear. I have problems with my supply too with me being in and out of the hospital. Have you tried the nipple shield? That worked for me
April 29

Just checking to see how everything is going?! Hope all is well mama
April 20

Congratulations on your new bundle of joy! I'm so glad that everything is going so well; Make sure to snuggle that baby to no end! (0: <3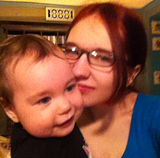 Punk'sElmo
I have 17 kids and live in Troy, Missouri
April 18

Congrats on that beautiful perfect little man!He is freaking gorgeous,and seems to be a pretty good weight! <3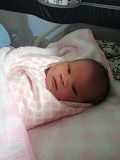 kiara+3
I live in Moreno Valley, California
April 17

congrats on you lill one hes adorable