Mrs.Audrey
I have 2 kids and live in Quetzaltenango, Guatemala
October 1

Thanks! I like it too! :)
September 9

you're so sweet :)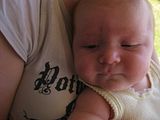 September 6

Happy birthday for the 27th! In way to much of a daze to remember on the day lol
July 3

good. just dealin with my stupid leg. I wemt to the ER around 11:30 just got home and it is 2 am lol. but they gave me vicodin and antiotics and a tetnus shot. sorry for spelling im quickly typing using my cell phone.
July 3

Isn't it the best middle name? And it flows best for when she's in trouble haha. Natasha Marie!!! :)
<a href="http://forum.baby-gaga.com/about2494020-53.html#54894845">http://forum.baby-gaga.com/about2494020-53.html#54894845</a> It's the Trayvon Martin case, the teenager who got shot last year I think it was. Zimmerman is finally on trial. Link is to the last page. And I'm absolutely tickled too!!
Meh one chick in there is too emotionally involved, she can't see past the whole 'kid' thing, but it's all in the thread if you wanna see it. I need to clean up some and get some homework done to be honest. I wasn't expecting to have 2 days of appts. LOL I forgot how pregnancy appts work lol!
Positive! Ultrasound to determine gestational age tomorrow morning!! :D OH I'm also kinda arguing in the Zimmerman trial thread, hence why I've been focused to that thread.
Nah just been busy and forgot to look in the thread lol. And I had my appt today. :D
IDGAF ❤
I have 1 child and live in San Diego, CA, United States
July 1

Hey :) I am good. Just busy...how are you?
July 1

I was thinking I should PT you because we are always in the same threads :) beat me to it! Great minds haha.
June 28

You should PT me :twisted: (When I get on from my phone I can't tell if people have PT'd me) In case you didn't know I PT'd you...