About Me
My name is Kate. There's not a ton about me to know, except that I have four beautiful daughters.
These are three of my lovely ladies:
A pic of my girls. Astrid Jane, my oldest, is in the middle. Rowan September, my middle, is on the left. Keira Juliette, my (current) baby, is om the right.
My rare beauty, Astrid, chilling at Newport Beach, California.
Rowan a year ago with our fur baby, Jasper. These two were besties.
And we were joined by our youngest on June 13th...welcome to the world Lizzie! (Officially Elizabeth Paige, weighing in at 7 pounds and 13 ounces)
I'll keep updating this as I get further into my baby gaga career.
Anything else, just ask! :)
My first contest entered...way to go girls!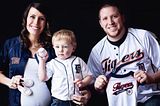 June 19

Love you girls' names! They are beautiful!