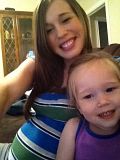 May 9

My oldest turned 4 on 1/22/12 and my youngest turned 2 on 1/08/12. Both January babies and Atleigh was born 2 weeks before Zylie's 2nd birthday. It is going to be nice to have one in the warmer weather. Not looking foward to being pregnant during the heat of the summer but it will be a nice birthday time for our baby boy!
May 9

Thank you! your daughters' names are sooo cute & unique! Hey ur due a day before me! due date buddies! (: I bet a boy will be way fun, especially with ur girls! how old are they? We're havin another girl & are gonna name her Oaklee.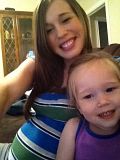 April 24

Its a boy! Yay!!!! The day we found out you could not wipe the smile off my husband's face :D Thank you Lord for blessing us with a baby boy!