About Me
i found out i was pregnant in november 2011 on th 1st of december i was in great pain and went to hospital after staying there 1 week deciding what had happened they agreed to an ectopic pregnancy and was treated without an operation and weekly visits to check my hormon levels.
after only 1 month ttc i am now 5 weeks and 2 days pregnant (22nd may) and due 20th january. I have my early scan on the 30th may (my husbands birthday) which we are both excited but also worried about as maybe ectopic again, but only time will tell.
12week scan
About the mummy/anne (turkish)

Name: Lucina
Age: 19
Is this the first child?: second pregnancy first baby
About the daddy/ baba (turkish)
Name: Bayram
Age: 24
Is this the first child?: yes
Finding out.
How did you feel when you found out?: excited, shocked and anxious
Who was with you?: my husband
How did the daddy react?: same as me
Telling the parents.
How did your parents react?: we havnt told them this time until scan come back good
How did his parents react?: same as mine
How often do they call to check on you?: they will call lots
About the pregnancy.
When is your due date?: january 20th 2013
Have you had an ultra sound?: not yet early one on the 30th may
Have you heard the heartbeat?: not yet
Sex of the baby.
What do you want. Boy or Girl?: A healthy baby and pregnancy
Do you know what you are having now?: nope
Are you happy with what you are having?:.........
About the birth.
Who is going to be with you? my husband
Are you going to video tape it?: no
Natural or medicated?: going natural as much as i can
Do you think you will have a c-section?: i hope not
Do you think you will cry when you first hold your baby?: most defo
Are you scared about the labor?: not right now :)
Names.
Girls name? leyla Boys name? kazim
Is it going to be named after anyone?: if boy my husbands dad name and middle name my dads
Did the daddy help pick the name?: yes the boys name
Other random questions.
Have you felt the baby move?: not yet
Are you ready to be a mommy?: cant wait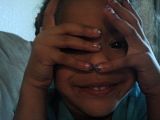 October 30

I'm great!! I'm exhausted, I'm almost 10 weeks! :D We saw the babe at 8 weeks, strong heartbeat and all. How are you Love?
September 10

where are you???? we miss you!!!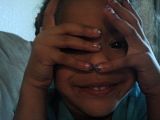 July 13

I'm doing good!!! Busy with Diva.. we're planning on TTC in the next couple of months. Hope your doing well!