November 24

S'al groovy. For some reason the picture worked when I was on BG on my phone, btu on my laptop it doesn't o.O crazy. I'm glad you all enjoyed your Halloween, Elaina (I love that name by the way) looked too adorable in her outfit. Awe, what a cutie. I bet she had everyone awing the cuteness. It is crazy watching them become more active, Marley is obsessed with squealing (high pitched) and blowing raspberries as she is learning to crawl. Hope you guys have an awesome Thanksgiving :), if it hasn't already happened that is.
November 17

The photo of your daughters gypsy costume did work! Olivia, she is simply gorgeous and that outfit is adorable on her. I hope you two had a fantastic Halloween :)
November 16

Aaah, I'm so sorry my response is so late :( I haven't been online much and I feel bad for not getting back to you sooner. I'll upload the pics tomorrow and have them to you by Monday :D All is good here, DD loves the warm weather now and gets super excited whenever we go out to play in the backyard or for a walk. She is a lot more active too O___O how have you been? I'm sure that your gypsy costumes looked awesome too.
October 14

I will have to check that out too now. Oh, this reminds me. The other day I was unpacking some of my books and came across one that is about Eddie Izzard and some of the photos from when he was younger are adorable. I will scan some and show you :P Hope you have been good and that the lovely autumn weather is being kind. It's starting to warm up here, poor DD experienced her first hot day last week, poor thing didn't know how to take it.
October 3

I haven't even heard of Across the Universe, I will have to go and check it out now. Gosh, he was in something that SO and I were watching the other night and I cannot for the life of me remember what it was D: it was only a small bit part though, nothing big.
September 27

This is totally random I know...but I love your name and avi...I'm a HUGE eddie izzard fan :) And the pic of your LO is adorable :)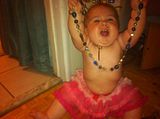 September 27

Business management. I was just doing it because its easier to make money with, but now that I'm in school I'm actually really into it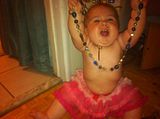 September 27

Busy busy busy, school started for all of us. DD and DSS are loving their new school and daycare, and I'm loving school. But I have no time at all anymore lol How are you doing?
September 22

I haven't watched The Riches, I have been meaning to though. Is it any good?
September 15

He would and he would be smug about it too. Have you ever watched any of the movies he has been in? I've only seen a couple, but my favorite by far was, All The Queen's Men <a href="http://www.youtube.com/watch?v=a3cthoUg0B8">http://www.youtube.com/watch?v=a3cthoUg0B8</a>
September 5

Oh.. Ok. lmao.. I guess I should have put worked in there. lmao.
September 5

Of ok. Somehow I thought you said that you work for u of d.