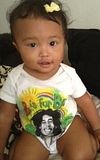 ♥meagan
I have 1 child and live in Atlanta, Georgia
August 17

Hi! Ur kids are so cute:)
August 13

Yes ma'am. I am always so thrilled to see my little bub. ♥ I need to put a pic on my profile. In fact I need to get my profile completely redone. That layout and pics are so old. haha Yes it reaally flew by. I can't believe how quickly this year seems to be going by. Found out I was pregnant in January and now we're in the middle of August. :shock: Oh that's terrible. I am sorry to hear that. I hope things resolve themselves sooner than later too girl. I know Leo and Eli probably miss each other. :( :cry: I can't believe he just took Eli and won't even keep in contact with you so you can know that your little boy is okay, etc. How mature. :roll:
August 11

Yeah it's been a little while. Ha! Everything is really good. I'll be 33 wks on Monday so about 4-5 weeks to go. My primary and high risk OB both agree induction is best since I am at higher risk for a stillbirth. My baby shower is next Saturday. :D My high risk OB does u/s every week so I enjoy getting to see my love bug so often. The current estimated weight is 4lb2oz and my high risk OB is guessing around 6lb10oz will be the birth weight. How are things with you and your little men?
July 2

Heeey Steph! Sorry so late gettin' back to your comment. Sometimes I get hella lax with BG and I just don't feel like posting. I just lurk around a bit then get off... lol Anyways, tell me about it. Chris is a mess sometimes but I do not know what I would do without him. ♥ He keeps me happy, sustains me when I am weak, and loves me unconditionally, I couldn't ask for more. Celebs do have a hell of a job. I will take some Beyonce and Jay-Z money any day though. :P That's the only thing I "envy". I adore my quiet, private life. Some people don't cope with fame to well and in the end the results are tragic (Marilyn Monroe, Michael Jackson. Whitney Houston, etc). Not to mention, some fans are just bogus and will do anything to get close to their favorite celeb. I couldn't imagine having to tour all the time, having to leave friends and love ones behind for months at a time, etc. Stardom is a crazy, scary world and I will gladly pass. I despise Little Ceasars. My favorite is Papa John's but if I am going to splurge on pizza, I looove Mellow Mushroom. At first I craved fruits and sweets this time but now I mostly crave buffalo wings. I don't know if you have heard of the chain restaurant Wing Stop but I looovve their Hawaiian wings and Lemon Pepper wings. Had that for lunch today with my mother-in-law actually. :D Ohhh Nevada! I'm sooo jeally! I want to go to Las Vegas and Reno one day. I have a friend that was in the USAF and she was stationed in Vegas. She is back home in MS now but I wanted desperately to get out there and visit her while she was there but the flights were always too expensive for my taste. lol Yes MS is the duuurrty south so we get the worst of the heat, but seems like this summer is rough everywhere not just the south. I see some cities gettin' in the upper 90's that are usually pretty mild year round. I dunno what is going on this year. :shock: We moved this past weekend and boy it was a job. Whew! I stayed hydrated with plenty of water and took lots of breaks. I didn't have to do any lifting or loading the moving truck but I did clean both bathrooms, kitchen, and vacuum all the carpets and the stairs so I was worn out girl. I am hella looking forward to my maternity shoot. I found a photographer I love and she is really working with us on payin' everything so I am very happy about that. Such a generous lady. And yes we have a shower theme!! It isn't gender neutral though. I am going to reveal the sex on the shower invites. Some of my close relatives know already. I cracked... haha I couldn't hold it in any longer. lol It's a very original theme, it has been done before but it is very rarely done. I cannot wait. I already have millions of ideas and I cannot wait to see them come to life. haha I'm 27 weeks today... first week of the first trimester! Whoo hoo! :)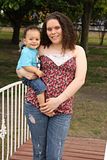 June 24

thank you ! your little boys are very cute as well (: so how are you ?
June 18

Haha. Your fiance is a character. I really wonder where the rumor about her name meaning that came from though. I guess whoever came up with it has a creative imagination. lol At first I was craving sweets but lately I crave spicy or tangy things. Like last week I was craving Italian dressing. Now of course I am not just going to drink a bottle of Italian dressing by irself so I made a big salad. It was soooo good. haha This pregnancy and the one with Maxwell was relatively easy. I've never had morning sickness (<b>or all day sickness for some</b>) either time I've been pregnant. I guess I am one of the lucky ones. :wink:. I used to think something was wrong because I didn't have morning sickness but some women just don't get it so I guess it's normal. Only problems I've been having this time is my placenta started out lying a little low and my OB was worried that that could cause issues but it's moved up now and away from my cervix so that's good. I do have really bad fatigue, seems like I can never get enough rest---either that or I am lazy. haha. This little one is getting heavy in this scorching hot Mississippi heat, glad I don't have to go until October. I'm being induced around 37 wks because of my past. So that's about it . It's going by hella fast. I'm 25 weeks now, I need to get on my baby shower plans, maternity shoot plans and all that stuff pronto! Yikes!
June 16

Girl don't worry about the late reply, haha. It's not that late and there's no rule that says you have to reply to someone right away on here. :lol: :) Oooh yeah, if he wants to eat, he had better help then. lol People are just sick and don't have anything better to do with their lives so I guess they steal pics for fun. I watermark all my pics now. And I have two pics of Maxwell in my albums but they are throughly watermarked. I used to have a pic of him directly on my page but I removed it,I didn't like the idea of just anyone having access to it. It seems that celebs are in competition with each other to see who can name their kid the most outlandish, ridiculous name or something. lol I was stunned when I heard Blue Ivy. Initially I heard it was Ivy Blue, either way it s***s. But you know they say Jay-Z is a member of the Illuminati, that's why he always throughs up that triangle. I've heard crazy rumors that Blue Ivy stands for "Born Living Under Evil" and "Illuminati's Very Youngest" lmao Then I also heard that her name pronounced backwards means Lucifer's daughter in Latin. lol People and their conspiracy theories. I dunno know if I believe it nor do I care...unless they're chunking some of those millions my way. haha Aaaw. Thanks, that means a lot. ♥ And no LB won't have either one of our initials. The name we chose, the initials are NJH. So if you want, you can make a guess on the sex from there and I MIGHT tell you if you're right. :wink: lol
J & J ♥
I have 17 kids and live in California
June 13

Thanks for the PT . Your family is so so so gorgeous ! <3
G & N
I have 1 child and live in California
June 13

Aww! GREAT spacing.
June 13

Aaw man that's sucky! :oops: I hope your fianc
June 12

I know that had to be the surprise of your life. haha I couldn't imagine having to return all of that, redo the nursery, etc. lol I'd be a wreck. Yes we have a name picked out. I hope it doesn't changed but so far we really love it. :) We had tons of girl names picked out and only a handful of boy names picked out. I'm just glad we came into agreement about the name early on this time. With our son, that passed away last year, we didn't agree on his middle name until we found out he was gone. :cry: It was the middle name I liked so my husband thought that was the least he could do, was to go with the middle name I liked I guess.
June 12

Yeah that way everyone won't get so caught up in the sex of the baby and just be happy that we've been blessed again and pray for the best this time. ♥ At my next u/s at 28 weeks, LB better still be what the tech said or I might flip. lol But I've seen soooo many u/s on here that I'm pretty good at spotting the girlie or boy parts out, with this baby during my anatomy scan, I was like "IT's a ____" and the tech was like "you're absolutely right. You're good at this girl" lol I spotted the genitalia before she did. It was sooo funny.