About Me
im a mommy to tony.. was 6 lbs 2 oz and measured at 18.. was born 12/23 @ 2:58 pm.. and To Jacob who was born dec 4 at 6:30 am wiegthed in at 6lbs 3 oz... i have 2 beautiful baby boys and i am debating on having baby number 3 lol we are in progress lol... its been nice so farrr alot of lil adventures
December 10

LOL Thank you! How has it been going?
August 24

hey congrats on finding out the sex i havent been on in awhileso i hope everything is going great for you i go in to find out what im having september 9th im keeping my fingers crossed for a girl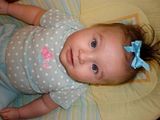 July 25

do you know what you are having yet??? and do you kknow what hospital your going too?? I had my girl at sunrise.....it was pretty nice she had complictions at birth and the NICU team was down in the room in like 7 seconds flat.....it really was great!
June 9

hey how are you and baby doing did his cough ever go away?
Mama_Bree
I have 2 kids and live in Lewiston, Maine
June 7

Thank you so much for telling me that you loved that bassinet because Ive been so worried..there were so many bad comments on the babies r us website about it and I just loved it but they said alot of negatives about the mobile breaking and such.
May 23

Has his cough gotten any better?
April 30

Hey saw your question about having 2 so close. Im 23 right now had my first son at 20 then got pregnant my first time having sex after ethan was born! My boys are a year apart and it's fantastic, they play with one another and in some ways make it easier as they got each other... Am now pregnant with my third due Dec 23rd!!!