About Me
My name is Leah. I am 21 years old. I am married to the Love Of My Life! And we have a beautiful baby girl named Brooklyn Chanel.
Brooklyn Chanel was born October 24th 2012 at 9:31am. She weighed 6lbs 5oz and was 20 inches long. She is perfect!!
I am married to Mr. Martin Bluitt and he is the most wonderful husband in the world!
We got married June 30th 2012 and we have a life time to go!
I am a full-time mommy and I love it more than anything.
I love romantic comedies, and I love that Hubby loves to watch them with me!
Someday I want to live in Santa Monica for the rest of my life!
I've lived on the ugly side of life but overcame it! There are some scars, but they are a part of my story and I'm not ashamed.
Im friendly and outgoing and not much bothers me.
If you wanna get to know me just send a message, I pretty friendly.
I love fine dining and sushi, just as much as I love a good plain quesadilla.
Im easy to please, and Im definently a people pleaser.
I love watching Friends, even though I see the same one a million times over.
I was a nanny for 4 years, and Im excited to finally just be a mommy to MY BABY!
And my favorite things are... Goodnight&Goodmorning kisses. Popcorn and a movie at home with hubby. A clean house (cleaned by yours truly only!). The beach. Long drives. My little dog, Joy. Cold days to bundle up and get hot cocoa. Oversized sweatshirts. Surprises. And cuddling Brooklyn!
You are welcome to follow Brooklyn on instagram :) instagram and taking pictures of Brooklyn are my obsession. @ Brooklyns_smile
August 20

No plans on another one right, but who knows lol!! That's good, 2 little girls close in age :) We are planning a family & friends get together, something small and relaxing for Lebron! he gets too excited when there are a lot of people around hehe.. Lebron's lazy too he pulls himself too stand up and stands for about 1-2 mins and sits down!! that as far as he goes ahahaha...
August 20

Well I hope this is the month for you :) since all the other things have gone wrong!! would be nice having 2 LO's around the same age! what are you hoping for another girl or a boy? Hopefully things look up for you and your little family <i>xoxo </i> we have been fine just starting to plan his 1st birthday! excited about that!! can't believe its been nearly a whole year! WBU? you doing anything special for Brooklyn's 1stb-day?
August 19

Hi how are you and Brooklyn? :)
July 3

Thank you very much! Yes they were all very tiny babies. Ashton was the biggest out of the 3, maybe it's because he's a boy. Hehe.
June 24

You're daughter is so adorable <3
Jeeper
I have 1 child and live in Orlando, Florida
April 22

Your daughter is so adorable. I love mixed race babies :)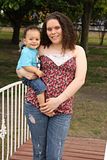 March 23

My son started teething at 5months and by 6 months he had his 2 bottom teeth. now he is 9 months and his top teeth are coming in :)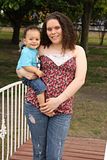 March 18

Awwww poor baby :( she is beautiful though :) I Love her hair my sons hair is exactly the same. Is she teething yet ?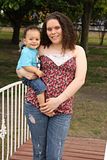 March 18

Awww maybe things will get better , my son had problems adjusting to sleeping in his baby bed and was up every hour for about a week but now he sleeps through the night and wakes up around 7:30 thank god ! Lol when my son was 5 months he drunk about 6 ounces because he just never seemed to get full on 4. When he turned 8 months I made him bottles before bed with 4 ounces of formula , half a jar of baby food (fruit) & baby cereal it knocked him right out , maybe that would help your daughter when you are ready to feed her baby food because it gets them full faster , I never went by what my doctor saod to feed him every baby is different and my son knows what he wants to eat.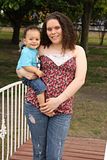 March 17

That's great :) does she sleep through the night yet ? & thank you , he's a handfull lol.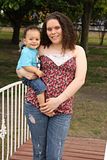 March 17

Hello :) How are you & your beautiful family doing ?
InkDMomma
I have 35 kids and live in Clinton Township, Michigan
February 26

Thank you very much :D