About Me
I'm Katie! My boyfriend and I are expecting a beautiful baby BOY in December! :D This is both of ours first child, and we are beyond excited, but also scared in many ways, and here to learn!! :) I was diagnosed with Hyperemesis Gravidarum, so I have been extremely nauseous and haven't been able to keep much down. I am doing better than I was at first, though! I am very excited to hold my tiny, precious baby boy in my arms. <3 Feel free to parent tank me if you'd like to talk! :D
Breast Feeding: I have decided to try breat feeding! I have a lot of support from my boyfriend and family, although I don't know a single person that has been successful with it! I have a breat feeding class on August 7th. I'm really looking forward to learning more about it and how it's all done. I will be purchasing a breast pump, but not sure yet which kind is best. I've been doing a lot of research. If you have any suggestions about them, that'd be awesome! Also, If you breast feed, it'd be nice if you could share some information or tips with me! Just someone to talk to about it helps a lot as well!
17 weeks! <3
30 weeks! <3
WE CAN'T WAIT TO MEET YOU!!!! <3 QUINTYN LEE <3
34 Weeks! <3
QUINTYN LEE <3 <3 <3 38 Weeks! <3
39 Weeks! <3
About Mommy:
Name: Katie
Age: 20
First child? yes :)
About Daddy:
Name: Andrew
Age: 21
First child? yep!
Finding out:
What day did you find out? April 17th, 2012
How did you feel when you found out? Shocked at first, excited soon after
Who was with you? My mom and cousin!
Who was the first person you told? Andy
How did the daddy react? He cried, and then was excited
Telling the parents:
How did your parents react? Mom wasn't surprised, becuase of my symptoms
How did his parents react? Shocked, but were ok and now excited
Are they helping with
baby names
? Yep!
Have they bought anything for the baby yet? Oh yes, lol
How often do they call to check on you? I see them every week!
About the pregnancy:
When was your first appointment? May 8th, 2012
When is your due date? December 9th, 2012
How far along are you? 20 weeks
Have you had an ultrasound? Two now!
Have you heard the heartbeat? Yes many times :)
Sex of the baby:
What do you want? either is fine with me!
What does the daddy want? He is hoping for a boy! :P
What do you think your having? I am thinking a boy
Have you had your big ultrasound yet? YES, IT'S A BOY!!!! <3
About the birth:
Do you know what you are taking with you? No clue.
Who is going to be with you? My mom, sister, and Andy
Are you going to videotape it? No.
Natural or medicated? Probably medicated! But we will see!
Do you think you will need a c-section? No
Will you cry when you hold your baby for the first time? I'm sure
Are you scared about the labor? VERY!
Names:
Do you have a name picked out? Quintyn Lee
Is your baby going to be named after someone? Lee is Andy's dad's middle name!
Other random questions:
Where was your baby conceived? I have no clue, lol
Have you felt the baby move? oh yes!!
What ethnicity will your baby be? White
Do you have stretch marks? Sure do
What was your first symptom? Nausea!
What religion will the baby know? Christian.
What music or interest do you want the baby to know? Country music!
Will your baby have godparents? Un-officially, but yes and quite a few at that lol.
What was the first thing you bought for the baby? Sleepers!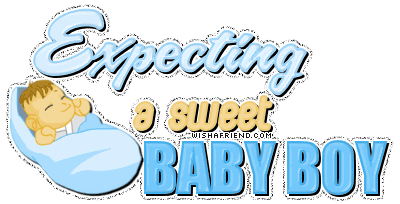 July 13

just stopping by to see how you and the baby are doing? hope everything is going smoothly, & did you find out what your haven yet?