About Me
The name is Sarah. I am 22 years old.
I AM A... Bottle Feeding, Home Cooking, Binky Giving, Huggies Diaper Using, Picture Taking, Non CIO, Co Sleeping, Vaccinating, Baby wearing, Tattooed &Pierced, Epidural Loving, SAH, Always with her kids ...KIND OF MOM :)

I am engaged to a guy name Randal.
We have TWO daughters.
My oldest daughters' name is
Born on August 13th.
I was induced at 39 weeks. My labor lasted 9 hours & 38 minutes!
She was 6 lbs 8 oz & 18.5 in long!
She is now 3 years old!! :)
My youngest daughters name is
She was born September 28th.
I went into labor naturally at 38 weeks. My labor lasted 2 hours & 34 minutes!
She was 7 lbs 4 oz & 19 in long
Both my girls were planned pregnancies & I plan on trying for a boy when my littlest girl is about 3 which will be about 2015 (maybe sooner he-he)
But for now I plan on enjoying life with my 2 beautiful girls <3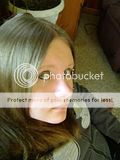 October 3

Congrats on the new baby girl! She is adorable! We found out monday that we are having a little girl this time.